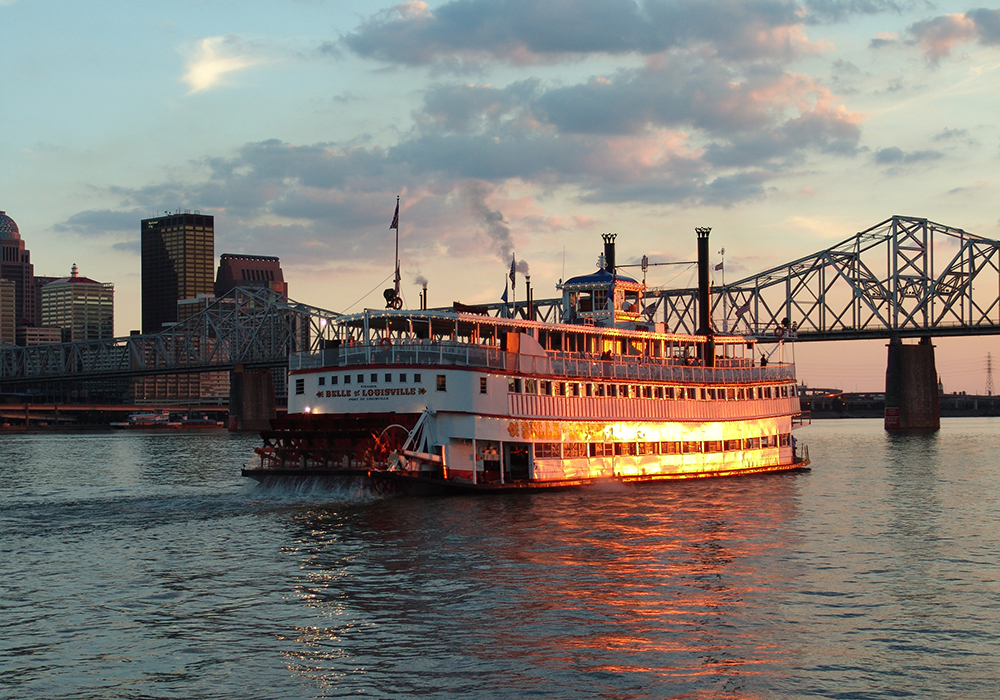 Long considered only a stopover for Chicagoans on their way to Nashville, Louisville has become a destination in its own right. That's thanks to an explosion of eclectic shops, fantastic food and cultural attractions–and all less than a gas tank from Chicago. Any itinerary will include the Louisville Slugger Museum and Muhammad Ali Center (as they should!), but here are six under-the-radar finds you'll want to cram into your weekend trip:
Built in 1914, the Belle of Louisville is the oldest river steamboat in operation. It's also a fun perch for a meandering trip down the Ohio River. We opted for the lunch cruise, with a tasty biscuits-and-gravy buffet followed by an energetic dance party. Watching preschoolers line dance alongside a geriatric tour group–with Kentucky vistas floating by in the background? Surprisingly fun.
Fans of the Chicago Children's Museum might think the smaller Kentucky Science Center isn't worth a visit, but they'd be mistaken. Nestled into a cute stretch of downtown coffee shops and cafes, this three-story space is brimming with hands-on, interactive play. My preschoolers were obsessed with the 5-foot-tall Lite-Brite board, the design-your-own race track area and the section of elaborate pneumatic tubes that shoot colorful scarves overhead. Take a lunch break, and you can easily spend the full day here. kysciencecenter.org
Pony rides. Petting zoo. Playground. This 154-acre zoo offers way more than animals (though it's also got plenty of those–including an outdoor elephant exhibit that puts you within arm's reach of the gentle giants). In addition to riding the cutesy train that circles a small section of the zoo, make use of the larger tram that can help schlep your family between the more far-flung spaces.
Feast morning, noon and night
Every local we asked had a different recommendation for a restaurant we just had to try–and with good reason. Louisville is bursting with noteworthy eats, including inventive brunch options at Wild Eggs, killer barbecue at Feast and truly memorable chocolate chip cookies in a vintage-cute café called Please and Thank You. Doc Crow's almost always has a wait, but stick it out: The pimiento cheese chips and smokehouse sampler are worth it, and food hits the table lightning fast (and gets eaten just as quickly). 
Comfort and convenience can sometimes be hard to find together without a major splurge, but the Galt House manages to have it all: nice-sized rooms and an accommodating staff, a location less than a block from the Ohio River (where you can rent all sorts of tandem, trainer and four-seater bikes by the hour through Wheel Fun Rentals) and just a few blocks to all manner of downtown attractions. Don't dismiss the hotel pool, either: It's outdoors, overlooking the river and an absolute dream.
The Mega Cavern is as weird in person as it sounds: A former limestone mine, it's now the largest building in America… underground. Its operators have turned it into something of an amusement park: There are zip lines, a mountain bike park and a Jeep tour for those who want to gawk without feeding their adrenaline. In the winter months, the 4 million-square-foot structure is filled with holiday lights, for a festive (if somewhat surreal) experience.