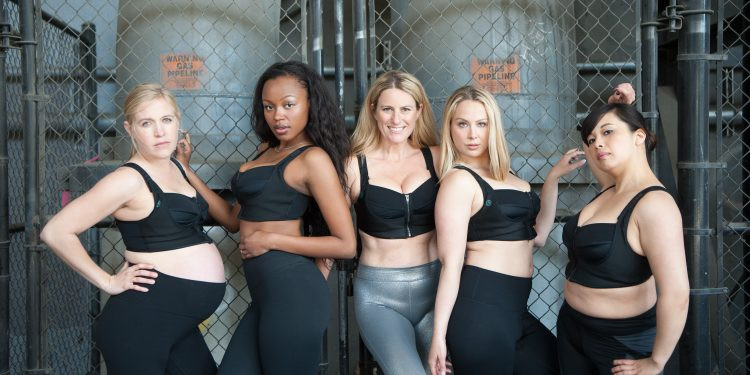 When I turned 37, everything body-wise started to go … south. And east and west if I am going to be honest. I knew it was time to pull it together because I have a little more space to focus on myself and when my sleep-deprived blurred vision came into focus I didn't like what I saw.
Still, heed this important reminder to all moms: Your kids love you no matter what shape you are!
First Task: Dress the part
I have had two children and was never in the A-cup crowd to begin with so I needed some support. In my search, I came across Bloom Bra, a revolutionary sports bra that lifts instead of squishes, drawing support from the back instead of solely straps and band.
The founder, Elyse Kaye, came up with the concept and product out of her own need—she couldn't find a supportive sports bra that worked for her. Since the body naturally changes size/shape 10 percent per month, she designed a bra that is adjustable in straps and cups to ensure a custom fit and full support. You can wear the same bra for yoga as you do to run a marathon.
Enlisting the help of NASA and a celebrity corset maker, this state-of-the-art over-the-shoulder boulder holder is nothing short of a miracle. $79.99. 
I fit into traditional clothing sizes in stores, but what about women who don't? Chicago native Jenny Gresla set out to create an inclusive activewear/shapewear brand called Sela Fit.
Fit that supports women at every stage and size of their fitness, health and wellness journey. She realized that many pieces are designed for women at the end of their fitness goals—tight, short crop tops and low cut leggings that might not make those of us starting out very comfortable. (I just saw a photo of Kate Hudson in her Fabletics line with pants hovering south of her hip bones and I wanted to cry).
The sizes are available in XS to 3X with everything from leggings to bodysuits to tanks.
Second Task: Work out
I am notorious for joining a workout class for the first 10 minutes, then faking a coughing attack, ducking out and hitting up the juice bar instead. Every class I have taken has been chock full of cute little 20-somethings who have never woken in the middle of the night to change a child's sheets multiple times or been too tired to cook dinner for themselves so settle for the mac 'n cheese left in the pan.
I needed some like-situation moms who wouldn't dismiss me because I took a few breaks. I found Fit4Mom, which offers a variety of programs including "Body Back" programs for moms looking to get back in shape (this girl!), family exercise programs like Family Run Club and opportunities to socialize through playdates, Moms Nights Out and more. I am sure none of these moms will sneer at my VPL, thank you very much.
This article originally appeared in the October 2018 issue of Chicago Parent. Read the rest of the issue.