Searching for Spring Break ideas that don't include budget-busting airfare? Here are several interesting options that make a great family road trip and all within easy driving distance of Chicago.
Southern Illinois
Southern Illinois has a hilly landscape and a rural vibe. Treat your group to an exhilarating zip line adventure with Shawnee Bluffs Canopy Tour. The guides are great with kids and the zips are long, allowing extra time to enjoy the gorgeous natural surroundings.
Feast on 17th Street BBQ's nationally acclaimed, mouthwatering meats, which are smoked and sprinkled with a sensational Magic Dust seasoning.
Rest your weary heads in one of the most unique B&Bs in Illinois, Davie School Inn. This remodeled school building is home to several large, classroom-themed suites. Your family will have fun playing basketball in the gym, looking at old school pictures and antique desks, and playing the many board games the inn offers. The gracious hosts deliver a delicious, homemade breakfast to your room every morning that will make you feel super spoiled.
St. Louis
Want to blow kids' expectations of a museum out of the water? Visit the whimsical, colorful, eclectic City Museum in St. Louis. Kids of all ages and even adults will want to crawl, jump, slide and swing their way around this funhouse filled with eye-popping exhibits, unique physical spaces and multi-story slides. They even have incredible outdoor and rooftop spaces, so make sure to allow plenty of time and lots of energy to fully enjoy all this museum has to offer.
You can't visit The Lou without making a stop at the Gateway Arch, especially now with the Museum at the Gateway Arch and Gateway Arch National Park. Book your tram tickets in advance to make sure you don't miss your chance to catch a view from the top.
The most photographed restaurant in St. Louis is The Fountain on Locust, with its art deco murals, classic American eats and ice cream creations, including ice cream martinis. The kids will get a kick out of designing their own sweet frozen fiesta and parents can't help but get in on the fun with banana bourbon ice cream sundaes or thin mint ice cream martinis.
We stayed at the English author-themed Cheshire boutique hotel. They have two on-site restaurants, a Starbucks, an outdoor pool and a scavenger hunt for kids.
Starved Rock State Park
Hike, fish and traverse Starved Rock State Park, a wonder of rugged canyons, soaring skies, tall trees and incredible bluffs. Located less than a few hours from home, it feels like a totally different world. Even if it's raining, rest assured that spring is a great time to visit, as the waterfalls flow best with melting snow or after storms. What better way to stretch your legs than by exploring one of our own state's natural wonders. There are 13 popular trails and other activities, such canoeing and paddleboat cruising.
The historic Starved Rock Lodge features cozy cabins amongst the towering pines with trails to canyons just outside your doorstep. Dine at the Red Dog Grill for scenic views of the Illinois River in a charming atmosphere. They have pizza and a classic kids' menu as well as more adventurous American and seafood entrees for the adults.
Milwaukee
Distance: 1.5-hour drive
The Milwaukee Bucks play in the Fiserv Forum and put on a family-friendly, bounce-in-your-seats basketball experience. Stay at the modern, comfortable Hyatt Place across the street and walk to the game as well as the Brewery District, with great restaurants and the Milwaukee RiverWalk.
Betty Brinn Children's Museum features fabulous hands on exhibits. I loved Trivial Pursuit: A 50-State Adventure, which allows families to take a pretend trip around our nation's varying landscapes to explore national parks, arts and culture. Discovery World is a science and technology museum with the exciting Power On exhibit. Kids can learn about energy and even stick their hands in a tornado.
Kopp's Frozen Custard is seriously delicious and something you should definitely not miss. Vanilla and chocolate custard are available, plus a new, creative Flavor of the Day everyday. Kopp's also serves classic burgers and onion rings.
Indianapolis
Five floors of fun plus a 7.5-acre outdoor sports experience area awaits you at the Children's Museum of Indianapolis. From Dinosphere, with a mummified dinosaur and digging area to outdoor sports experiences, there are countless interactive exhibits for families to enjoy.
White River State Park is 250 acres of green space downtown that is also home to the Indianapolis Zoo, the NCAA Hall of Champions Museum and the Indiana State Museum, with the state's largest IMAX screen. We thoroughly enjoyed Dream Big, the IMAX movie about engineering, and then went to work in the Cardboard Engineering area at the Indiana State Museum.
If you're looking for a traditional drive-in, stop at Mug-n-Bun. The vintage fast food stop offers homemade rootbeer, shakes, burgers, hot dogs, fries and more.
Crash at the Hyatt Regency Downtown Indianapolis. Not only is there a pool to splash in and modern, comfortable rooms to relax in, but the hotel is steps from so many restaurants and attractions, making it easy to explore all the Circle City has to offer. Plus, a skywalk connects many destinations so you don't have to walk outside if the weather isn't conducive.
Galena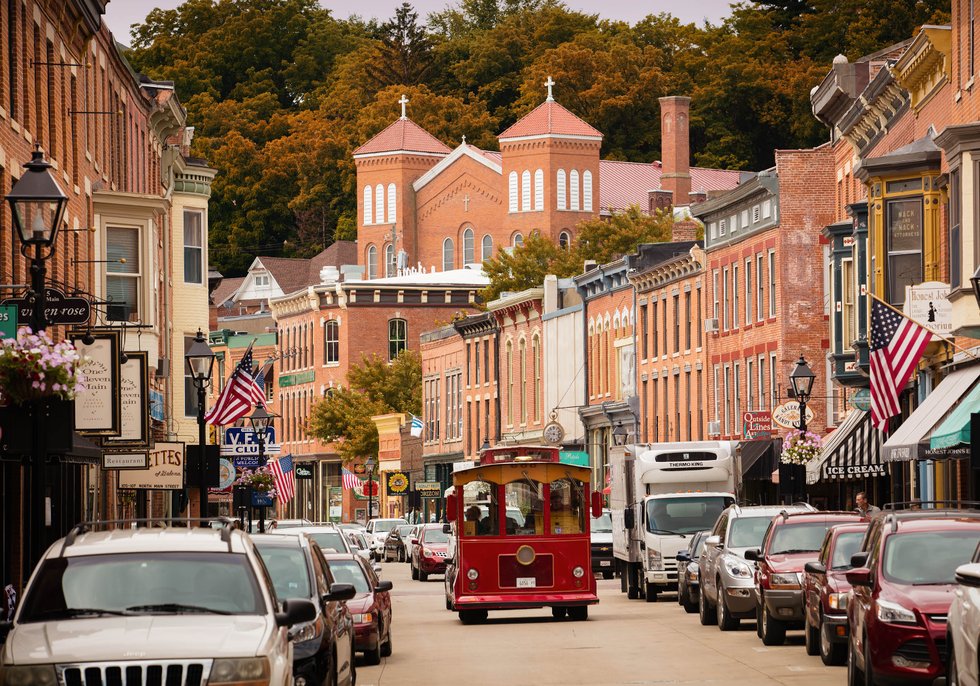 If you're looking to adventure to new heights this spring, go to Galena to float thousands of feet over gorgeous scenery in a hot air balloon with Galena on the Fly. Or choose from the many activities offered at Chestnut Mountain Resort. Zoom down the mountain on the Alpine Slide and enjoy panoramic views of Wisconsin, Iowa and Illinois. Segway tours, zip lining, hiking and mini golf are also available.
Check out the historic Main Street and visit the Galena & U.S. Grant Museum in honor of the 150th anniversary of Ulysses S. Grant being sworn in as president. Trolley tours and bike rentals are also great ideas.
Named the No. 1 Inn in the U.S. in TripAdvisor's 2019 Travelers' Choice Awards, Jail Hill Inn is a fun choice for families. The building served as the county jail for almost 100 years, then was renovated into a bed and breakfast that travelers rave about.
Rockford
Has cabin fever been driving you crazy this long winter? Get out and get some fresh forest air in Rockford. White Pines State Park offers plenty of activities for outdoor enthusiasts, from hiking to biking and lazy river rafting. Navigate the maze in the Klehm Arboretum & Botanic Garden's Children's Garden. If inclement weather is in the forecast, spend the day at the Discovery Center Museum with its more than 300 interactive exhibits.
Pretend you're pioneers at White Pines Resort. Twenty-five authentic one-room log cabins are like going back in time, but with gas fireplaces to keep you warm. The Lodge Restaurant serves up home cooking at its finest, hearty portions with a side of friendly smiles.
Kalamazoo
Distance: Three-hour drive
Kids climbing the walls? Let them loose on Climb Kalamazoo's more than 10,000 square feet of climbing space. Children as young as three can ascend on the walls with adult supervision. Airway Fun Center is another great place to get out some energy, from go-karts to mini golf, a ropes course and more.
The Air Zoo takes learning about aviation to interesting heights as it features flight simulators and a hot air balloon-themed Ferris wheel. Kalamazoo Nature Center has been recognized as one of the nation's best nature centers.
On the way to Kalamazoo, stop in Colon, Michigan, the Magic Capital of the World, where magicians are immortalized in stars on the sidewalk and you can find thousands of handmade magic props. Light up the eyes of little magicians and see if they can devise clever tricks of their own.
You can't visit Kalamazoo without a stop at Bell's craft brewery. Its Eccentric Cafe features a beer garden with music and games, a kid's menu and, of course, Oberon.
---
Follow Chicago Parent on Instagram.