Cruising down Route 66 is the ultimate classic American road trip. Not only can you experience Americana, but you can find larger-than-life attractions, good eats, and the remnants of the past preserved in all its glory.
While families may not have enough time to drive the entire Route 66 from Chicago to California, there is plenty to do and see right here in Illinois. And it doesn't matter whether you have a few days or a few hours, the Mother Road is waiting for you.
Roll down your windows, get your camera ready and get ready to explore Route 66 with our family-friendly recommendations below. Looking for more travel ideas? Check out thes Midwest family destinations!
Stop 1: Chicago
Historic Route 66 Begin Sign
Although the start of Route 66 has moved a few times, you can find the "Begin Route 66" sign across the street from the Art Institute of Chicago.
Snap a few selfies with the lions that guard the art museum. If you have the time, a look inside the museum is well worth it. Find more experience while exploring Downtown Chicago with this family guide.  
Stop 2: Willowbrook, Illinois
A must stop for hungry travelers since the 1930s, Dell Rhea's delivers with crave-worthy fried chicken and all-American comfort food.
Stop 3: Joliet, Illinois
Photo Credit: Cheryl Eugenio
Did you know that Route 66 opened up the same year the Rialto opened? Snap a photo by the marquee or better yet take a tour or catch a show to see what a lavish movie palace used to look like.
If time allows, the Joliet Area Historical Museum is well worth a stop. Even if you don't have time to see the entire museum, the Route 66 Welcome Center can help plan your road trip.
Need a spot to stretch … and get ice cream? Head to Route 66 Park where you'll find neat statues, a playground, and the Blue Brothers dancing atop Rich and Creamy. 
Stop 4: Wilmington, Illinois
Photo Credit: Cheryl Eugenio
Say hello to the Gemini Giant, the first of 4 muffler men (aka giant statues) on your Route 66 road trip. Afterwards, step inside the diner for food (try a pizza burger or a refreshing Dole Whip) or check out their gift shop for Route 66 souvenirs.
Stop 5: Braidwood, Illinois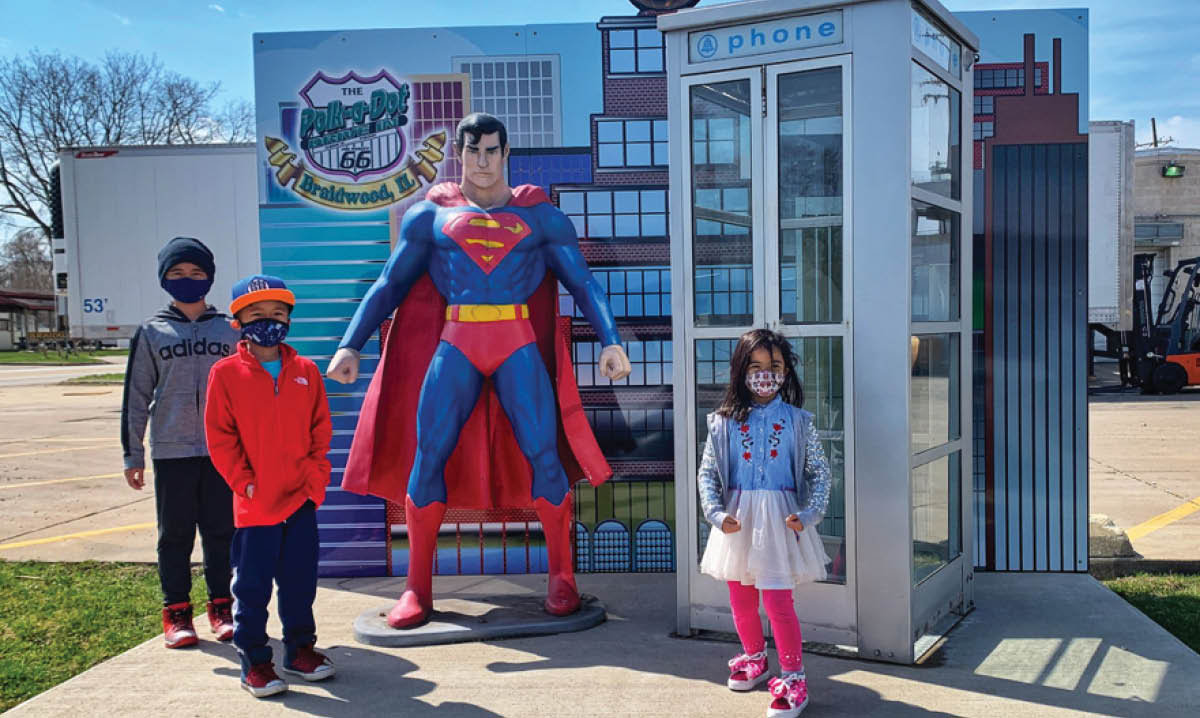 Photo Credit: Cheryl Eugenio
Get your camera ready to snap more photos. You can pose with Superman, The Blues Brothers, Marilyn Monroe, James Dean, Elvis and Betty Boop outside the restaurant. Inside, you can take in the 50s-style diner. Grab a milkshake or float to go at the drive thru.
Stop 6: Gardner, Illinois
Although you can't go inside it, peek through the windows inside this streetcar diner to see the wooden benches and stools that people once ate at.
Kids can say they went to jail on their road trip. This jail with only two cells was built in 1906 and was operational until the 1950s.
Stop 7: Dwight, Illinois
Photo Credit: Cheryl Eugenio
You'll find plenty of gas stations on your road trip but this one is the perfect example of how gas stations used to look like back in the days. Plus, this historic 1933 filling station happens to be the longest operating gas station on the Mother Road. It also serves as a Route 66 visitor center.
Stop 8: Odell
Find another restored gas station that's also listed on the National Register of Historic Places. This one was in service until the 1960s and then operated as a body shop until 1975. Today, it serves as a relic and Welcome Center.
Stop 9: Pontiac, Illinois
Photo Credit: Cheryl Eugenio
You definitely have to plan to stay a few hours in Pontiac. This small town offers so much to do on your Illinois Route 66 road trip!
No Route 66 journey is complete without a stop at the Illinois Route 66 Hall of Fame and Museum. The museum is packed full of Route 66 memorabilia but a highlight for kids may be seeing the Bob Waldmire van which was modeled after Fillmore from Disney's Cars. Go around back for a photo op with the mural of World's Largest Route 66 shield. Make sure to look for the bricks that are part of the original Route 66 alignment through town.
Car aficionados will adore seeing retro automobiles at the Pontiac Museum. A thumbs up from the family and two thumbs up for free admission!
As the "Home of the Great American Road Trip," Wally's offers more than clean restrooms and gas. Find a souvenir or cute trinket for your home, ice cream, baked goods, a grill, "sloosh" (aka slushy machines), homemade beef jerky, a coffee bar, popcorn and so much more.
Stop 10: Normal, Illinois
Photo Credit: Cheryl Eugenio
Have you ever seen a two-story gas station? Now you can see one of the last two-story gas stations left on Route 66. 
Stop 11: Bloomington, Illinois
Photo Credit: Cheryl Eugenio
Learn about Route 66 and Abraham Lincoln when you stop by this Visitors Center. Don't forget to snap a pic with Lincoln on the bench. Tip: Spend time strolling through the cute downtown area with boutique shops and murals. Get coffee at Coffee Hound Cafe and baked goods from Ivy Lane Bakery conveniently located next to each other.
If time allows, a visit to the zoo is always a worthwhile diversion especially if it's the only zoo directly located on Route 66.
Here's another sweet spot for ice cream! The walk-up ice cream stand is cash only.
Stop 12: Funks Grove, Illinois
Another sweet stop for the family is pure maple sirup (Yes, it's spelled with an "i" to distinguish it from sugar-based syrup). The Funks have been making sirup for generations and you can take home a bottle as a souvenir.
Find more than five miles of trails and the highlight will definitely be the children's area. This stop paired with Funks Grove Pure Maple Sirup is great.
Stop 13: Atlanta, Illinois
Photo Credit: Cheryl Eugenio
Paul Bunyan Muffler Man
Park on the street and take a few minutes to peruse the area. First up, time to meet another muffler man! (And an opportunity for more selfies!) You'll find this 19-foot giant holding a hot dog and bun.
Walk a few feet from the giant to find a library in the shape of an octagon. In front of the library is the Seth Thomas Clock, a hand-cranked clock.
Need a breather? Across the street from the Atlanta Library is the Route 66 Park. Worth a peek and a photo in front of the Atlanta mural. A picnic table is also available.
Smiley Water Tower
Head back in the car but first stop to see the smiley face tower off the road. Guaranteed to elicit smiles. While you're in the area, you can also check out the Atlanta Route 66 Arcade Museum!
Stop 14: Lincoln, Illinois
Photo Credit: Cheryl Eugenio
World's Largest Railsplitter Covered Wagon
This one gets recognition by Guinness World Records as the "World's Largest Covered Wagon." Hang out with Abe as he sits on a wagon reading a law book.
Stop 15: Springfield, Illinois
Lauterbach Man
Yay, another muffler man to see! In Springfield, we met the Lauterbach Man at Lauterbach Tire and Auto Service.
Kids no doubt love corn dogs, so it's only natural that you make a stop at the Cozy Dog where the hot dog on a stick was invented. Inside, you'll find plenty of Route 66 memorabilia.
Originally built as a Stuckey's gas station in 1971, Motorheads and Route 66 go way back. Head to the free museum out back to see all the memorabilia. Or better yet, stay awhile and enjoy the food and beer. Whatever you do, don't forget to get the giant pretzel and a horseshoe, a Springfield food specialty.
Originally called the Green Meadows Drive-in Theater when it first opened in 1978, this drive-in offers good old-fashioned fun with double features.
Stop 16: Auburn, Illinois
Historic Route 66 Brick Road
Located just south of Springfield is a 1.4-mile-long restored brick road of Route 66. Definitely worth driving a piece of the Mother Road.
Stop 17: Litchfield, Illinois
Photo Credit: Cheryl Eugenio
See how Route 66 impacted this small town at this great museum. Head around back for more photo ops and cut outs.
Stop 18: Staunton, Illinois
Photo Credit: Cheryl Eugenio
You all know kids love quirky so a visit to Henry's Rabbit Ranch is a must.  Not only will you find Route 66 memorabilia, but you can pet fluffy rabbits, find Volkswagon Rabbits in the ground and even take a picture with a giant jackrabbit.
Stop 19: Livingston, Illinois
Photo Credit: Cheryl Eugenio
What does a pink elephant, a UFO, dinosaurs and Big Boy have in common? They're all located at the Pink Elephant Antique Mall!Fun photo ops, a '50s diner, and some ice cream make this a worthwhile stop.
---
Follow Chicago Parent on Instagram.