If you find yourself looking for a new holiday tradition, why not try venturing out to a different city to see how they experience the holidays? Indianapolis has plenty to keep families busy from lights shows and visits with Santa and Mrs. Claus to finding your favorite Christmas tree and having a snowball fight. The hard part will be trying to fit all the holiday activities! But one thing is for sure – you'll surely leave Circle City with the holiday spirit.
Celebrate then have tea.
Celebration Crossing at Indiana State Museum is one not to be missed! Grab your train ticket for a ride on the Santa Claus Express train. Spend time at Santa's Workshop where kids can figure out the best way to pack Santa's sleigh, make ornaments, read a story and more. Don't forget to visit Santa and Mrs. Claus in their house! In order to truly have a memorable time, you'll want to reserve a tea time at L.S. Ayres Tea, a recreated experience at the once famous Indianapolis department store. 
Find your favorite decorated tree.
Stop at the Festival of Trees at the History Center to find your favorite festively-decorated tree. It may be a tough decision with more than 92 trees to choose from. While you're meandering through three floors of festively decorated trees, try to look out for Hoosier Buddy and their Elf on Shelf (you'll get a prize!). Then, you can spot the 10 pickle ornaments hidden throughout the trees or sing your heart out at the Holiday Sing-Along.
See the zoo in a different light. 
At Christmas at the Zoo, your first stop is Santa's Village for all things jolly where you can see Santa. Stop by Santa's sleigh to see his reindeer and say hi to Mrs. Claus in the kitchen where you can decorate your own treats. If kids don't mind getting lost, the mirror maze Snowflakery is fun and they'll want to go again and again. From there, walk around the zoo to see all the lights! You'll see a glowing tunnel, featured displays like a Christmas Tree Joy and All-A-Glow Light Show. Other activities include local choirs, animal enrichments, holiday craft corners and more.
Take in more lights. 
Formerly the Indianapolis Museum of Arts campus, Newfields' Winterlights has become a new Indy tradition with more than 1.5 million lights. Sip on hot chocolate or hot cider (spiked options available should you wish) as you stroll the path. You'll spot a snowflake bridge, a frosted forest and other breathtaking illuminated displays. When it's time to warm up, escape to the historic Lilly House where you'll see their rooms decorated in sparkling holiday flair and origami creations. Tip: Grab special glasses that transform the lights into a shimmering snowflake.
Jingle all the rails.
Train fans will want to chug to the Eiteljorg Museum for Jingle Rails. Watch as G-scale model trains weave their way through bridges, tunnels, mini Indy favorites (Monument Circle, Lucas Oil Stadium), as well as national favorites like the Grand Canyon and the Golden Gate Bridge. As trains travel through the scenery, you'll be amazed at the creatively built all-natural materials and decorated with holiday lighting. Tip: Free parking is available in the White River State Park underground parking garage.
Take it to the track.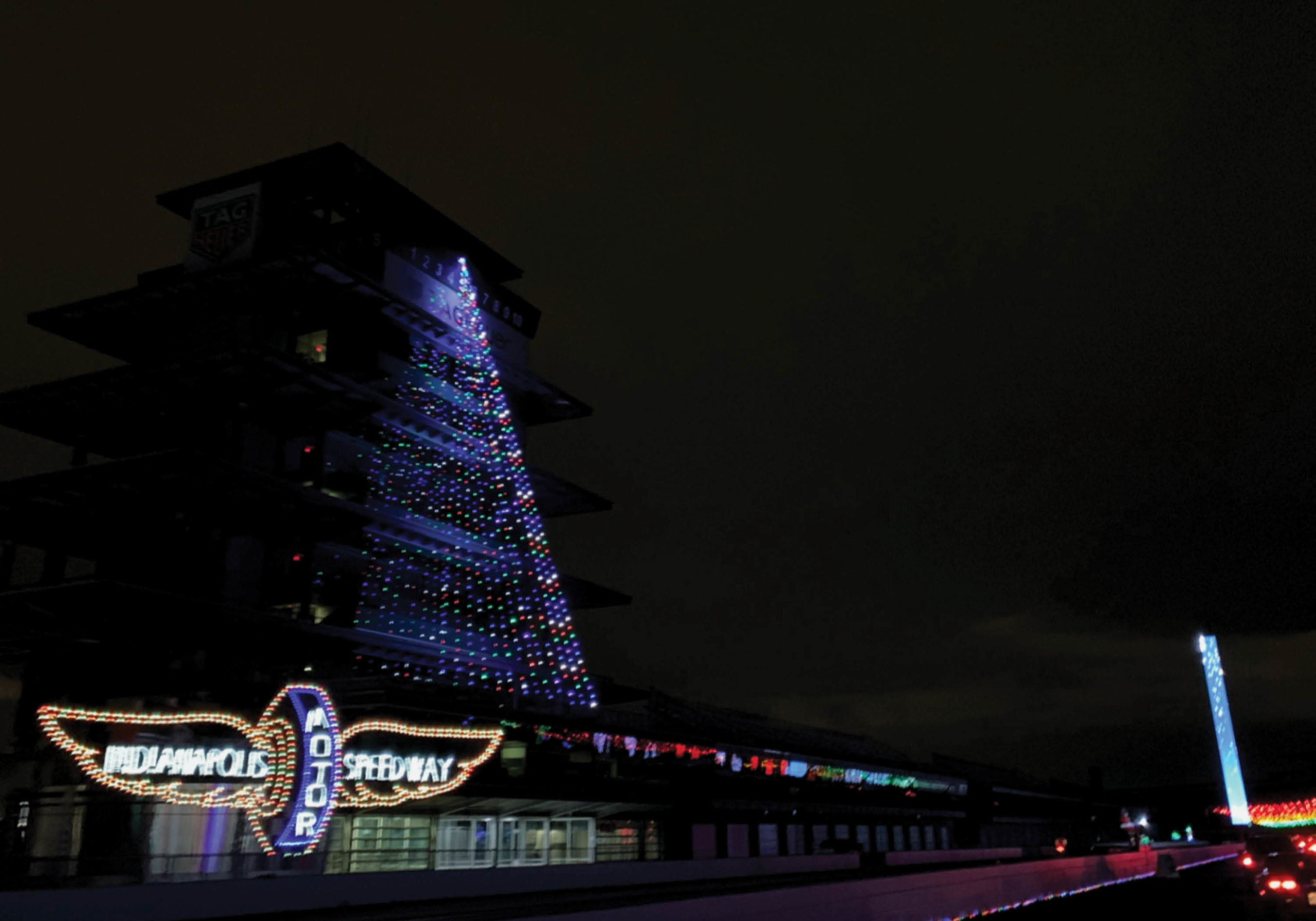 How often can you say you've driven on the famous track at the Indianapolis Motor Speedway? At Lights at the Brickyard, instead of zooming around the track you'll want to take your time checking out all the lights (all 3 million of them) along the 2 mile track. You'll even pass through the world-famous "Yard of Bricks" start-finish line. Talk about an en-light-ening experience!
Enjoy mesmerizing light show at the Circle.
On any other given day, head to the daily night show at 6:30 p.m., a patriotic salute to Indiana veterans. If you happened to be in the area on Dec. 14 or 21, make sure to experience Holidays on the Circle. Monument Circle turns extra festive with holiday performances, signature treats and festive music. Plus, the events are free and open to the public. Don't forget to grab hot chocolate from South Bend Chocolate Company conveniently located on the Circle.
Get jolly at the world's largest children's museum.
During the holidays, Children's Museum of Indianapolis becomes extra festive thanks to their Jolly Days. With indoor "snowball" fights and a chance to slide down the two-story yule slide, you'll no doubt have a grand time. Participate in a scavenger hunt to become an official elf — complete with elf ears! If available, make sure to take the kids to the free 45-minute holiday show at the museum's theater. Have a unicorn lover? My daughter and I were enamored at the Unicorn Pop-Up shop at their gift shop (it's seriously one of the best museum gift shops around.)
Where to stay
We had a fantastic stay at the Conrad Hilton Indianapolis. This downtown Indianapolis hotel was both luxurious and comfortable, and best of all, pet-friendly! My kids loved splashing away in their pool while my husband and I could relax in the whirlpool spa. The location was super convenient to restaurants, museums and just steps down from the Circle.
---
Follow Chicago Parent on Instagram.