Have you always wanted to drive to Florida? The road trip can be a long drive, but there are plenty of fun things to do along the way to help break up the trip. And let's be honest, the kids need potty breaks! 
Plus, the journey is part of the destination. We've rounded up our favorite family-friendly stops including Tennessee's Chattanooga, Tallahassee and St. Louis.  
Here are ideas of what to do and where to stop on a road trip from Chicago to Florida. And if you're looking for more travel fun, check out these Midwest destinations for families. 
Note: We're updating our website as quickly as we can, but changes may occur due to COVID-19. Please double check before heading out for the most updated information on safety precautions and any last-minute closings. Stay safe!
Pit stops from Chicago to Chattanooga, Tennessee
An hour south of Indianapolis lies Columbus, Indiana, a small Midwest town known for their modern architecture. The old-time ice cream parlor and former candy shop, Zaharakos, is worth a stop for their homemade ice cream. There's even a small museum onsite where you'll find soda fountains and mechanical music of the past.
Afterward, head across the street and let the kids run off the sugar at the playground at The Commons with the awesome, two-story Luckey Climber.
Stop at Glasgow, Kentucky but not before grabbing dinner at local favorite, El Mazatlan. The Mexican food was pretty good, but we were impressed with the large (and strong) 16 oz. margaritas for $4 (because adults need a break too)!
Have more time? Explore Mammoth Cave National Park, the largest cave system in the world.
If you're looking for a place to stay, plan a comfortable night's stay at the Holiday Inn Express Hotel and Suites Glasgow. Gotta love the free hot breakfast in the morning!
Chattanooga, Tennessee
You won't believe how family-friendly Chattanooga was! This walkable city has so many things to do and places to eat. Do yourself a favor and plan to spend a few days in Scenic City. If you don't have time to do all the attractions, plan to come back again.
What to do:
Learn about the river and ocean animals at the Tennessee Aquarium. To enhance your visit, try to schedule a backstage tour where you can feed the fish and possibly a turtle, as well as sneaking a peek of the penguins.
Learn about the city of Chattanooga on land and sea aboard a Chattanooga Duck, an amphibious vehicle.
Find your favorite flavor of moon pie (caramel or strawberry!) at the Moon Pie General Store. It's made fresh daily at their only manufacturing plant in Chattanooga.
Where to eat:
Fried chicken is king at Champy's Fried Chicken, along with fried catfish and fried pickles. Don't miss out on their homemade sweet tea.
If you're looking for finger-lickin' BBQ with large portions, Purple Daisy Picnic Café is the perfect spot. Save room for their super yummy banana pudding with Nilla wafers. So, so good!
If you're anywhere near the Tennessee Aquarium, follow the smell of cherry-smoked BBQ at Puckett's Grocery.
Looking for amazing burritos? Mojo Burrito by the base of Lookout Mountain is calling your name.
And when (not if) it's donut time, try unique flavored donuts at Julie Darling Donuts. Hint: Head to the alley for Insta-worthy shots by the pink brick wall.
Where to stay: 
Pit stops from Chattanooga, TN to Central Florida
We couldn't pass by Georgia without trying some sweet Georgia peaches. Enter Lane Southern Orchards. Try their homemade peach cobbler topped with their homemade peach ice cream. Yummy!
Georgia is also known for pecans, so we had to make a pit stop for pecans. Located right off the highway, Ellis Brothers Pecans has pecans in every flavor. Imagine aisles and aisles of pecans with samples of each. It was awesome! Hint: This is a great potty time spot — the restrooms were clean.
If you're craving more BBQ, stop Smok n' Pig BBQ in Valdosta, Georgia. The portions are huge, plus a great value (entrees include salad bar and dessert!).
If the weather is on your side, make sure to bring bathing suits to Depot Park's splash pad in Gainesville. Not only do they have a pretty awesome train-themed playground, but there is also trails, a general store and a museum not too far away.
Located in a convenience store (yes, you heard that right!), Pearl's Country Store and Barbecue, may have had the most unexpected location but it's the best barbecue you might ever have. No joke!
COVID-19 updates: Temporarily closed
If you happen to visit on a Saturday, stop by the Retirement Home for Horses at Mill Creek Farm. As the name suggests, 140 horses call Mill Creek Farm home. The admission is two carrots – a fantastic deal!
The new Holiday Inn Express and Suites Alachua – Gainesville Area was the perfect stop for us after a few hours on the road: clean, comfortable rooms, a pretty good fitness and of course, free breakfast.
Central Florida's Polk County
Nestled between Tampa and Orlando, the biggest attraction in Central Florida Polk's County is none other than Legoland Florida Resort.
What to do:
Bok Tower Gardens, a national historic landmark, has beautiful gardens to peruse including the 205-foot Singing Tower. Listen for the daily carillon concerts. The kids, however, loved exploring the 2.7-acre Hammock Hollow Children's Garden. The kids could climb a giant spider web, build, balance across logs, create art masterpieces and cool off in the fountain It was the perfect place to connect with nature!
Everything is indeed awesome at Legoland Florida Resort. The kids could not get enough of the fun at Legoland Florida. We saw a Miniland on steroids, rode as many rides as we could, devoured apple fries, splashed away at Legoland Water Park and bought a few new Lego sets to add to our collection. What a fun day!
What to eat: 
After a long day at the theme park, all we wanted to do was relax from the comfort of our room. MJ's Pizza and Wings came to the rescue by delivering pizza to our hotel.
Another local favorite, Harry's Old Place, is worth a try serving fresh seafood along with gator bites, the kids' personal favorite!
Where to Stay:
At Hampton Inn Winter Haven, you're no more than a five-minute drive from Legoland Florida Resort (LLFR). Who can resist the smell of popcorn in the lobby? (FREE to boot!) Parents will appreciate the complimentary hot breakfast to start the day.
Tallahassee
We had another overnight stay in Florida's state capital, Tallahassee. We found it to be a friendly city with great food. We immediately wished we had more time to explore.
What to do:
We were blown away with the Tallahassee Museum — so much more than a museum! The mostly outdoor 52-acre museum showcases native wildlife habitats, a zoo with animals such as panthers, jaguars, and even bears, along with educational exhibits and dinosaur sculptures throughout the grounds.
We wished we had more time to explore the city as we would have liked to see the Capitol, the street art, Mission San Luis or the wild manatees at Wakulla State Park.
Where to eat:
Before you hit the road again, try delectable donuts from local favorite, Donut Kingdom.
Where to stay: 
The super hip and trendy Aloft Tallahassee Downtown gets "cool points" from kids after receiving a goodie bag of toys upon check-in, while parents can enjoy libations from their w xyz bar. The pet-friendly hotel even fosters a dog at a time until it finds the dog a forever home. How awesome is that?
Destin, Fort Walton Beach, and Okaloosa Island, FL (The Heart of the Emerald Coast)
Oh, the beautiful Emerald Coast! Whether you want to fill your time with activities, lounging on the beach, or both, exploring the heart of the Emerald Coast promises great time spent with the family.
What to do:
Walk along The Boardwalk on Okaloosa Island and The Island Pier for fantastic views of the emerald green waters. Spend as much time as possible catching some rays at the beach, while the kids can build sand castles with the white, soft sand.
Get to know the area's animals at the Gulfarium including their albino alligator. Catch an entertaining dolphin or sea lion show.
Bowling has never been more fun under the sea at Uncle Buck's Fish Bowl, while sipping your fishbowl drink, of course.
Where to eat:
Enjoy the atmosphere and awesome views of the beach and ocean at Al's Burger and Beach Club on The Boardwalk. Don't miss the blackened tuna salad or ahi tuna burger.
Another great burger option is at The Cowhead in Fort Walton Beach. Customize your burger any way you want it or stick with any of their tested recipes.
Head a few doors down for snow cones at KC's Sandbar and Grille. Whatever flavor you choose make sure to get it with ice cream and topped with homemade sweet cream.
Where to stay:
The beachfront hotel, The Island Resort, was everything we could want in a beach vacation: easy access to the beach, more pools to splash in including one with a swim-up bar. We absolutely loved our recently renovated rooms and the kids were pretty excited to have their own room with a bunk bed.
Pit stops from Heart of the Emerald Coast, FL to St. Louis
Sadly, it was time to say goodbye to Florida and make our way back to Chicago!
What to do:
If you need to stretch your legs, The Paducah Riverfront in Paducah, Kentucky is a great place to walk while looking at historical murals.
Visit the hometown of Superman in Metropolis, Illinois with plenty of photo ops throughout town including a huge statue of the man himself and a museum dedicated to all things Superman.
Where to stay:
St. Louis, Missouri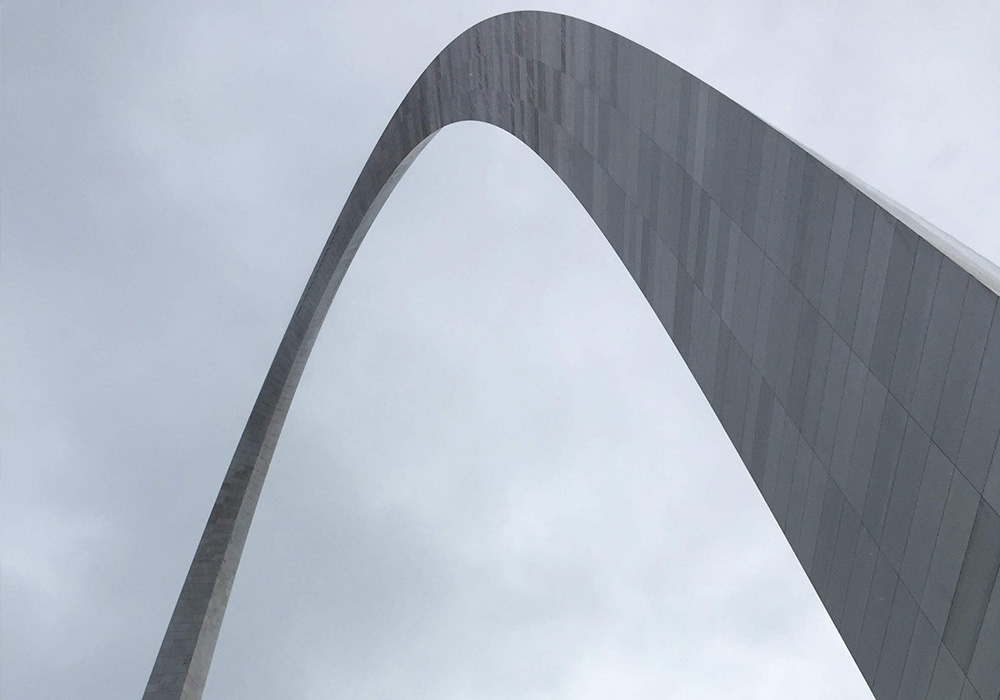 With all the changes finally completed in St. Louis, I knew we had to revisit the Gateway to the West again.
What to do:
Make it a priority to check out the new changes at Gateway Arch National Park which has to include going up the Gateway Arch, the tallest man-made monument in the nation.
The free Saint Louis Science Museum with dinosaurs and space exhibits is totally worth a visit. Make sure you visit the outdoor area with rain garden and chickens, plus cross over the sky bridge to the Planetarium to see the cars zooming underneath you.
It's crazy, it's cool and at times it's overwhelming, but you'll have a total blast the unique City Museum.
If the St. Louis Cardinals are playing, you shouldn't miss a game at Busch Stadium.
Where to eat:
Have you ever tried St. Louis style pizza? Imo's Pizza is the place to go. Don't forget the toasted ravioli.
Try Afghani food at St. Louis' first Afghani Restaurant at Sameem Afghan Restaurant in The Grove. Feast on the Emperor Plate with lamb and chicken kabob, rice, and salad.
Where to stay: 
We loved our stay at The Drury Plaza Hotel St. Louis at the Arch. The location rocks and it is just a few steps away from the Gateway Arch and Old Courthouse. But what really shines about this hotel is that the extras aren't extra. We had a free hot breakfast with plenty of choices, free popcorn, free soft drinks, free alcohol and free light dinner.
One last pit stop before Chicago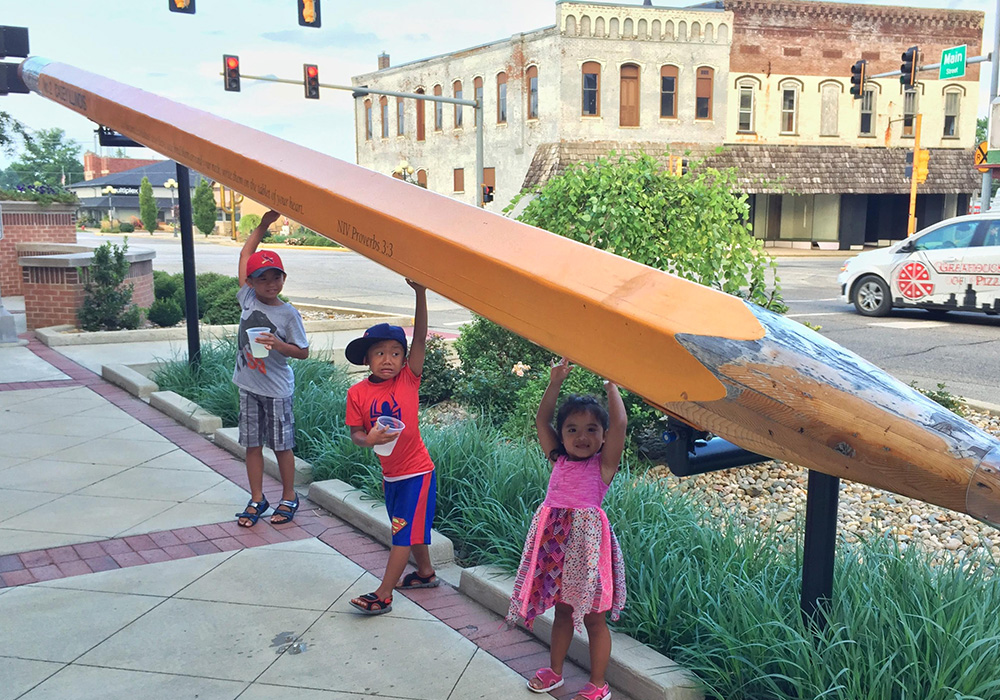 Time to head back home, but not before making a road trip stop to Casey, Illinois, home to eight of the World's Largest items including a wind chime, rocking chair, a mailbox and more! Find out what other big things you can see on the ultimate road trip stop at Casey, Illinois. What a great way to end our road trip vacation in a big way!
---
Follow Chicago Parent on Instagram.