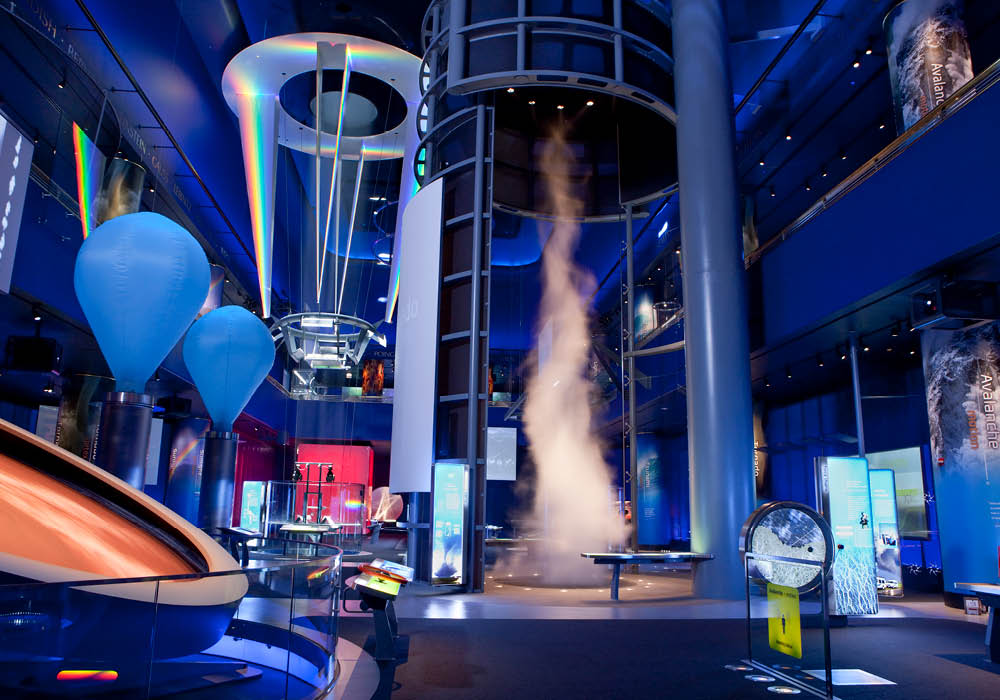 Whether you're interested in exploring the wonders of space travel or introducing kids to some basic science concepts, the Museum of Science and Industry in Chicago has something for everyone.
"We opened in 1933, so it's been a Chicago icon for more than 80 years now. It opened up as the Palace of Fine Arts in the 1893 World's Fair," says Isabel Morales, the manager of external communications and social media. "Our founder Julius Rosenwald was inspired after going on a trip with his family to the Deutsches Museum in Munich. It was an interactive museum, which he had never experienced before, so he wanted to bring that to Chicago."
Today, the museum boasts more than 14 acres of hands-on exhibits — and, with so much to see, it might be hard to figure out what to do first during your visit. To help, Morales offers seven top things to do at MSI.
With a four-story indoor tornado, 20-foot avalanche disc and a giant Tesla coil that zaps 1.2 million volts of lightning above your head, this exhibit takes a closer look at the science behind the weather.
"It is an exhibit all about weather phenomena and the physics and the science that goes behind what happens when a tornado is formed or what happens when lightning strikes," Morales says.
This theater, which has been undergoing renovations since January, will open up once again on March 21. From the top of its five-story, domed wraparound screen right down to the carpeting and seats, guests will enjoy a premium experience that uses state-of-the-art laser projection.
"The Giant Dome Theater is really special because it is Chicago's only five-story domed wraparound theater. So, instead of the IMAX that you're used to – seeing the wide picture that encircles you – this one is a complete dome, so you're leaning back on a chair and seeing a lot of amazing images," Morales says.
Four new titles will be added to the theater when it reopens, including Volcanoes, Ancient Caves, Canada's Great Bear Rainforest and Superpower Dogs.
The U-505 is the only German submarine that was captured by the U.S. during World War II, and MSI is the place to view this piece of history, which arrived in 1954 and is dedicated as a national historic landmark and a war memorial.
"Guests will be learning about how the boat was tracked, how it was captured," she says. "There are more than 200 artifacts that are related to the boat's history throughout the exhibit, and there's a lot of hands-on activities that explore the technology of submarines."
Want to see more? You can also take an in-depth tour inside the U-505, but be sure to reserve your ticket in advance as this experience is very popular.
Colleen Moore was a silent film star in the 1930s – and she had a fascination with dollhouses. The actress turned her passion into this elaborate mini castle, which is on display at MSI and features more than 1,500 miniatures.
"We have the world's smallest Bible in Colleen Moore's Fairy Castle," Morales says, in addition to miniature books written by real authors.
One item, which is in collections and not on display, is a special recipe card from famed chef Julia Child.
Space travel, the history and the future are the focus of this exhibit, which boasts the real Apollo 8 capsule that circled the moon in 1968. This capsule was lowered through a hole in the museum's roof in 1971 and has been there ever since.
"It's really remarkable that you're able to walk up to the capsule and get an understanding of the size of it. It is not that big," she says.
Visitors can get a closer look at the three-seater capsule where astronauts Jim Lovell, Frank Borman and William Anders sat.
"This is a visually stunning exhibit that reveals the ways numbers and patterns surround us every day in nature," Morales says. "The centerpiece of the exhibit is a mirror maze that's actually a pattern itself." Guests will make their way through the maze and enter an interactive gallery where they'll uncover the patterns in their own bodies, in music, and in art and architecture.
Designed for the youngest innovators ages 10 and under, this exhibit is filled with experiments for kids to test and observe concepts in construction, light, magnetism, air pressure and more. Kids can interact with different water features and simple machines – all designed to help children grasp simple science concepts.
About Museum of Science and Industry
MSI is the largest science center in the Western Hemisphere, is home to more than 35,000 artifacts and nearly 14 acres of hands-on experiences designed to spark scientific inquiry and creativity.
For more information, visit msichicago.org/springbreak.