The air is getting crisper, the sun is setting lower in the sky and you're downing pumpkin spice lattes. In other words, fall has definitely arrived in the Midwest. It's time to gas up the car and head out on the road in search of changing leaves. 
Whether you're looking for gorgeous foliage as a backdrop for family photos or simply want to get in the autumnal mood, we've rounded up places that will burst with fall colors in October.
Looking for more fun things to do with kids this fall? Check out our fall family guide!
If you're up for a road trip, Galena is as picturesque as it gets, and only becomes more so during the fall. Not only does the town boast many historic homes and quaint antique shops, the area's rolling hills and scenic overlooks make for some postcard perfect foliage viewing. If you're up for an adventure, take in the view from 2,000 feet up on a hot air balloon ride.
Walk along the waterfront to see the fall foliage. See manicured gardens or head to one of the country's oldest free zoos. Walk, jog or bike ride on one of the paths and enjoy The Lincoln Park Cultural Center and Lincoln Park Conservatory. The historic Alfred Caldwell Lily Pool is also a site to see when you're here.
The fall colors are so gorgeous here that the garden offers an actual guide to peak foliage on its website. Beautiful Japanese maples, oak trees, weeping willows and wildflowers set amongst 385 acres of land promise to give quite the autumnal show. The first two weeks of October are ideal for spotting the best colors.
Head here to see over 200 trees, a scenic prairie garden and nature trail in this park that has provided Chicago with nearly 40 acres since 1910. You can pack a picnic lunch and enjoy a day out in the beautiful autumn weather. Kids can enjoy an accessible playground, softball fields and soccer fields.
If you're interested in getting off the grid, this is the place to be. The dense woodlands of Edward L. Ryerson Conservation Area in Riverwoods become so remote at points that you feel like you've been transported into another world. Hiking is encouraged, but biking is a big no-no (along with pets) due to the park's designation as an Illinois Nature Preserve.
This location is often referred to as, "landscape art under glass" because of how beautiful it is. Walk along the pathway near the conservatory and take in the sights. The outdoor grounds transform into fall colors and is the perfect spot for some photos. 
Take a day trip to Lisle to explore the 16 miles of hiking trails the arboretum has to offer. Not in the mood to hike? No problem. The arboretum also offers guests an open air tram ride to view some of the 4,000 types of trees on its property. While visiting, be sure to check out the award-winning Children's Garden and Maze Garden, see Human+Nature sculptures and try out the nature play areas.
There's no better way to spend a fall day than exploring this forest preserve's 100 acres of woodland. Spend the day hiking, biking or horseback riding, then relax with a picnic lunch by the pond. You may even be lucky enough to spot a white-tailed deer while visiting, as they're known to roam the Warrenville farm.
See more than 35 miles of trails and trees maples, oaks and cottonwoods. Take in the seasonal colors and take lunch to enjoy in one of their picnic areas. Kids will love playing in the open fields and taking a nature hike along the North Branch Trail. 
Starved Rock may be a bit of a trek, but you won't regret making the trip. The park offers city dwellers a true chance to get away from it all. Take in the beauty of the fall colors while hiking, horseback riding or canoeing, then check out one of the park's many canyon waterfalls. This place has family photo opp written all over it.
Described as an "urban oasis" in the middle of downtown, the garden features dozens of colorful trees and plants during the fall, along with butterflies, birds and insect life. Enjoy a guided or self-led tour as you explore the serenity of Lurie Garden's five acres.
Enjoy the beautiful fall scenery at Schiller Woods, located along the Des Plains Trail. Make sure to check out Serpent Twin Mound, a twisting contemporary earthwork by Indigenous artist and architect, Santiago X. 
This route is not only scenic, but also historical, too. It's located on the lakefront edge of Hyde Park and is best known for being the site of the 1893 Chicago World's Fair. Explore the Garden of the Phoenix (formerly Osaka Garden), which features a waterfall and foot bridge in this Japanese-style garden.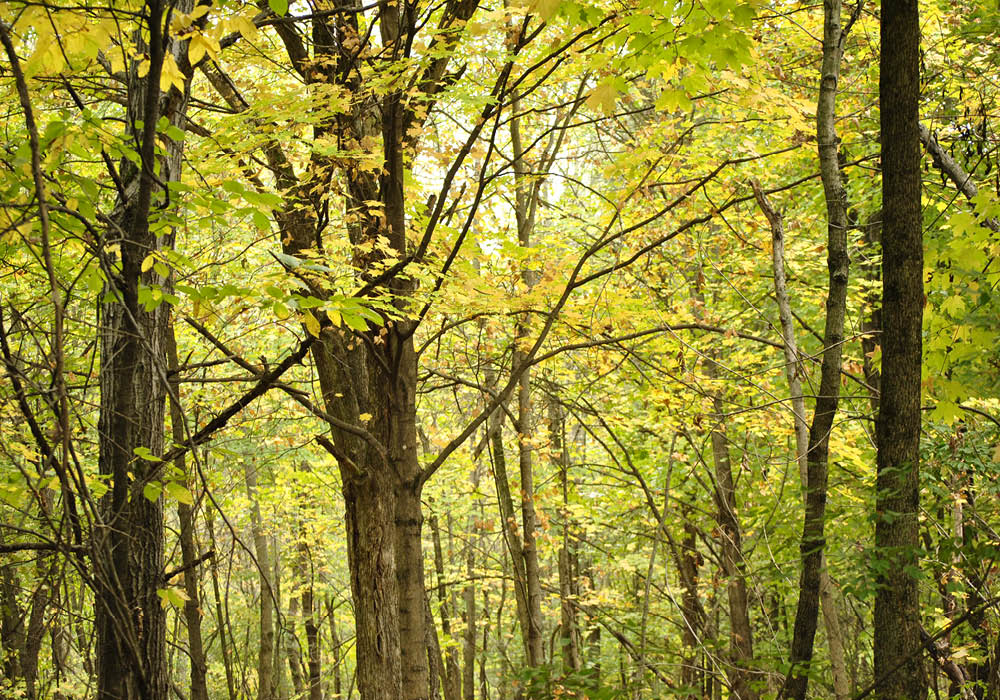 The preserve is made up of 985 acres of woodlands, so you're bound to get some great foliage viewing in during your visit to Park Forest, along with plenty of opportunities to spot wildlife. Thorn Creek Woods Nature Preserve also offers classes, workshops and hands-on activities for both kids and adults who want to learn more about the natural world.
Graceland Cemetery and Arboretum
This peaceful place is not only a historic cemetery, but also a great place to check out the fall colors on lots of trees, including red oak, Norway spruce, Ohio buckeye, sycamore, black walnut and many more. Sit by the water or take a walk around to view the final resting place for many of Chicago's best-known citizens. Schedule a tour when tour season is open April 1-Nov. 30.