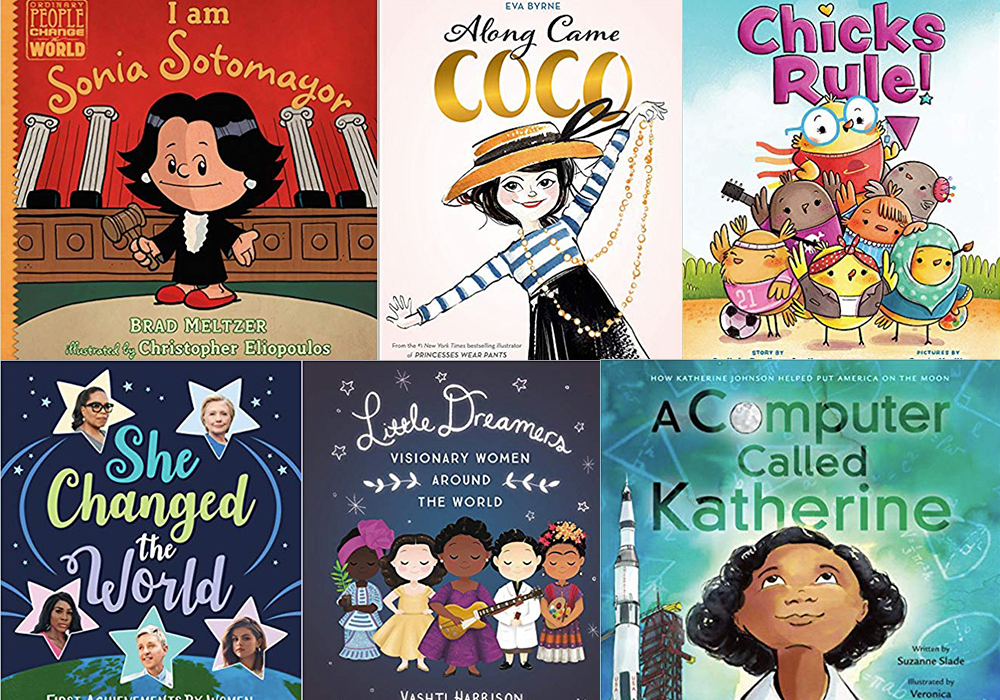 From books with big pictures to books with big words, there's no question that all of the stories are big. In the last six months, publishers have been quickly putting out new titles to share the history of leaders, artists and makers who changed the world. Celebrate Women's History Month with these new books for kids. 
Best for ages: 4-8 
Encourage girls to dress their best—be it in a white astronaut suit or police uniform—is the mantra of the quirky book that rhymes. Using a cadence that pairs grace with space and girl with world, kids will enjoy both the verse and the friendly, familiar illustrations by Lorian Tu-Dean.
Best for ages: 4-8 years
Louisa Belinda wants to ride a bicycle like her brother, Joe, but in 1896, it's frowned upon for girls and women to hop atop a bike. So Joe teaches Louisa Belinda in secret, warning her against "bicycle face," an affliction that will let her parents know she's been riding. The book is slated for release March 12.
Best for ages: 4-8 years
When a "Rocket Chick" finds that No Chicks Allowed is the rule of the road at the rocket club, she gathers her flock to make her own rocket. As biker chicks, soccer chicks, baker chicks and fashion chicks all contribute to the trip to space, the book teaches that all kinds of kids are necessary to solve big problems.  
Best for ages: 4-8 years
For kids still too young to know the movie, "Hidden Figures," this book tells the story of Katherine Johnson, a mathematician at NASA. Johnson computed the figures that sent John Glenn into space, and turns 100 later this year. The story includes math problems that kids in first and second grade will know and understand. The book will be released on March 12.
Best for ages: 4-8 years
Coco Chanel grew up in an orphanage, started her career as a milliner and became a cultural icon. Along the way, "Along Came Coco," describes through kid-appropriate pictures how she made being different chic. The book will be released on March 19.
Age group: 5-8 years
The "Ordinary People Change the World" series added two biographies to its titles in the last four months, tipped off with Justice Sonia Sotomayor. From her youth in the Bronx and her rise to the federal courts, the book takes a trip through Sotomayor's history in comic book form and as seen through the eyes of a child. She became the first Hispanic Justice of the U.S. Supreme Court in 2009.
Best for ages: 5-8 years
Introduced in February, the newest book to the "Ordinary People Change the World" series introduces kids to tennis champ Billie Jean King. The comic book gives readers a walk through her past as a Wimbledon champ and into her Battle of the Sexes match with Bobby Riggs, highlighting her fights for gender and racial equity. 
Best for ages: 8-14 years
The key to "She Changed the World" is that historical figures in women's history were asked to write essays about their first achievements, so readers are hearing about the victories and failures in her own words. All of the women in the book are firsts: Barbara Walters (first woman to co-anchor a network evening news program), Rita Moreno (first Latina to win an Emmy, Grammy, Oscar and Tony), Aretha Franklin (first woman inducted into the Rock & Roll Hall of Fame) and Selena Gomez (first person to reach 100 million followers on Instagram). Published by Time for Kids, the "firsts" run the political, social and scientific spectrum—from the first woman to chair the federal reserve to the first woman to create three hit television shows with more than 100 episodes each. 
Best for ages: 8-12 years
Fans of the "Little Dreamers" series will learn new names not everyone might recognize. Many students might already know Ada Lovelace, Marie Curie and Frida Kahlo. But Little Dreamers doesn't stop there, introducing readers to Wang Zhenyi, an 18th-century astronomer, poet and mathematician, and Maya Deren, a Ukranian filmmaker. They'll learn from author Toni Morrison and actress Hedy Lamarr, among a slew of names not to forget.
Best for ages: 8-12
A is for Ada Lovelace and Z is for Zaha Hadid as this book takes readers on an alphabet tour through women's history. Along the way, they'll meet T for comedian Tina Fey, G for pirate queen Grace O'Malley and P for politician Patsy T. Mink. 
Best for ages: 10 years and older
The history of women trailblazers is told through their own quotes and portraits by author Leah Tinari, who highlights each with a sparkle of neon color. The portraits contain the words that help define each American woman, words like: vegetarian, abolitionist, muse, musician, philanthropist, punk, princess and director.
---
Follow Chicago Parent on Instagram.