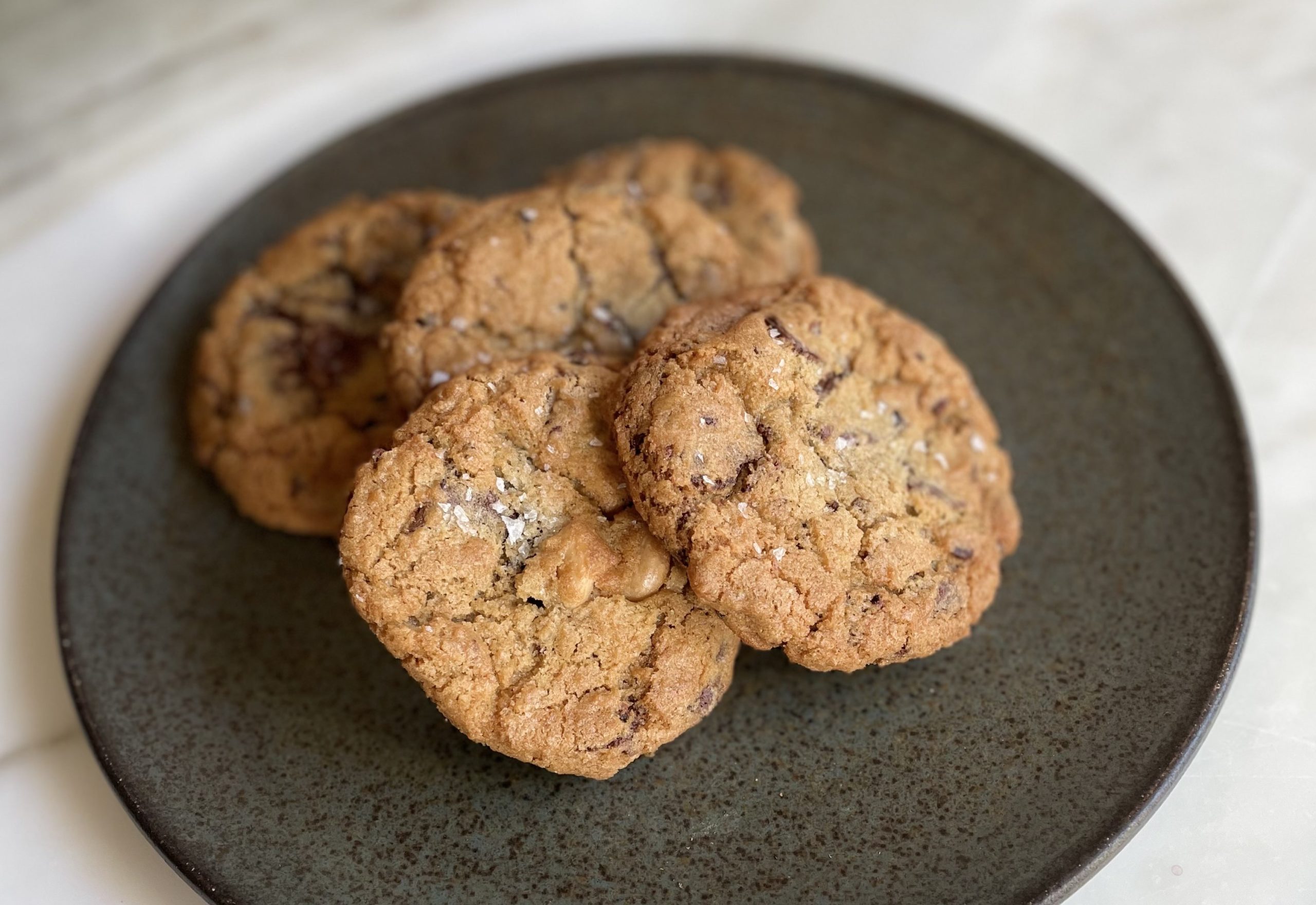 Lauren Terrill, the pastry chef at Sepia and PROXI restaurants in Chicago shared a cookie recipe with us.
"I chose to make my Loaded Cookies because I honestly love a classic chocolate chip cookie, but there are a million ways to make them and everyone seems to have a different favorite style." she says. "These cover all the bases — they're soft but have a crunch from the almonds, and they get a double dose of chocolatey goodness from both chocolate chips and cacao nibs."
Looking for more cookie recipes to try at home? Join our Virtual Cookie Swap!
"You can easily sub out a different kind of chocolate or a different nut (or use a combo) to make everyone happy," Lauren adds. "The little hit of flakey salt during baking really brings all the different flavors out and cuts through the sugar, so you can have more than one without feeling too guilty!"
Ingredients
2 1/2 cups all purpose flour
1 teaspoon salt
1 teaspoon baking soda
1 cup butter, room temp
1 1/3 cups packed dark brown sugar
3/4 cups granulated sugar
2 large eggs
1 teaspoon vanilla extract
2 1/2 cups semisweet chocolate chunks
3/4 cup Marcona almonds, toasted and cooled 
1/3 cup cacao nibs
Maldon salt or fleur de sel to finish
Directions
Preheat oven to 325 F.
Sift together flour, salt and baking powder. Set aside.
In a stand mixer fitted with the paddle attachment, cream butter and sugars on medium speed until light and creamy.
Add eggs one at a time, letting each incorporate fully before adding the next. Add vanilla.
Add chocolate, almonds and cacao nibs and mix on low speed just until distributed evenly.
Use a portion scoop or a spoon to scoop cookies into balls of your preferred size (I like to go about 3 Tbs each for generous-but-not-too-huge cookies). Place on a sheet pan lined with parchment paper, leaving 2 inches between each dough ball.
Flatten each ball slightly with your palm or the bottom of a glass, and sprinkle with flakey salt.
Bake until the centers are just set, about 10-12 minutes, or longer if you like your cookies more crisp.
---
Follow Chicago Parent on Instagram.