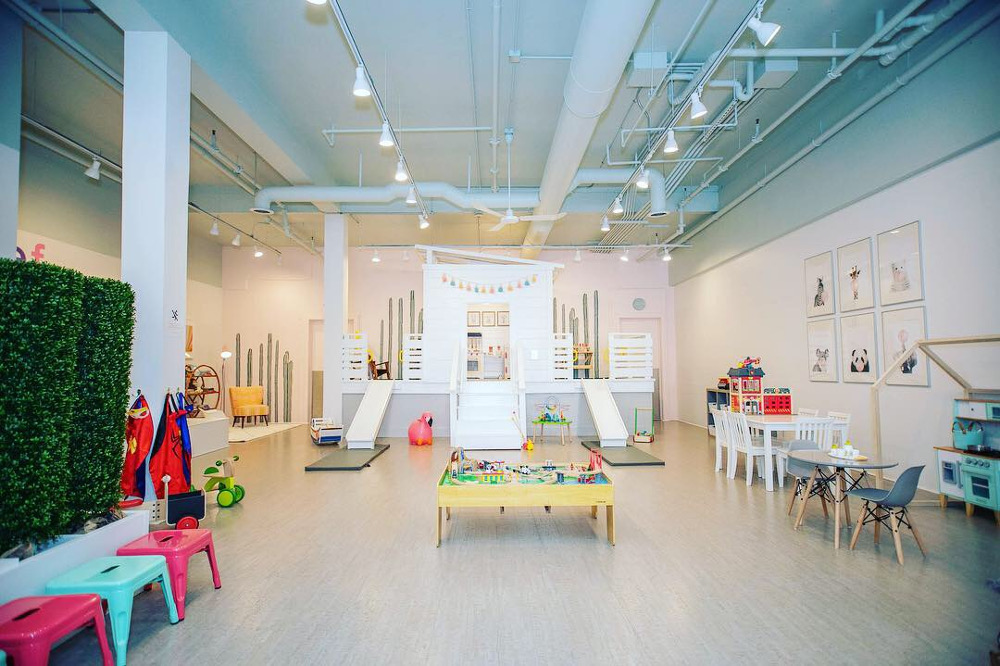 Ah, the dreaded "I'm bored."
It's the least favorite phrase of parents everywhere. And sometimes, no amount of telling your kids to go read a book, play outside or even watch TV will solve the conundrum of a child with a short attention span and too much energy to burn.
So what's a parent to do? Check out one of these newer Chicago area play places the next time your kids have a case of the blahs.
Where: 3108 S. IL-59, Suite 144, Naperville
The average second-grader may not be interested in learning how to code, but you can bet they're up for an afternoon of video game playing. At the recently opened Code Ninjas location in Naperville, kids 7-14 learn computer programming, robotics and problem solving while building video games they already love, like Roblox and Minecraft.
What kids will love: At Code Ninjas, everything is martial arts themed, presenting learning in a less intimidating way. Classrooms are called 'dojos,' teachers are referred to as 'senseis' and kids earn a different 'belt' as their skills progress.
What parents will love: Watching children build confidence, discipline and STEM skills in a fun and safe environment. Plus flexible drop-in class times and camp schedules make it easier for families to work Code Ninjas into their busy schedules.
Where: 553 E. Dundee Road, Palatine
Every child deserves a safe and supportive play environment. We Rock the Spectrum is Chicagoland's first sensory gym, featuring both open play and classes for infants through age 13.
What kids will love: Trampolines, swings, arts & crafts and even a zip line (with crash pit) offer endless opportunities for exploration and skill building. Classes like yoga and music therapy make learning a fun experience for littles.
What parents will love: Parents can rest assured their little ones are enjoying themselves safely while also developing social skills, improving sensory processing and increasing strength.
Where: 1801 Knapp, Crest Hill
This Crest Hill activity center boasts age-appropriate group play for toddlers through teens. Littles will find creative stimulation in classes like music, movement and mini yoga. Children 6 and older can join one of the "clubs," which include activities like dance, cheer, video and board game playing and arts & crafts. Plus, an inclusive playgroup is available for children with special needs.
What kids will love: The sheer variety of activities mean children will never run out of things to do, and The A's Club's Fun Coordinators help make group play engaging and entertaining.
What parents will love: Three words: Parents. Night. Out. Enjoy a kid-free evening at an affordable cost ($8.75 per hour or $35 flat rate for four hours, plus kids are fed dinner). While you're away, kids will enjoy board games, karaoke, movies, crafts and story time.
Where: Northbrook Court, 1515 Lake Cook Road, Northbrook
We've all visited mall play places that feel less than hygienic. Northbrook Play is not your average free indoor playground. This play area (designed by the Chicago Children's Museum) offers families a bright and creative space to get the wiggles out while you shop.
What kids will love: Playdates, anyone? Kids will jump at the chance to hang with friends and play dress up, climb playground equipment or snap some pics at the selfie station.
What parents will love: Did we mention it's FREE? Enjoy all of the fun of a museum exhibit without spending a dime. Not to mention practical perks like a phone charging station and designated nursing area make Northbrook Play a must stop during your next shopping adventure.
Where: 7037 N. Central Ave., Skokie (additional locations in Chicago and Oswego)
Offering wall-to-wall trampolines, a rock climbing wall and trampoline games, kids and parents will jump for joy over this all ages play space.
What kids will love: Whether they're in the mood to battle it out over extreme dodgeball and trampoline basketball, or would rather simply bounce around, kids of every age will have a blast getting their energy out at Altitude.
What parents will love: A monitored trampoline court for younger children, plus designated toddler jump time means less worry about little ones getting hurt while playing.
Where: 4845 W. 111th St., Alsip
Nothing beats cabin fever like a 30,000-square-foot indoor play area filled with playground equipment, imaginative play centers and an arcade. Luv 2 Play even offers six-month memberships at a discount, so you can visit as many times as you like when the weather is bad.
What kids will love: Slides, tubes and obstacle courses will keep children in motion for hours. When they're done running amok on the playground, kids can get some downtime building at the kinetic sand area.
What parents will love: No more stuffing your bag to the brim with granola bars and water bottles. The play center has a full-service cafe, perfect for grabbing a snack for the kids and extra caffeine for parents. There's also a "relaxing area" where the grownups can score free Wi-Fi and comfy seating.
Where: 25 S. La Grange Road, La Grange
This light, airy spot that is a combo playplace, retail boutique and cafe gives you plenty of reasons to dream about sunny days.
What kids will love: A custom-built clubhouse with two slides, a reading corner and multiple play zones with toys.
What parents will love: Space to relax and shop while the kids play, plus freshly brewed coffee.
---
Follow Chicago Parent on Instagram.