It's hard to believe that the movie Mean Girls came out 15 years ago when the cult classic is constantly being quoted to this day. We still celebrate Mean Girls Day on Oct. 3! The film is iconic. That's why tweens, teens and even some of us parents are rushing to see The Plastics on stage in Chicago.
While this brand new musical comedy doesn't live up to the 2004 movie by Tina Fey, Mean Girls fans won't be disappointed. Mean Girls the musical is basically a carbon copy of the movie. You'll hear some of your favorite quotes mixed in with some choreography and songs. Overall, it still teaches young girls an important lesson about being authentic with your friends and yourself.
After being homeschooled in Africa for her entire life, 16-year-old Cady Heron (Danielle Wade) arrives at North Shore High School (a fictional school in the Chicago suburbs). She quickly discovers high school is a jungle of its own and Regina George (Mariah Rose Faith) is the leader of the pack a.k.a. "The Plastics." But as soon as Cady starts crushing on Regina's ex, Aaron Samuels (Adante Carter), she falls into the mess of high school cliques in order to get what she wants.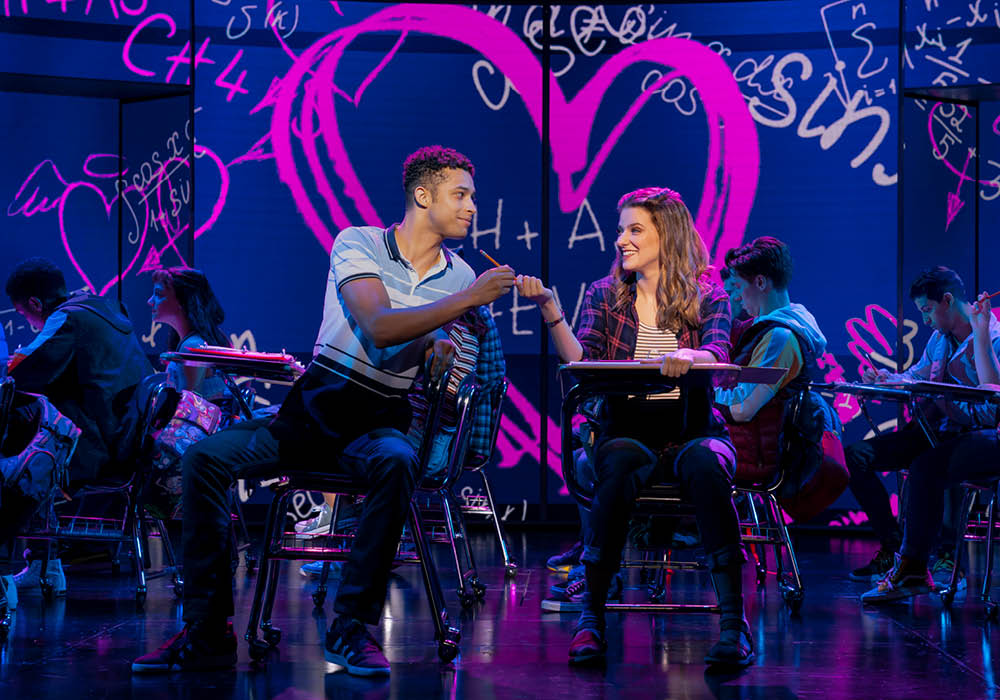 What most of us loved about the movie Mean Girls is that it brought high school to life, and the musical does that exactly with a modern twist. A few changes you'll see include a heavy mention of social media and pop culture references (did you spot sexy Baby Yoda in the Halloween scene?). You can see that the musical has a lot of heart to teach the next generation on how high school doesn't define you.
Janis (Mary Kate Morrissey) and Damian (Eric Huffman) share the "cautionary tale" about Cady to a group of freshmen setting the humor at the beginning of the show. With the book written by Tina Fey, you'll be entertained for the entire night with hilarious moments from the entire cast, along with Gretchen (Megan Masako Haley) and Karen (Jonalyn Saxer). Expect to hear favorite lines from "So fetch!" and "She doesn't even go here!" on stage which will win over the crowd easily. I wish there were just a few more jokes that outshined the original material.
I think the only problem with Mean Girls is that I was expecting something a little bit more than the movie I've watched countless times in the past dozen years. "Legally Blonde" is a great example of a movie-to-musical comedy that changed a bit of its original material to make it work even better on stage along with an excellent cast album. The music for Mean Girls had its moments with "It Roars," "Where Do You Belong?" and "Stop!", but it just needed something a little bit more to help make the musical iconic as well. I have to say that the entire cast has the musical chops to deliver each song. Also worth noting: The set designer did an excellent job using a collage of digital screens to display how teens today are defined on what they share and post with friends on social media pages.
For parents thinking about taking their kids along to the show, we recommend Mean Girls for ages 12 and older. There is a lot of crude humor similar to the movie with the mention of sex, alcohol and drugs. It's a story about high school, after all! If you're okay with your middle schoolers watching the movie at home, then the musical will be fine for them.
All in all, you'll still enjoy Mean Girls if you're a die-hard fan. It might not be the perfect musical, but it promises a fun night out. And don't forget to wear pink—especially if you go on a Wednesday!
If you go
Runs through Jan. 26
James M. Nederlander Theatre, 24 W. Randolph St., Chicago
Recommended for ages 12 and older
Tickets start at $30
Find more information at broadwayinchicago.com.
---
Follow Chicago Parent on Instagram.