Whether you're into coffee to kickstart your day or are looking for a little pick-me-up in the afternoon, these java shops around the Chicago area are cool for kids and adults alike.
Thanks to their welcoming environment and amazing drinks, these coffee shops are super cool for families.
This Korean cafe in Schaumburg is a real gem, especially for those with a sweet tooth and sense of adventure. Aside from coffees and teas, you can also taste bubble teas, amazing smoothies, Belgium waffles piled with ice cream and tempting flavors of bingsu, a shaved ice dessert that's like the most incredible, multi-sensory sundae. Trying new treats can be such a joy!
Address: Various locations in Chicagoland
This java chain has locations around Chicago, with several including outdoor spaces and fire pits. Inventive coffees and teas include Windy Ci-Tea with black tea, earl gray, lavender syrup and oat milk, Cold Brew Horchata with cinnamon and vanilla and a Minty Matcha Latte. All-day breakfast includes burritos, bowls and classics like avocado toast. Basic to bold sandwiches and wraps ensure everyone is satisfied.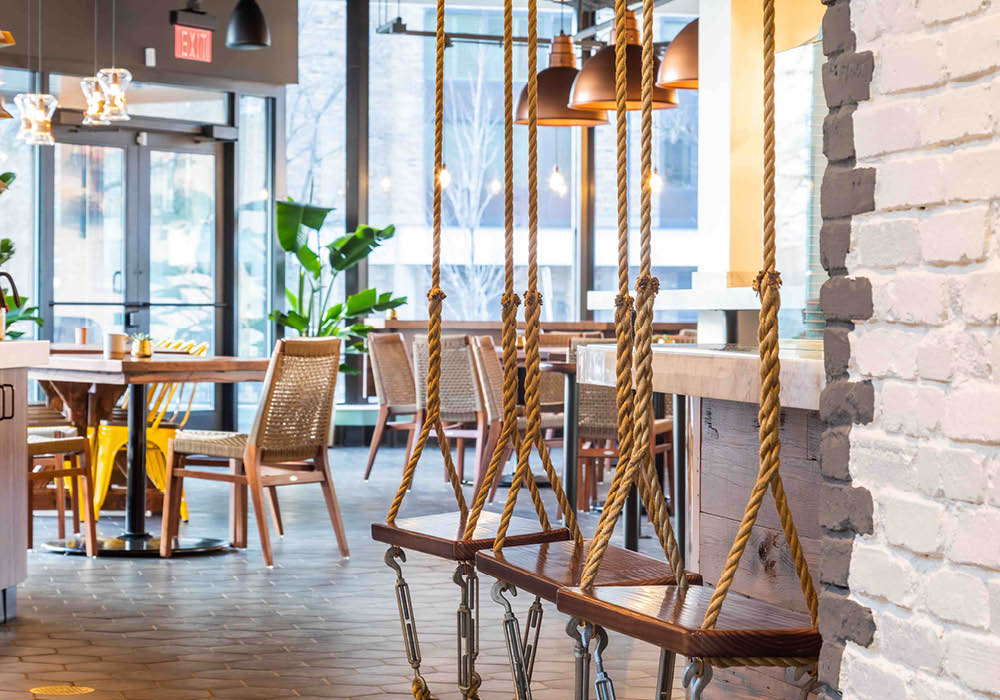 Address: Various locations in Chicagoland
Fairgrounds Craft Coffee and Tea plays on the whole county fair idea in a hip, modern way (decked with swings to hang out on and the most adorable kids' lunchbox meals). The menu features a rotating selection of quality coffee roasts from around the country. There are even cold brews and nitros on tap. Have trouble selecting? Order a coffee flight! There's also tea, matcha and elixirs that include jasmine, coconut caramel marshmallow, walnut bitters and interesting seasonal flavors.
Ipsento 606 is a gem of a coffee shop right off The 606 trail. Before or after your 606 excursion with the kids, nab a Cardamom Rose or Nutella latte, espresso or tea. Kids will love the house-made mini donuts and smoothies. There's also a full bar with beer and cocktails, cheese boards and other favorites for later in the day.
Stop by this French cafe for a quick bite to eat and a cup of coffee. There's outdoor seating available or you can take a walk around nearby University of Chicago to explore the campus. You can also visit the Oriental Institute Museum or Smart Museum of Art.
This eclectic little cafe on a quiet corner in Bucktown has a walk-up window perfect for those on a stroll. Red June Cafe serves coffee brewed with Julius Meinl beans, smoothies, muffins and baked goods, breakfast and lunch entrees as well as quick bites. There's a cute corner for kids to play, color and read and tons of kitschy signs that my children thought were hysterical, like "Drink Coffee and Do Stupid Things Faster and With More Energy." This is a great Bucktown stop to get your caffeine fix.
Families will enjoy the friendly staff and vibrant atmosphere at this South Shore coffee shop. Browse through the coffee menu, while kids will love to try out one of the healthy smoothies. If you want to take your drinks outside, find a spot to relax at South Shore Park.
Address: Various locations in Chicagoland
What kid can say no to donuts? From glazed to pretzel, peanut butter pocket, vegan and even gluten-less, who can resist? Plus, Stan's Donuts & Coffee has cold brew and all sorts of cappuccino specialties. Parents can get their caffeine kick while kids enjoy their sugar rush. All's fair.
Children of the '80s and '90s will relish taking their children to this funky coffee shop featuring relics from their childhood. Retro games, movie posters and even a DeLorean in back deck out this cafe that serves up Halfwit Coffee and specialty drinks. Everyone raves about the Koopa Troopa chocolate peanut butter latte and the Honey Bear honey latte.
---
Follow Chicago Parent on Instagram.