Whether you go all out like Clark Griswold and deck your home from top to bottom, or prefer a more subtle holiday decor, the spirit of the season is most often felt right inside your home. 
As you prepare to decorate your house for the holidays, we consulted some of Chicago's most popular bloggers and social media influencers for their own personal decorating tips and styling advice to create a festive feel at home.
Theme
Stick to a theme! In our case, it's Eiffel Tower ornaments and ornaments from around the world. I'm a huge Francophile, so we collect Eiffel Tower ornaments to decorate the tree and even have an Eiffel Tower tree topper. Also, we travel fairly often and try to buy ornaments from the places we've been to. It's fun to talk about where some of the ornaments are from and what we remember from our trip there.
Also, showcase your collection if you have one. I've collected nutcrackers throughout the years. We display the nutcrackers on our mantle and some key places around the house. Lighting is key. We have string lights and garlands with lights and hang them around the inside of the house, particularly the mantle and windows. The lighting makes the house look and feel festive in the evenings like you're under the stars.
—Leyla Tran @secondcitymom, secondcitymom.com
Bring in greenery
Christmas is a time I want to feel relaxed, warm and cozy. I want to feel the opposite of the hustle and bustle of the season, so I make sure our home relays that when I'm decorating for the holiday.
Always bring in greenery, whether it's branches from a pine tree, sticks with holly berries on them, or my favorite, the large silver dollar eucalyptus. All of these options look great in a big glass jug, old milk jug or even an oversized vase on your entryway console, on your kitchen island or even as a coffee table centerpiece. Try incorporating eucalyptus pieces in your garland that's draped over your fireplace mantle for a more updated look to the typical pine needle garland. Not only do all these greenery options smell amazing (and like the holidays), but it gives a modern, yet cozy vibe during the holiday season.
You can even fill in those annoying open blank spaces in your Christmas tree with real pine needles, eucalyptus or berries. Then mix it up and instead of using a skirt around your Christmas tree, use faux fur throws or a chunky cable knit throw to curl around the bottom of your tree. Or if you are looking for a more country-chic or modern farmhouse look, then use a basket or galvanized metal bucket for your Christmas tree base.
—Heidi Taylor, blackdovelifestyle.com
Add whimsey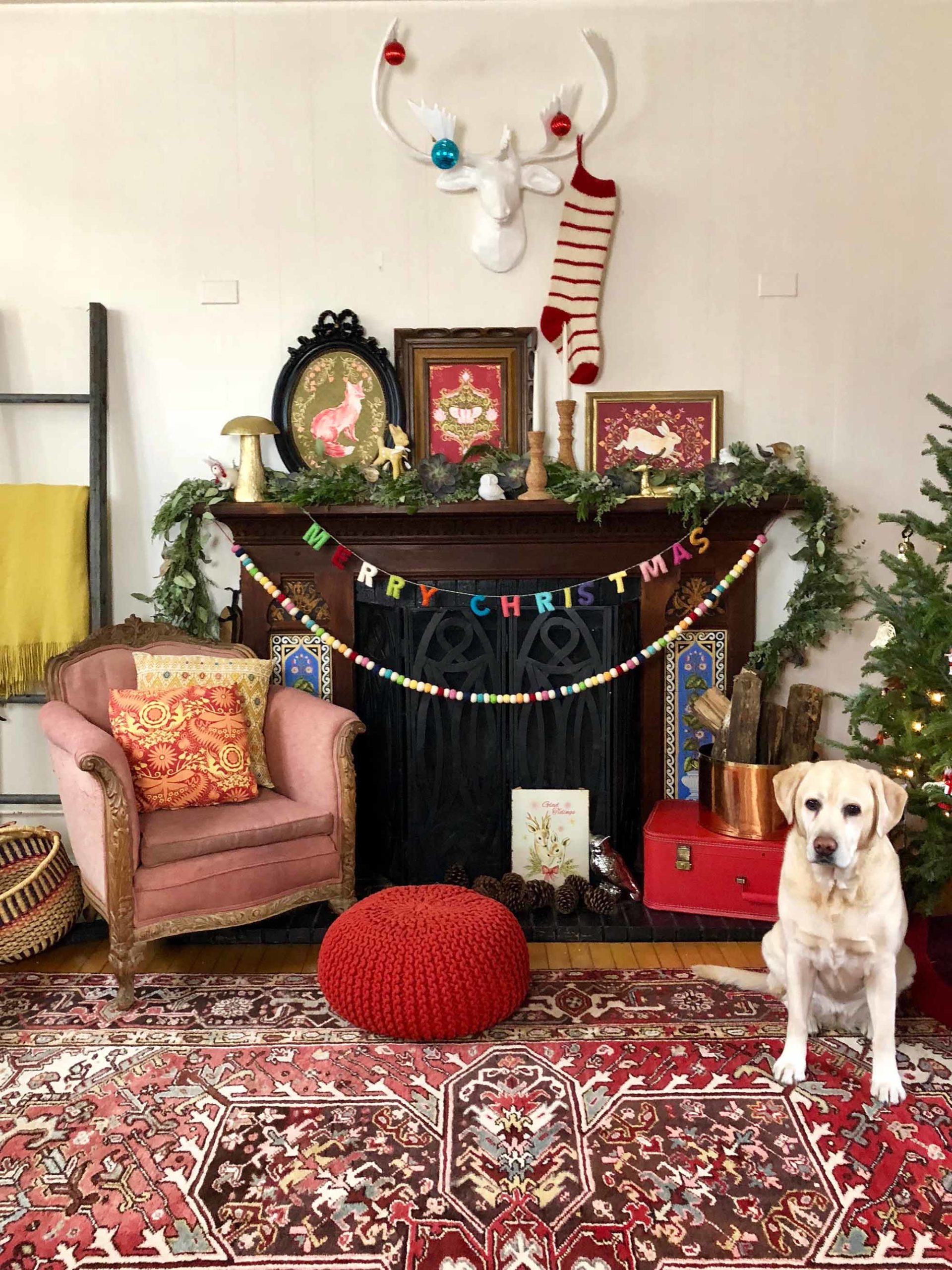 We love whimsical holiday decorating, especially combining non-traditional decor with lots of color! You don't need to go overboard and replace your everyday decor with holiday decor. Adding a colorful centerpiece and festive garland can go a long way.
Personal touches like displaying your holiday cards in a creative way is festive and meaningful. We like ours tacked up with clothespins on evergreen garland in a doorway. Also table settings for family dinners can be a fun, easy way to bring the holiday cheer into your home. We like non-traditional elements like eucalyptus branches for a pop of green in lieu of a table runner. Paired with fun plates and unexpected centerpieces like vases of fruit can add color and whimsy without breaking the bank.
We also love using vintage items like old skis and plaid blankets that have that winter vibe without being overtly Christmas-y. Mixing traditional red and green in with other bright, happy colors can really make for the perfect winter wonderland.
—Natalie Papier & Kim Daunis, homeecop.com
Complement your decor
At my house, we like to keep things to a minimum. In my opinion, keep it simple and less is always more. Select a color palette to start. Last year we went for silvers and blues for our Christmas tree. What I consider my styling secret is that I always try to purchase neutral colors. I like festive whites, blues and silvers. Our home has some of those colors and I find that it blends well.
So try to look for decorations that will complement your home in terms of decor without it being too "holidayish." I also tend to stay away from red and green. Most importantly, don't forget to get the kids involved considering the holidays are all about family fun.
—Charlotte Betts, milknhonee.com
Use fresh items
I love to decorate with natural greens, seasonal florals and natural elements. To keep things looking fresh and lively, I stay away from premade decorations such as signs or crafts. Instead poinsettias, green garland, boxwoods and handmade bows go along way and always look timeless.
Also, I love pine needle garlands. I expect to clean up garland needles for months after the holiday, but the smell and look is amazing. I like to clip holiday cards to garland or vintage ornaments in doorways or on trim.
—Kaylan Kane @olivejuicechicago, olivejuicechicago.com
This article originally appeared in the December 2018 issue of Chicago Parent. Read the rest of the issue.