Dinosaurs are taking over and your dino-loving family is in for a treat! Whether you're ready to walk through Brookfield Zoo's Dinos Everywhere exhibit or stay in the comfort of your car for one of the many drive-thru animatronic exhibits, there are lots of ways to feed the dinosaur fandom. As always, if you're leaving the house, be sure to wear a face covering and heed social distancing requirements.
Read more: Things to Do with Kids This Spring in Chicagoland
Note: We're updating our website as quickly as we can, but changes may occur due to COVID-19. Please double check before heading out for the most updated information on safety precautions and any last-minute cancellations. Stay safe!
In-Person Events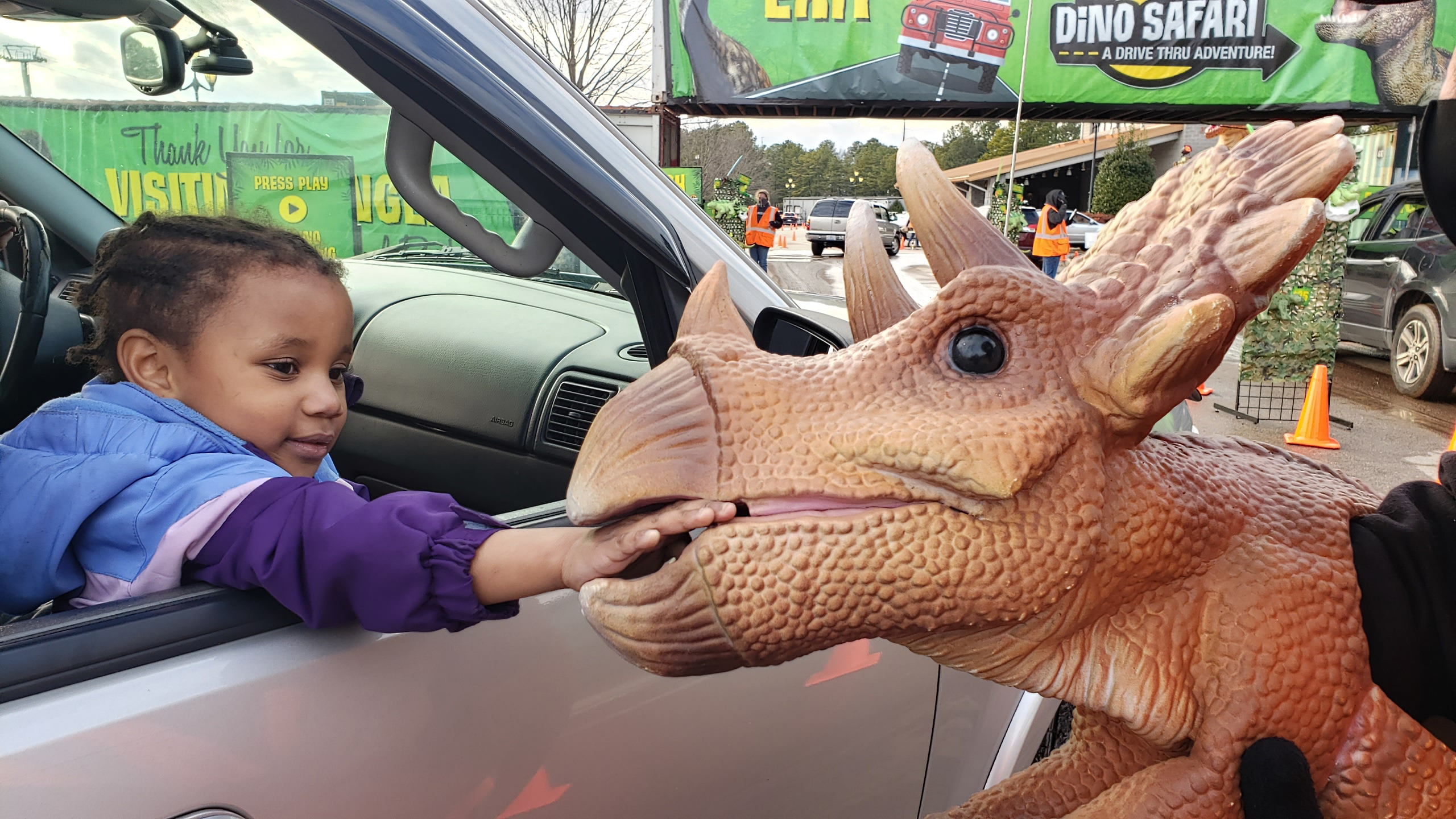 When: Through May 23
Where: Fox Valley Mall,

195 Fox Valley Center Drive, Aurora

Cost: $49.95 per car up to 7 occupants, $59.95 for large-capacity vehicles; advanced ticketing required
Families can take a Dinosaur Safari to see more than 40 animatronic dinosaurs along a drive-thru path. On each adventure, families will learn how dinosaurs evolved over time, where they called home and the discoveries paleontologists have made about how they ate, moved and behaved. Beware: along the journey, earthquakes might erupt, dinosaurs could battle, and families might just have to help save a baby dinosaur's life. Dino Safari offers every visitor a Survival Pack that includes a scavenger hunt, coloring activity and other fun surprises for a more interactive experience.
When: Begins Thursday
Where: Six Flags Great America,

1 Great America Parkway, Gurnee

Cost: $49 per vehicle (up to 8 passengers), $75 per vehicle (up to 15 passengers); advanced tickets required
Families can drive by more than 60 realistic dinos that move and roar, experiencing the dinosaurs in the order in which they lived. The tour also features a hilarious and educational audio guide in English and Spanish, which includes a trivia game and the audio can be played through a phone. Tour lasts 45 minutes.
When: Friday-Sunday
Where: Long Grove Chocolate Festival, Robert Parker Coffin Road, Long Grove
Cost: $20-$45, advanced tickets required
Enjoy a bite-sized version of the Chocolate Festival with a Chocolate Expo Tent, Chocolate Experience Tent, and Chocolate Row of vendors, which will all feature chocolate makers, chocolatiers, cacao producers, and related vendors selling and sampling their wares and chatting with attendees. Plus, live music and swag bags for VIP ticket holders.
When: Thursday-Sunday
Where: Experiences virtual and through Chicago and the suburbs
Cost: $8, $7 seniors, $6 ages 3-12, Free ages 2 and under; -$1 per price for members
The Chicago Learning Exchange (CLX) and founding partners—WTTW Kids, Project Exploration, Chicago Public Schools Family and Community Engagement, Chicago Park District—and Event Hosts will turn Chicago and Evanston into an open house learning laboratory. We will feature more than 100 fun and free events for youth of all ages at which families will experience making, new technology, art workshops, science experiments, student films, outdoor learning and more.
Just before the first man landed on the moon, Snoopy soared through space with NASA's Apollo 10 mission in May of 1969. This new touring exhibition from the Charles M. Schulz Museum examines the history of Apollo 10 and the Peanuts characters' role in that historic flight and NASA's Manned Flight Awareness safety program.
Explore seasonal themes on guided, family-paced hikes through the Arboretum's diverse tree collections.
May theme: Step Back in Time to discover the Indigenous and settler history of the land that would later become The Morton Arboretum, and how to share friendship and support to Native Peoples who live in the Chicago region today. Meet in Parking Lot 29.
When: Saturday-Sunday
Where: Chicago Children's Theatre at The Station,

100 S. Racine, Chicago

Cost: $55 per pod (includes an item of joy)
Join Chicago Children's Theatre for a highly interactive show featuring acts from the theatre's favorite musicians and vocalists. Dance along to universal favorites and underground hits in a festival atmosphere complete with food vendors and oodles of bubbles. This fast-paced, hour-long celebration is all about family fun, local artists, and generating as much joy as possible.
When: Through Oct. 10
Where: Chicago Botanic Garden,

1000 Lake Cook Road, Glencoe

Cost: $8, $7 seniors, $6 ages 3-12, Free ages 2 and under; -$1 per price for members
The Model Railroad Garden delights visitors of all ages with the sights and sounds of garden-scale trains traversing bridges and trestles, past miniature scenes of America's best-loved landmarks and beautiful gardens planted to scale.
When: Begins Friday
Where: Pritzker Military Museum & Library,

104 S. Michigan Ave., Chicago

Cost: $10, $8 students with ID, Free under 12, active military and members
Families can learn more about editorial cartoonist Bill Mauldin by viewing 125 original drawings, an additional 35 reproduced images and more than 20 original artifacts. Mauldin was an art student in Chicago before joining the frontlines of WWII in Europe, then returning to Chicago to join the staff of the Chicago Sun-Times. He won two Pulitzer Prizes for his editorial cartoons.
Families of all ages and art abilities can help color splash the sidewalk in front of the Gregg House Museum into a dazzling mosaic of design. Chalk will be provided and no previous art experience is required.
Families can learn all about this "one of a kind" ship during a docent-led tour. Discover Viking's construction, journey and significance. (You may even meet a Viking.) Docent-guided tours begin every 15 minutes and self-guided tours are available.
Check out a drive-in showing of Ferris Bueller's Day Off to raise money for The Harold E. Eisenberg Foundation and GI cancer research. Families can purchase a ticket for themselves and/or donate to pass a ticket along to a frontline worker or cancer survivor. Proceeds from the event contribute to innovative research programs at the Robert H. Lurie Comprehensive Cancer Center.
Watch classic and cult movies from the comfort of your car. Moviegoers will have the option to have popcorn, tacos, wings and more delivered right to the car. Health and safety also remain a priority. Cars are situated in the lot at a safe distance from one another, with one car for every two spots. This weekend's schedule: Friday – Mean Girls, 8:15 p.m.; Twilight: New Moon, 10:30 p.m.; Saturday – Us, 10:30 p.m.; Sunday – Jurassic Park, 8:30 p.m.
Virtual Events

When: Sunday
Cost: Free, donations accepted; registration required
Wildlife in South Africa is abundant, with almost 300 mammal species! The term 'Big Five' is used to describe the power and strength of the elephant, buffalo, leopard, lion, and rhino. In this workshop, families will have the opportunity to create animal masks or puppets of their own and then have the option to create short vignettes with their animals. Each animal family will face a small conflict and then in the spirit of democracy and equality, show us how you come to a resolution together. Participants will have the opportunity to present to each other. This workshop will be led by local South African artist and educator Dina Kaplan and Johannesburg visual artist Thabang Lehobye and is part of the Mandela exhibit at the Illinois Holocaust Museum.
When: Saturday
Cost: Free
During this virtual animal show presented by Animal Quest Inc., kids ages 4 and older will meet and learn about a hairless guinea pig, giant African Bullfrog, tortoises and more. Register for Zoom link.
When: Saturdays through June 26
Cost: $49 per household
Enjoy magic from the comfort of your own home with an interactive series modeled after The Magic Parlour's VIP Encore Room experience. For a fully immersive experience, guests are recommended to sport cocktail attire and bring their own deck of cards. Recommended for ages 12 and older, and as many as 10 people per computer.
When: Saturday-Sunday

Cost: $49.95, $44.95 members
Join the ocean's most dynamic and misunderstood predators — sharks — and other marine predators for brunch on this virtual feeding tour. Start with a close-up view of Shedd's Wild Reef exhibit, which brings you to a Philippine coral reef. Then venture behind the scenes to the animal care area to witness mealtime. Learn how Shedd's aquarists prepare meals of restaurant-quality seafood. Discover how each shark and ray species in Wild Reef has been trained to respond to an aquarist's signal for mealtime. During this 40-minute  virtual tour, get up close with sharks  and observe a feeding session with Shedd's animal care team. Shedd Aquarium experts will take visitors into the waters of the Wild Reef habitat. Discover what it takes to feed and care for these animals and how that work supports these species in the wild.
When: Saturday-Sunday
Cost: $49.95, $44.95 members
Come face-to-face with the playful, adorable sea otters that call Shedd home. This experience is all about getting up close — join Shedd experts behind the scenes (virtually) for a sea otter play session, watch them dive, socialize, vocalize and groom and find out how their sustainable, restaurant-quality food prep happens. Will you play with pups Cooper and Watson? Watch Yaku's pocket in action? Visit Luna while she snacks on sea urchins? Dive in and explore the world of sea otters firsthand.
When: Saturday-Sunday
Cost: $49.95, $44.95 members.
Experience a live virtual visit with the sea lions that call Shedd home from wherever you are in the world. You may know California sea lions best for their loud vocalizations, and their ability to traverse both land and water. During this encounter you will meet one of the four rescued sea lions at Shedd—Biff, Cruz, Laguna, or Tanner—and learn how their rescue and rehabilitation gave them a second chance at life. This 30-minute Virtual Sea Lion Encounter will take place on Zoom so you can enjoy the experience from your own home.
When: Saturday
Cost: Free
ComedySportz is an approved-for-all-ages improv competition. They make up the story up with suggestions from you as two teams battle each other for your love and points. The Ref presides over the whole thing and by the end of the night, one thing will have won: comedy.
When: Through June 15
Cost: $40
This downloadable concert features Rachmaninoff's Concerto 1 in F-sharp minor, Concerto 2 in C minor and Concerto 3 in D-minor. Featured pianist Dr. Wael Farouk has performed on five continents in such venues as the White Hall in St. Petersburg, Schumann's house in Leipzig and Weill Recital Hall at Carnegie Hall in New York, where his solo debut performance in 2013 was described as "absolutely masterful." He was last seen at the MAC in 2018.
Northwestern University School of Communication Theatre Department storytellers will read and perform books for kids weekly on the Wirtz Center Facebook Page and the Wirtz Center YouTube Channel. Sunday's story: "Mal Makes a Friend – An Adaptation of Pygmalion and Galatea"
Around Town
Learn about your own neighborhood or explore a new one (maintaining social distancing, of course) with Walkie Talkies, a podcast program from Chicago Children's Theatre. Different local theater artists walk you – podcast style – through their favorite neighborhoods.
At-Home Fun
While you and your family remain at home, you can try streaming a new kids' show or virtually visit your favorite Chicagoland locations!
Parents Only
Partners who are so over all this family time and looking for alone time, we feel you. Whether it's starting a fabulous puzzle or cooking a new dish together, here are a few of our favorite ideas for this weekend.
Enjoy a special dinner series this weekend only at

The Press Room's

speakeasy: Dead Plants. In true, super-secret, speakeasy fashion, the only way to purchase tickets for the dinner is through text (872-240-2317) and live music from the Shawn Maxwell Duo will fill the room. Guests are encouraged to join in the 1920s vibe and dress accordingly.
If you prefer your dates with some adventure, rollerblade rental is back at

Maggie Daley Park

. It's OK to ditch the kids for a day-date skating the ribbon on blades. Rental is available noon-6 p.m. Friday-Sunday on a first-come, first-served basis. 
Comedy is back at

The Laugh Factory in Chicago

. Weekend tickets are available and seating is socially distanced so that couples 21 and older can enjoy the atmosphere of returning to the club.
---
This post is updated regularly.