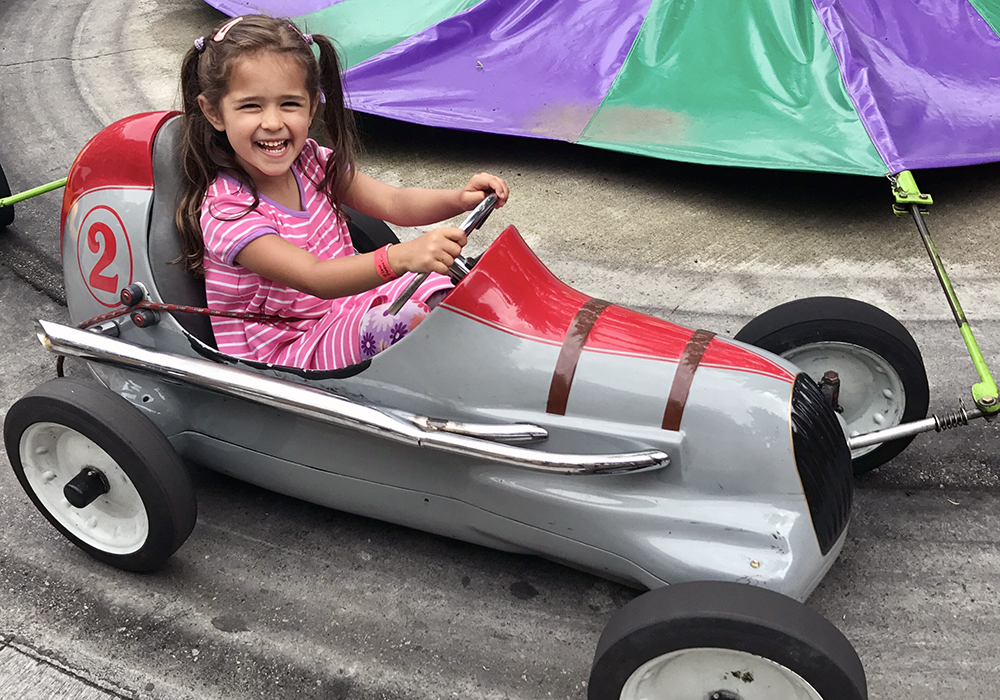 This week's blog post is by The Paternity Test co-host Matt Boresi, who lives in the Edgewater Glen neighborhood of Chicago with his wife ("Professor Foster") and their 5-year-old daughter Viva, who is gonna wear white and shun nutmeg until after Labor Day.
Social media is always upsetting, but mine has been PARTICULARLY worrisome lately. Not just because neo-Confederate yawping has caused me to become sympathetic to the Juggalos, but because dozens of friends are already starting their "I'm ready for Fall" nonsense. I'm guessing these friends are burned out (literally) on toting sandy bags of sunscreen and wilted snacks to sun-blasted locations, but they need to stay the course. Labor Day is two weeks away, CPS isn't yet in session and we can still lap up the last drips of summer fun before the cone falls apart. You'll have months and months to drink disgusting gourd flavored sludge while wearing mopey umber sweaters and watching the Bears lose. There is absolutely no reason to stop Despacito-ing yet.
It'll be in the mid to high 70's all week — here are five ways to celebrate it:
Forget Cake by the Ocean … 
How about Crepes on the Beach? The beaches aren't closed and, frankly, the weather has only just heated up after a mild summer. Hit those beaches for as long as you can, and if you haven't yet, head up to Loyola Beach, where the food stand there now serves $5 crepes or $4 Chicago dogs.
1230 W. Greenleaf – Open 10 a.m.-8 p.m., 7 days a week
And while you're on the water … 
Head south of the crepes to Kathy Osterman Beach (a.k.a. Hollywood Beach) and rent some paddleboards from Chicago Paddle Company. It's sporty fun for the whole family, and lessons are available. 
5800 N Lake Shore Dr.
Dine al fresco like nobody's watching
Patios and rooftops are hot in Chicago, but most aren't family friendly. Honey Butter Fried Chicken is the exception, with a huge backyard, great chicken, craft beers and the kids will love it. (Maybe not the beers.) It's in the Avondale neighborhood, which is an industrial area and time-honored Polish enclave now converting into all kinds of cool lofts and businesses that always seem to be in conversation.
3361 N. Elston Ave.
Let the Force be with you
You're not going to see much baseball worth watching in a white flag season at the park-let's-just-go-ahead-and-call-Comiskey, but you can attend Star Wars night — and the first 15,000 attendees get a White Sox Stormtrooper bobblehead. 
White Sox Star Wars Night, Aug. 26. Game tickets available at the link above.
Some fests are yet to come
It's not time for fall fests yet — there are several summer fests this weekend, not the least of which is the Logan Square Food Truck Social on the 606 trail. If the worst food around gets handed into your car window, some of the best gets handed to you out a truck window. With more than 28 trucks on hand and plenty of live music, you're sure to find food and tunes for the whole family.
Humboldt Blvd. between Armitage and Bloomingdale, Aug, 25-27. Food tickets can be pre-purchased at the link above.
If you enjoyed this post, subscribe (free!) to The Paternity Test Comedy Podcast on iTunes or on Soundcloud, or visit www.paternitypodcast.com.
You can find the Dads on Facebook, Instagram, Pinterest and on Twitter at @thedadtest or email them at paternitypodcast@gmail.com.
Call The Paternity Test on their hotline: (657) BAD DADS and leave a message or a question they can play on the podcast!