Cheesecake from Prairie Grass Cafe.
From carryout to delivery, chefs across the city and suburbs are gearing up to treat moms for Mother's Day. Some have partnered with local florists to make sure mom doesn't miss out on a special bouquet, even if she's stuck inside.
Where: 1401 N Wells St., Chicago
Cost: $85 for four people, $18 additional person
Place your order: 312-787-6604 by May 7 for pickup on May 10, 11 a.m.-9 p.m.
Create your own four-course meal with appetizer, pasta, main courses and dessert. Options include bruschetta, cheese plate, fried calamari, grilled portobello, mixed salad greens, caesar salad, fumigato, penne alla vodka, lasagna bolognese, tortelacci al prosciutto, pesce bianco, salmon vesuvio, chicken vesuvio, chicken marsala, chicken parmigiana, cannoli and tiramisu. All meals are served family style.
Where: 3335 N Southport Ave, Chicago; 2075 N Lincoln Ave, Chicago; 1200 W Webster Ave, Chicago
Cost: $250
Place your order: Online by May 1 for delivery May 10, 10 a.m.-1 p.m.
The Ballyhoo Restaurants will help you send or treat mom to a picnic brunch basket with a fresh brunch, gifts and beverages. Brunch includes croissants, fruit, beet and quinoa salad, smoked salmon and cucumber tea sandwiches, rosemary ham and manchego quiche, lemon squares and chocolate bon bon truffles. Mom will also receive Gemini caesar salad dressing, Old Pueblo chiltepin salsa, Coda diVolpe meatballs pomodoro and pasta, Anna O'Donnell's famous ranger cookie ough, Ballyhoo Blend by Sparrow Coffee, a $50 Ballyhoo Hospitality gift card, personalized cards and a small bouquet of flowers.
Where: 400 N. Clark Street, Chicago
Cost: $45 for brunch, $45 for pancake kit
Place your order: 312-312-5100
Choose two mains, two sides and two cocktails to send or deliver for Mother's Day. Mains include ranchero scramble, avocado toast, buttermilk waffles, vanilla bean French toast, shrimp and grits, steak salad and grilled chicken. Sides options are apple smoked bacon, jalapeno cheddar grits, home fries, mixed greens, fries and whole wheat toast.
Where: 1649 N. Damen Ave., Chicago; 901 N. Larrabee Ave., Chicago; 1127 N. State St., Chicago; 10000 W. O'Hare Airport, Chicago
Cost: $75 serves 2
Place your order: On their website by May 8, noon
Choose your menu, cocktails, and add in a bouquet of flowers to make mom feel extra special this year. Select from cocktails (sparkling prosecco with fresh orange juice or bloody mother with vodka), starters (mini pastries or granola and yogurt parfait), entrees (breakfast frittata, spinach, tomato, mozzarella and basil quiche, smoked salmon with everything bagel, French cinnamon toast or Mexican chicken enchiladas served with southwest potato hash) and a dessert to share of chocolate strawberries, truffles and cookies.
Where: 5553 N Clark St., Chicago
Cost: $60 dinner, $80 wine and cheese baskets
Place your order: Online by May 8 for pickup May 9 or 10
Uvae is partnering with Andersonville Fine Foods for a choice of wine & cheese baskets and/or a Mother's Day dinner. Baskets include a bottle of sparking and a bottle of rose, assorted cheeses, housemade duck pate, black pepper crostini, assorted crackers, assorted accoutrements, Andersonville Fine Foods Koval Bourbon Nuts, Chef Sweet Charity's macaroons. Dinner serves one each and includes a bottle of Rose Arugula, fennel and strawberry salad, cornish game hen with apricot glaze and wild mushroom risotto and lemon lavender cheesecake.
Where: 601 Skokie Blvd., Northbrook
Cost: $62 breakfast in bed, $46-$79 dinner, $20-$25 per child
Place your order: 847-205-4433 by noon May 4 for breakfast in bed, by May 7 for dinner
First, let Mom enjoy a pre-Mother's Day breakfast in bed with stuffed carrot cake French toast, sausage patties, orange juice, tea and honey as Prairie Grass Cafe does the hard work for you to finish on May 6 (includes flowers from Akebino Tulips). For Mother's Day dinner, choose from four entrées (beef tenderloin, grilled Canadian salmon, Maple Creek Farm ham and cauliflower quinoa cakes), accompanied by a mighty vine salad, grilled vegetables, and strawberry cream pie. Children will enjoy smaller portions and a choice of several menus including a small spring salad, mighty vine tomato salad, strawberry cream pie and choice of a half portion of ham, spaghetti with meat sauce or spaghetti marinara.
Mother's Day Salmon from Seasons 52
Where: 2443 W. 16th St., Chicago
Cost: $185 serves 4
Place your order: Online by May 7 for delivery
Brunch includes fresh seasonal fruit, artisan cheese and charcuterie board, shrimp cocktail with sauce, garden quiche, a choice of grilled split cornish game hen or baked salmon, vegetable choice of shaved Brussels sprouts or roasted vegetables and lemon pound cake. Options to add drinks and bouquet of flowers available.
Where: Lansing Country Club, 18600 Wentworth Ave., Lansing
Cost: $29.95 for two people
Place your order: 708-474-9102 by May 5
Moms don't have to cook thanks to a carry-out-only basket of goodies. Basket includes two omelets, bacon, cinnamon French toast sticks, carved ham, rack of lamb, fajita steak bowl, Romanov potatoes, southern biscuits and gravy, deviled eggs, scones and muffins.
Where: Multiple locations
Cost: Starts at $40, serves up to 5
Place your order: Online beginning May 2
Treat Mom with the comfort and convenience of the new Mother's Day Family-Style Take & Bake Bundle. The bundle includes one pan of ready-to-bake giant cheese-stuffed shells, a jumbo house salad with a bottle of signature Italian dressing, one dozen ready-to-bake breadsticks and choice of homemade Alfredo or marinara dipping sauce.
Where: 5340 N. River Road, Rosemont; 2000 E. Golf Road, Schaumburg; 633 N. St. Clair St., Chicago.
Cost: $195, serves 4-6
Place your order: Online while quantities last
Try a three-course family-style Mother's Day dinner to go, featuring a whole roasted beef tenderloin and choice of butter poached North Atlantic lobster tails or scampi-style jumbo shrimp. Entrees are served alongside green beans, mashed potatoes, a freshly baked flourless chocolate espresso cake and housemade lemon tea cookies. In addition, the restaurant is offering a selection of uncooked steaks, hand-carved by its in-house butcher to be prepared at home.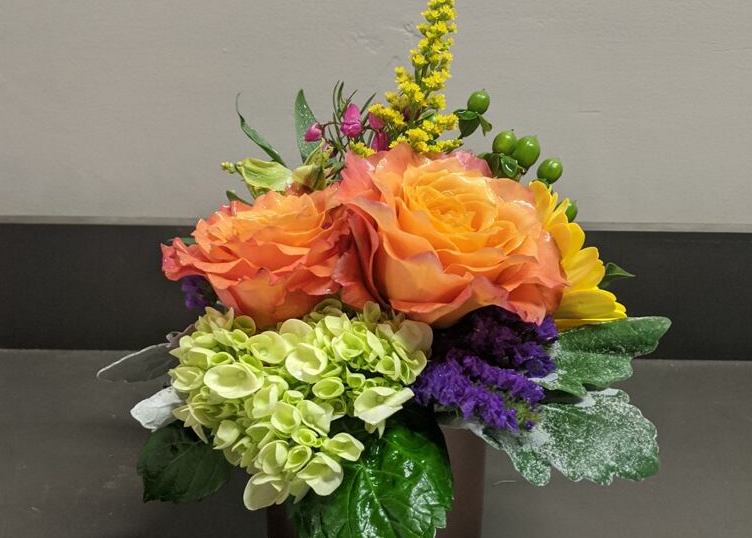 Prairie Grass Cafe has partnered with local Edwards Florist of Northbrook
Where: 105 Remington Blvd., Bolingbrook
Cost: Starts at $32.99
Place your order: (630) 378-5555, Pre-order begins April 30 for pickup May 7-10
Select from Mother's Day bundles including salmon and chicken tender, chicken Alfredo and salmon. Each bundle is served with a variety of sides. Guests can order a slice of cheesecake and beer, wine or cocktails to go, where permissible for extra cost.
Where: 1880 Tower Dr., Glenview
Cost: $80, serves 4
Place your order: (847) 729-9273 by May 9, 3 p.m.
Try a three-course Mother's Day Family Takeout Meal with the option to add a Mimosa or Bellini Kit to celebrate Mom on her special day (where available). Guests can choose from a pre-fixe menu that includes one shared salad, one entree for each person with options such as Whiskey Glazed Salmon and Grilled Rib Eye, choice of two sides and a shareable dessert.
Where: 1770 E. Higgins Road, Schaumburg
Cost: Starts at $100 family style, $55 for two
Place your order: (847) 517-5252
Enjoy a three-course Mother's Day dinner to go as either family-style (serves four to six) or a dinner for two. Choose either a whole side of cedar-plank roasted salmon, glazed spiral ham or wood-grilled beef tenderloin, which comes with salad, roasted green beans, choice of an additional side and mini indulgences. Each dinner will be chilled and ready for guests to warm at home.
Where: 521 N. Rush St., Chicago
Cost: $195, serves 4-6
Place your order: (312) 595-1114, pre-order while supplies last
Try a four-course family-style Mother's Day dinner to go, featuring a choice of herb-roasted tenderloin or miso-marinated chilean sea bass. Entrees come with truffle macaroni and cheese, grilled asparagus, potato gratin, bananas foster butter cake, as well as a treat for mom of hand-dipped chocolate strawberries and a long stem rose. Dinner will be chilled and ready for guests to reheat at home with simple instructions. Eddie V's will also offer uncooked signature cuts of steak hand-carved and ready for guests to prepare as they wish.
Where: 406 E. Golf Road, Schaumburg
Cost: $44.99-$54.99, varies by entree selection; serves 4
Place your order: (847) 884-7060 or online
Treat Mom to a Caribbean Mother's Day Bundle with choice of entree, salad and a chocolate island dessert. Entree selections include jerk chicken pasta, seafood paella or grilled chicken with cilantro crema. Bundles come prepped and ready for guests to finish at home with all the instructions.
Where: 3 S. Evergreen Ave., Arlington Heights
Cost: $75 brunch, $120 dinner, serves 4
Place your order: 224-857-8900, eatpassero.com for pickup on May 10
Pick up brunch or dinner or both with additional options for bouquets, dark chocolate peanut butter tarts, mimosa kits and cinnamon buns. Brunch includes frittata, buttermilk biscuits with jam and butter, maple bacon and a fruit tray. Dinner includes garlic pull apart loaf, caprese salad, filet mignon, roasted asparagus and chocolate chip cannolis.
Where: 817 W. Lake St., Chicago
Cost: $75, serves 2
Place your order: Through Doordash May 8-10
Meal kits include short ribs topped with arugula, green apple and horseradish slaw, creamed potato, baby greens salad and house chocolate peanut butter cake. Bouquet from Kehoe Designs available with any delivery.
Where: 10426 S Western Ave., Chicago
Cost: $32.99-$119.99 for dinner, $15 a la carte for brunch
Place your order: horsethiefbrewing.com by 9 p.m. May 7
Brunch specials include chicken waffle skewers, hanger steak chilaquiles, cinnamon toast "frunch" toast. Dinner can be made for 2, 4, 6 or 8 guests. Choose an entree per person (Scottish salmon, filet mignon, pork schnitzel, spring strozzapreti pasta), sides (potato salad, pasta salad, side salad, garlic parmesan asparagus, baked beans) and each diner receives a dessert of Mississippi mud brownie.
Where: 1504 East 55th Street, Chicago
Cost: $8-$10 starters, $23-$34 entrees, $8 dessert
Place your order: 773-493-1394
The Classic French three-course dinner includes choice of starters (Alsatian onion tart, asparagus and tomato salad, Corsican salad, smoked trout salad with parsley potatoes or duck pate with Port), a choice of seven entrees (pan-seared filet of fresh Atlantic salmon, pan-seared jumbo sea scallops with potato galette and braised spinach, my mother's chicken braised with lemon, olive oil and oregano, lamb ragout Toulousaine with white beans and tomatoes, bistro steak with caper sauce, rack of lamb Pauillac or vegetable chaussons with French green lentils and fresh asparagus) and a dessert (lemon tart with fresh raspberries, Belgian chocolate torte, pear and blackberry cake with hazelnut ice cream, strawberry and cream torte with fresh strawberries or cherry clafoutis flan). Preorder is preferred for pickup between 5-7 p.m. on Mother's Day.
Where: 1500 East 55th Street, Chicago
Cost: $29-$45 for dinner, varies by dish for Brunch.
Place your order: 773-363-8161 by May 9 for brunch and dinner
Ascione Bistro is serving its traditional Sunday Brunch menu with eggs, specialities and sides. For dinner, choose a prime rib with mashed potatoes, lamb chops with sicilian caponata, double cut veal chop over mashed potatoes, crab cake with pico and onion jam, blackened whitefish with potatoes and mixed vegetables or homemade squid in linguine with lobster and shrimp.
---
Follow Chicago Parent on Instagram.
---
This article originally published on April 23, 2015. It has been updated with the most recent information.