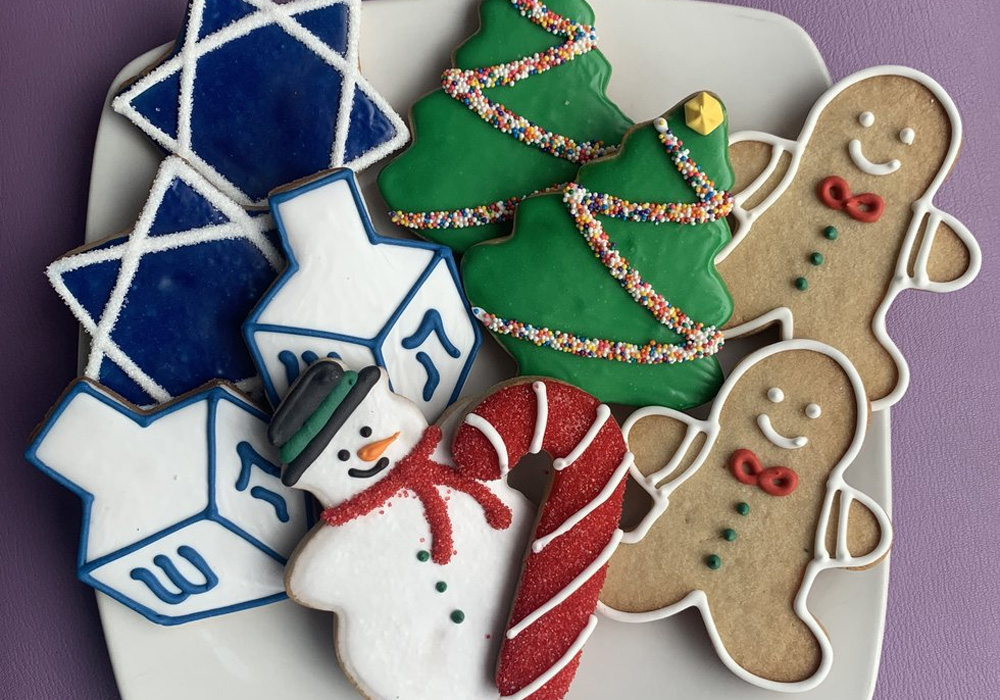 Sweet Mandy B's
We understand if, in the hustle and bustle of the holiday season, baking Christmas cookies ended up at the bottom of your to-do list. But if you don't have the time to dig out those cookie cutters – or if you just can't even with the thought of all that mess – here are a few spots where you can pick up some wow-worthy holiday cookies.
View this post on Instagram
Can we all agree that the frosting is the thing that makes sugar cookies worth it? Thankfully the sugar cookies at Sweet Mandy B's are topped with the same delicious buttercream that adorns the beloved cupcakes on Mandy's menu. Not an icing fan? (What is wrong with you?) Check out the cut-out butter cookies shaped like snowmen, candy canes, Christmas trees and dreidels.
1208 W. Webster Ave., Chicago
View this post on Instagram
The Goddess and The Baker is always worth a visit especially when you're spending the holidays downtown. It's no surprise that the bakers go all out in December. Walk into one any location to find festive sugar cookies to make your season happy and bright. You can also cater desserts, if you're feeding a crowd!
Locations in Downtown and River North
View this post on Instagram
Cookie Spin brings its own unique flavors to the dessert scene, with traditional fare like chocolate chip and sugar cookies and more avant garde treats like the cinnamon-sprinkled caramel apple cookie and blue raspberry flavor-infused sugar cookie. Plus, the shop's cookie pies are bigger, thicker and richer than your standard cookie, perfect for a guy whose belly shakes like a bowl full of jelly.
4350 N. Leavitt St., Chicago
View this post on Instagram
If even picking up cookies is low on your to-do list, Insomnia Cookies comes to the rescue. This chain specializes in late-night cookie delivery (yes, you read that right), including sugar cookies, double chocolate mint cookies and drool-worthy smores cookies. Best of all, the website has a cookie tracker, which for our money, is way more useful than that NORAD thing.
City locations in Rogers Park, Old Town, Lincoln Park, Wicker Park and Hyde Park
View this post on Instagram
Bake Chicago clearly knows what it's doing when it comes to cookies, whether you prefer a more traditional aesthetic or the party-on-a-plate that is the sprinkle cookie. They tell us they might have some surprises in store this year. But for all you procrastinators out there, take note: once the baked goods are gone, Bake closes up shop. Get there early!
2246 W. North Ave., Chicago
View this post on Instagram
If you're looking for old-school Italian sweet treats, then Ferrara Bakery is your first spot. This bakery decks out for the holidays by giving the butter cookies a festive twist. Of course, don't miss out on buying other Italian classics like cannoli and biscotti.
2210 W. Taylor St., Chicago
View this post on Instagram
Dinkel's Bakery has been around since 1922, so you know it has a handle on holiday traditions. The large holiday cookies in different shapes — think Christmas trees, snowmen, angels and presents — are covered in fondant for a professional-looking finish. If you want to venture outside the norm, try the signature pfeffernusse, speculaas and linzer cookies, plus decorated butter cookies.
3329 N. Lincoln Ave., Chicago
View this post on Instagram
It's easy to forget the frigid temperatures when you're inside Summer House Santa Monica, a California-inspired restaurant in Lincoln Park. Each day comes with an assortment of holiday cookies, from reindeer to mittens. And much like real snowflakes, no two cookie snowflakes are alike!
1954 N. Halsted St., Chicago
View this post on Instagram
Nostalgia is in the air this time of year, and the cookies at Café Selmarie will take you right back to your childhood of sprinkling/dumping colored sugar on your Christmas cookies. The Lincoln Square bakery also has cookie exchange-worthy varieties like chocolate crackles, raspberry kolachkys and cinnamon walnut butter cookies. Just tell your friends they're a secret family recipe.
4729 N. Lincoln Ave., Chicago
---
Follow Chicago Parent on Instagram.