Using some of the 17 million insects already part of the Field Museum's collection is just one aspect of the newest exhibit: Fantastic Bug Encounters. That the bugs were already on hand will help visitors see how scientists have used "bug technology" to answer questions and advance human technology.
The exhibit takes hands-on to a new level, with a chance for kids and adults to meet and touch live bugs after learning all about their unique features. 
"This exhibition is full of gorgeous larger-than-life models that show what these animals look like close-up and how they've perfectly adapted to the world around them – our visitors will never look at bugs the same way again," says Jaap Hogstraten, Field Museum exhibitions director, in a release.
The exhibition opens June 28 and will have its home just off the Main Hall through April 19, 2020. Entrance is included with the museum's All Access pass.
SEE
The colors in the exhibit will blow you over right away. From the bluest blues on butterflies to the reddest reds of the lady bugs, many of the bugs on display have been a part of the Field Museum's ongoing collection as part of scientific research. Strobe lights help define the flight of a dragonfly and kids can touch spiders to light up answers to questions on a board. 
TIP: Take time at the venom desk to answer trivia questions and watch the lights change and deliver answers through light.
TOUCH
The exhibit is refreshingly interactive, with games to play, pages to color, origami to make and zombie cockroaches to kill. Kids are encouraged to pick up magnifying glasses to take a closer look at the wings of a butterfly or the feet of a dragonfly.  
TIP: It's worth a stop at the bug zoo to talk to Field Museum scientists and touch a bug. Each one is friendly and not all can be found in the backyards of Chicago-area residents. 
HEAR
Fantastic Bug Encounters also has pod-like enclosures set up to experience life as a bug. Take a flight with a dragonfly or help bees fight off a wasp. 
TIP: Fans of music will enjoy how each piece in a pod "feels" like the bug represented. 
TASTE
Bugs eat leaves. Bugs eat fruit. Bugs eat other bugs! Enter the lair of a wasp and learn how it turns a cockroach into a zombie in order to lay eggs. No, there are no opportunities at the exhibit to taste a bug, but there are great examples of what bugs eat and how they use their senses to survive. 
TIP: Be sure to take a trip down the slide, becoming a tasty dinner for a non-human eating bug. (The sound for this slide is on point.)
SMELL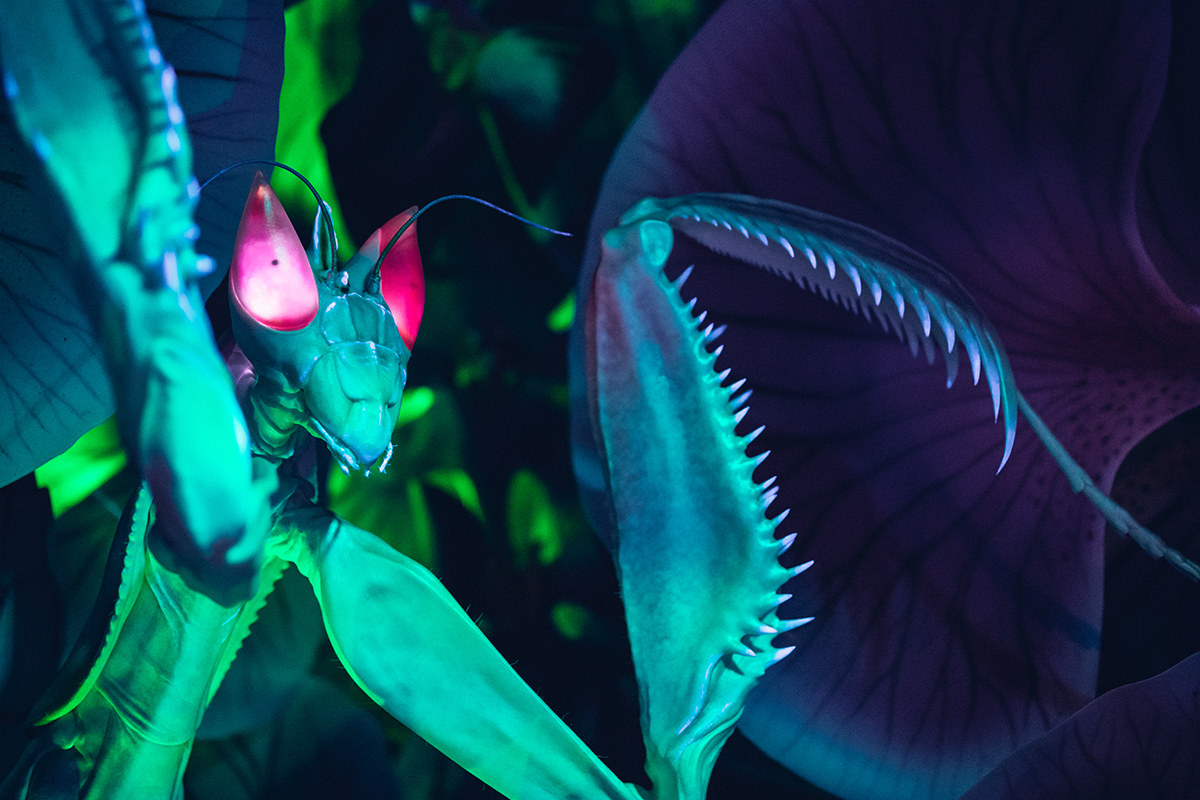 OK, so this one is a little harder. Visitors won't be overwhelmed with bug smells at the exhibit, but there is a lot to learn about how bugs use their sense of smell to find prey or mask their scent. 
TIP: At the bug zoo, ask scientists how the bugs they're holding use the five senses to find food and build houses. 
---
If you go
Fantastic Bug Encounters
Open June 28-April 19, 2020, and included in the museum's All Access Pass.
Field Museum, 1400 South Lake Shore Drive, Chicago
Find more information at fieldmuseum.org.
---
Follow Chicago Parent on Instagram.