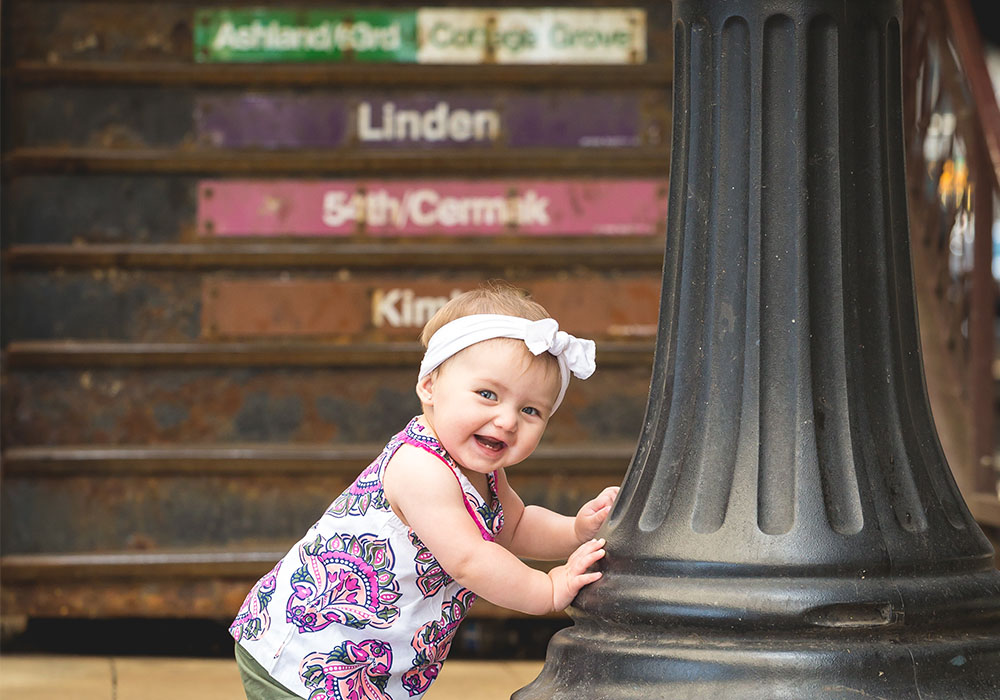 Note: This article was "written" by infant Daphne Wood (Taylor's daughter) with the help of her mom, of course!
Ah, Chicago. The City of Broad (Mom's, usually) Shoulders. The Second (to none) City. Being a baby here is pretty great, if I do babble so myself. There's the fun activities in every possible weather, the friendly people, and, of course, best of all, the trains. 
Whether you've lived here your whole life like me or just visiting for the first time, I simply must recommend traveling courtesy of the CTA.
Not sure where to go when you've got a baby in tow? I've got you covered. And, best yet, the L is a perfect introduction to helping us learn our colors. 
Purple Line
Don't tell my Chicago friends I said this, but sometimes it's nice to escape the city for a little bit, and the Purple Line is my favorite way out. I love going to Gather, a beautiful indoor play space with plenty of activities and storytimes for babies. Then, when we all need to recharge, Mom and Dad stroller me over to Smylie Brothers Brewing Company where I can munch on some delicious kid-friendly barbecue and they can drink their "grownup juice." 
Check out:
Gather, 602 Davis St., Evanston
Smylie Brothers Brewing,1615 Oak Ave., Evanston
Brown Line 
The Brown Line runs through the heart of the north side of the city. Dad likes to call it the "Brownton Abbey Line" because all the stops are so pleasant.
Mom and I love going up to Damen and going over to Milk Supply, a special shop for breastfeeding moms and tots. Mom can stock up and there's a little play area! Afterwards we head over to Bang Bang Pie and Biscuits a few doors down. 
When I "need to get a little more energy out" (whatever that means) we whisk off to the Addison stop and go to Present Place indoor play space. There's free coffee for the parents and a special area just for the babies. When Chicago gets too cold or too hot, it's our favorite place to be.
Check out:
Milk Supply, 4955 N. Damen Ave., Chicago
Bang Bang Pie and Biscuits Ravenswood, 4947 N. Damen Ave., Chicago
Present Place, 3701 N.Ravenswood Ave., Chicago
Green Line
Green means go, and go we shall! The West Loop might be known as the coolest place in town for foodies, it is also home to Cat & Mouse Games, one of the best toy shops in the city right off the Morgan stop. There are tons of toys and activities to be found, and regular storytimes for even the littlest of us little folks! 
Check out:
Cat & Mouse Games, 1112 W. Madison St., Chicago
Mary Bartelme Park, 115 S. Sangamon St., Chicago
Red Line
Arguably the most iconic of all the L lines, the Red Line runs from the far South Side to the far North Side, 24 hours a day. And sure, there may be a baseball team or two right off the tracks, but we babies have no interest in such matters. What do we actually want to do? Eat, of course! 
Take us up to the Argyle stop and get us some delicious Vietnamese pho (my mom said pho is Vietnamese for "the best chicken noodle soup ever"). Tank Noodle has a mini chicken pho bowl perfect for us babies. If you're extra super good, maybe your parents can take you across the street to Ice Station for some rolled ice cream, too!
Best places:
Tank Noodle, 4953-55 N. Broadway, Chicago
Ice Station, 1130 W. Argyle St., Chicago
Blue Line
Sure, the Blue Line might run near some of the hippest bars and music acts, but I bet you cool cats didn't even know that off the Division stop there's a veritable baby rock star in our midst. Mr. Dave Music is a staple in the baby and toddler music scene. He offers drop-in classes as well as special shows and events. Classes are designed to get everyone moving, grooving and having a spectacular time. 
Once we've finished shaking our diapered tailfeathers my personal preference is to head over to The Bongo Room, where we can learn from birth the joys of brunch. Mom and Dad can sip on their "grownup orange juices" while we munch on some of the most delicious pancakes known to mankind. 
Check out:
Mr. Dave Music, 1935 W. Division St., Chicago
The Bongo Room, 1470 N. Milwaukee Ave., Chicago
Pink Line
If you haven't ridden the Pink Line lately, hop on and get over to the National Museum of Mexican Art at the Damen stop. Not only do we babies love the beautiful art, but Mom and Dad love the admission price of "free!" The museum has lots of activities for families on the weekends where we can all make a special piece of art together, or do tours specifically designed for families with babies. 
Check out:
National Museum of Mexican Art, 1852 W. 19th St., Chicago,
Yellow Line
The Yellow Line is the CTA's sleepiest line, but the payoff for babies and kiddos at the end of it is huge: the Skokie Exploritorium. This indoor playground, art studio, water playplace and more offers something to enjoy, and with an admission fee of $5 for non-Skokie residents, it's one of the best entertainment bangs for your buck you're bound to find anywhere. 
Check out:
Skokie Exploritorium, 4701 Oakton St., Skokie
This article originally appeared in the digital edition of Hey Baby. Read the rest of the issue.