Chicago is filled with amazing museums. From the Art Institute to the International Museum of Surgical Sciences, it's hard to run out of places to learn, to touch artifacts and to create.
Our local museums offer interactive exhibits and resources to teach kids of all ages about everything from history to how their heart works and how to conserve energy. These are 40 not-to-miss museums for Chicagoans of all ages. Also, don't miss out on free museum days for Illinois residents!
Children's Museums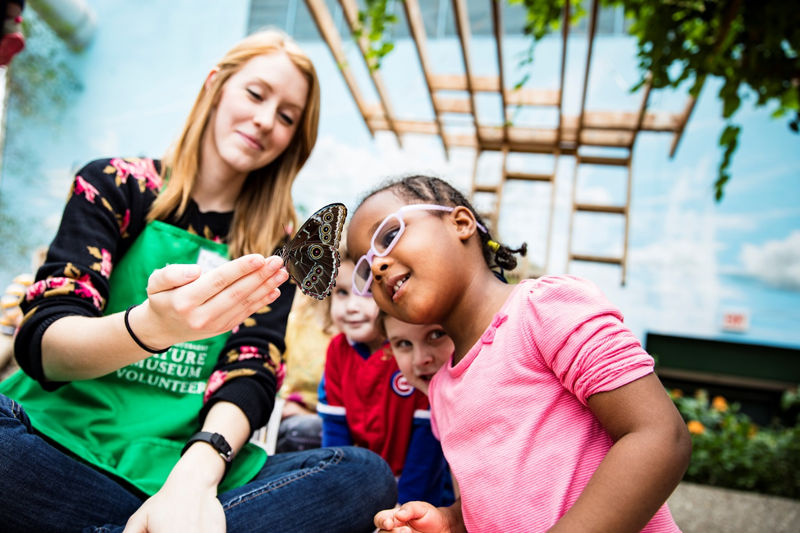 Daily Critter Connections and Animal Feedings let kids touch and feel animals keep families coming back to Peggy Notebaert. Those, and the Judy Istock Butterfly Haven, where butterflies of all kinds, colors and sizes fly around and even land on visitors. Hands-on exhibits let kids learn about water, rivers, the environment. Recent addition, Nature's Playplace, is a play area for children up to 7-years-old and has 25 interactives.
Kids can touch aquatic animals or see them up close at one of the daily presentations. Exhibits include fish, sharks, penguins, dolphins, sea lions and other water animals in their regular habitats, showing life in rivers, streams and different ocean environments. The aquarium offers many family-friendly events throughout the year.
The city of Lake Forest maintains the Wildlife Discovery Center as a living natural history museum. Kids can meet reptiles, amphibians, birds and mammals while enjoying hands-on interaction with nature. Programs exist for preschoolers through college students to keep them in tune with nature. The indoor exhibits are open Tuesdays and Fridays-Sundays.
History
Located in the Lake County Forest Preserves, the museum includes a Dryptosaurus skeleton, information about prehistoric Lake County, lessons and artifacts about Native Americans who lived in Lake County, the American Frontier and Civil War. Great for kids ages 6 and older, there are also rotating art exhibits and monthly events and programs.
The former home of Colonel Robert McCormick, longtime editor and publisher of the Chicago Tribune and member of the U.S. Army's First Division, two museums sit on the 500-acre land in the western suburbs. The Robert R. McCormick Museum teaches visitors about the public and private life of the man while The First Division Museum houses interactive military historical exhibits.
Monthly and seasonal events bring visitors to the grounds, which also includes three miles of walking trails, a golf course, classes in the education center, and a cafe and gift shop in the Visitors Center.
Learn about Chicago and Illinois in the time of Lincoln and Robert McCormick and beyond, then view the photographic archives of the Chicago Sun-Times and squeeze yourself into a Chicago-style hot dog. This museum is most fun for kids ages 6 and older who have a background in U.S. history.
Visitors learn about the Chicago Race Riots, the role of the African American soldier and the history of Harold Washington. TIME Studios selected DuSable to open its virtual reality program "The March" about Martin Luther King's speech in Washington, D.C. in 1963. This museum is best for students ages 7 and older.
Rotating exhibitions have included trains, marriage, political posters, Snoopy, the power of children, roller skating and Disco Demolition. Weekly and monthly events include crafts and workshops geared toward preschool to late elementary students.
Seeing Sue the T.rex is on every Chicagoan's bucket list. But Sue isn't the only dino at the Field Museum. Kids can learn about ancient civilizations, meet and talk to scientists, learn about Earth conservation and test out the hands-on space in the Crown Family PlayLab. For guests' safety due to COVID, some smaller exhibit spaces are closed.
Best for ages 8 and older (because of the subject matter), the Harvey L. Miller Family Youth Exhibition center teaches kids about Upstanders and how to stand up for themselves. They can peek into the school lockers of kids like Rosa Parks, help solve problems and even tell their own stories. Permanent exhibits include interactive hologram and survivor stories experiences. General admission includes the virtual reality experience, The Journey Back.
What makes this museum unique and great for kids is the "Touch Tables," where visitors are allowed to touch any items on the tables labeled such throughout the museum. The second floor also has a "Teaching Lodge," where visitors can climb inside and learn about the different types of natural materials used to make the temporary shelters. 
The living history community tells the story of Naperville in its early settlement days. Historic buildings can be toured in the summer months and the visitor's center is open year-round for revolving exhibits. Kids will be charmed by costumed villagers and special events include a summer outdoor concert series.
Located within the University of Chicago, visitors can learn about ancient Middle East with artifacts excavated by the school's archeologists. Galleries about Egypt, Nubia, Persia, Mesopotamia, Syria, Anatolia, and the ancient site of Megiddo are permanent and rotating exhibitions include events for kids, adults and seniors.
The Brunk Children's Museum of Immigration located on the third floor includes a 20-foot steamship and a Swedish farmhouse with cow to milk, table to set and chores to be done. Kids will also learn about pioneer life in a log cabin.
The museum celebrates African Americans in labor history, focusing on Pullman Porters. On a National Monument dedicated by President Barack Obama in 2015, the museum is best for ages 7 and older, and is great in the summer when your family can also visit the Pullman Monument. Temporarily closed due to construction.
Art
Avid readers will enjoy both the permanent and temporary exhibits. For littles, visit the Children's Literature Gallery, which features an interactive reading space.
Kids will enjoy getting creative at the drop-in family arts programs. There is also a gallery of artwork made by children, families and teens, as well as the chance to visit the gallery's permanent and rotating exhibits.
Learn more about the city architecture with their interactive exhibits. All ages will love to get out of the museum for an architecture walking, bus or L tour.
The museum hosts family day workshops monthly and includes interactive exhibits in its rotating exhibition schedule. The McCormick House, a Mies van der Rohe-designed structure, is on the museum campus, and interactive programs and exhibits are often held there.
Ongoing weekend programs at the museum include workshops for kids to learn about identifying rocks and minerals or learning how to make jewelry. Collections include gemstones, fossils and an ornate castle.
Family Days on the second Saturday of each month give parents and kids an opportunity to dive into art using different mediums. Stroller tours on the first Wednesday of the month give babies and toddlers their first looks at contemporary art without the parent worry of noise in a gallery.
In the warmer months, kids of all ages will love visiting the outdoor sculpture garden and all year long families can try their hands and Family Day on the first Saturday of the month. Located on the University of Chicago campus, students, faculty and alumni often contribute to the exhibitions.
From folk art to photography to textiles, the National Museum of Mexican Art capitalizes on its galleries and exhibitions with ongoing and family-friendly events.
Other Cool Museums
The Community Design Labs are family-friendly and destinations for all ages. Younger ones will enjoy seeing Big Bird and Elmo in "One World, One Sky."
The interactive experiences are high-tech and a must for Chicago sports fans of all ages. Kids can try on championship rings, geek out in the fan section and learn about players' superstitions.
The museum has a combined online and in-person model to teach kids more about STEM topics.
This is certainly a museum for older kids, but they'll enjoy everything from the mural gallery to the Hall of Immortals. Watch the museum's website for family-friendly events and crafts days.
There's a Smart Playroom with games to challenge yourself or your family. An anti-gravity room, an infinity room, tunnels and a place to take photos of the kids with their heads on a platter are all part of the fun of the Chicago museum.
This is an "everything" museum. From history to STEM to weather to live chicks, MSI has it all. Toddlers through early elementary are drawn to the Idea Factory, where they can build and play with water. Older kids love the flight simulator.
Dive into the sensory world of slime for 60-90 minutes. Enhanced experience includes a shower of slime. Check website for sensory-friendly days.
An entire section for kids includes vehicles used in the parades at Disney theme parks, a gallery of Warner Bros. vehicles and Disney dioramas, antique arcade and kiddie rides and more. Additional tickets are required for Jurassic Gardens, the indoor dinosaur exhibit.
Head to wndr Museum where visitors can interact with art and experience great photo opportunities.