With Illinois fully reopen in Phase 5 of the Restore Illinois Plan, museums and zoos are reopening and extending capacity requirements. Many attractions continue to follow the most updated CDC guidelines, along with a few requiring face masks to help keep unvaccinated children safe.
Check out our list below to see what Chicagoland attractions are opening soon, and the most updated information on their COVID-19 safety protocols.
Note: We'll update this article as new information arrives. Stay safe!
Opening Soon
Tickets are on sale now for the Blue Man Group's long-awaited return to the Briar Street Theater. The Blue Man Group features a combination of art, music, comedy and technology and has been connecting people with their inner child in Chicago for more than 20 years. Tickets are $49-$89 and available at blueman.com along with a full show schedule.
What's Already Reopened
Purchase timed tickets online and wearing a mask when you visit are encouraged. Handrails and glass on TILT will be sanitized after every use, and food options from the bar and cafe will be grab-and-go.
While Adler Planetarium does not plan to fully reopen until March 2022, it will host in-person experiences this summer in a limited capacity. Experiences include weekend screenings of its sky shows and select public observing events in its upgraded Doane Observatory.
Tickets must be purchased online. Unvaccinated visitors are required to wear masks. Gloves and styluses will be available to interact with the exhibits.
Advance timed tickets are required. Masks are optional for fully-vaccinated visitors. The Ryan Learning Center remains temporarily closed.
Reservations are no longer required to visit Brookfield Zoo. Face coverings are required when entering open buildings. The following attractions are not operating: Dolphins in Action, Butterflies!, Hamill Family Play Zoo, Motor Safari and all playgrounds.
The museum reopened with social distancing protocol in place, and outdoor areas are still available. Masks are not required outdoors, but are required inside buildings and while in restrooms.
Purchasing advanced tickets online is highly recommended. Masks and social distancing are required inside the building.
Guests and members must register in advance before visiting. Face masks are recommended to wear indoors for unvaccinated visitors. Restrooms will only be available in the Visitor Center and Regenstein Center's Greenhouse Galleries.
The Center has reopened with two new exhibits. Masks are still encouraged for guests who are not fully vaccinated. Safety measures like cleaning and social distancing are still in place.
All guests ages 2 and older are required to wear a face mask covering their mouth and nose to help keep unvaccinated children in the museum safe. Disposable masks will be available at the Tickets desk for adult and child sizes. High cleaning measures will take place and advanced ticket purchases are encouraged, including member reservations.
The museum is open, but some days required advance tickets and hours have been adjusted to allow for cleaning. Face masks are required for everyone over 2. Some exhibits will have limited capacity to one family at a time.
Tickets provide zoo access for one hour. Masks are required for all guests over the age of 2 when social distancing cannot be maintained.
Advance tickets for timed entry and masks are required. Daily virtual learning also continues.
Advanced tickets will be required and capacity limits are in place. Masks will be required for ages 2 and older in the building as most guests are not yet eligible for vaccinations, the museum says. Museum staff will encourage social distancing and frequent hand washing as well as cleaning of high-touch areas on an increased schedule. Hand sanitizer will also be available in more areas.
Guests are expected to follow face mask and social distancing requirements by public health officials.
The museum is open Thursdays-Sundays and is free on the first Friday of each month. One-way directionals will guide guests through the museum, and social distancing and masks are expected.
Reservations are no longer needed for general admission. Mask are required for unvaccinated visitors.
Masks are optional for guests who are fully vaccinated. Tickets have an entry time and it's recommended them to purchase before visiting. High-touch areas and screen interactives as well as the Crown Family PlayLab and smaller galleries will not be available.
Masks are optional for fully-vaccinated guests, while unvaccinated guests are asked to continue wearing them. Fully-vaccinated staff are not required to wear masks in the parks except when working around children.
The museum asks guests to reserve tickets online before visiting. Face masks are required for visitors when inside the building.
Advanced ticketing is required when visiting. All guests ages 2 and older must wear face masks. The museum's newest exhibit also has an outdoor program, SummerBurst, a festival with five STEAM activity stations that will run through Aug. 29. Tickets must be purchased separately from indoor museum.
While face coverings for fully-vaccinated guests are no longer required, it is strongly recommended by the attraction that all guests ages 2 and older wear a mask and practice social distancing when visiting.
Reservations are no longer required to visit the zoo. Guests are still required to wear face masks when inside animal buildings. Note: Some buildings may be closed on a rotating basis for cleaning and safety measures when visiting.
Face coverings are only required for unvaccinated visitors and staff. Walk-ins are welcome, but it's encouraged to purchase tickets in advance especially on busy days.
Masks are highly encouraged for all guests. Menus will be digital and table cards are disposable. Tickets still include a four-course meal and a two-hour jousting tournament featuring six knights, real weapons, beautiful horses and a live flight of the royal falcon.
Timed-entry tickets must be purchased online before visiting. Face coverings are optional for fully-vaccinated guests. Unvaccinated individuals are encouraged to continue to wear masks when you're not able to social distance.
Masks and social distancing are required, as are timed tickets and reservations. Once inside, guests are asked to follow the blue visitor arrows through the museum. Hand sanitizer is available.
All unvaccinated visitors ages 2 and older are required to wear face coverings. It is still recommended for fully-vaccinated guests to wear masks, but not required. Guests must purchase timed tickets before visiting.
Face coverings are required for all guests ages 2 and older. They must be worn at all times at the museum unless eating in designated areas.
Hand sanitizer and face masks will be available for guests. You can experience the following exhibitions: Adláteres and the Unexpected Journey, Nuestras Historias: Stories of Mexican Identity from the Permanent Collection and Yollocalli Arts Reach.
Face masks are no longer required on site. Navy Pier has also lifted capacity limits and social distancing guidelines.
Home to the Judy Istock Butterfly Haven, the museum located across from Lincoln Park Zoo will be open Thursdays-Saturdays only through August. The museum hopes to fully reopen beginning in September. Masks and social distancing will be required inside the building.
Reservations are not needed for the 2021 season. The water park reopened with the new six-lane "Aussie Mat Dash" in place.
Santa's Village and its water park, Santa Springs, have reopened. Santa Springs will not open on scheduled days if it is under 72 degrees. Some guests are required to wear face coverings based on CDC guidelines.
Shedd will require masks indoors only for unvaccinated guests, but staff and guests who are fully vaccinated will not be asked to wear a mask. Touch stations will return as will 4D experiences. Guests will still be required to purchase and reserve tickets in advance.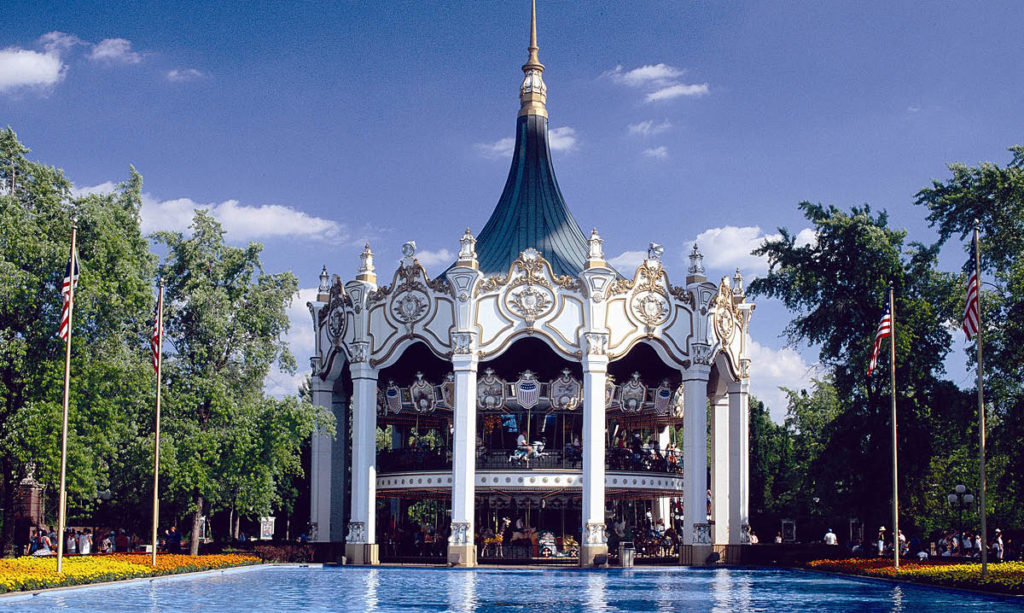 Face coverings are not required. The park does encourage unvaccinated guests to wear one. Hand sanitizer stations can be found throughout the park.
Advanced tickets are recommended.
Purchase your tickets online before visiting. Mask wearing is required upon entry.
---
Follow Chicago Parent on Instagram.