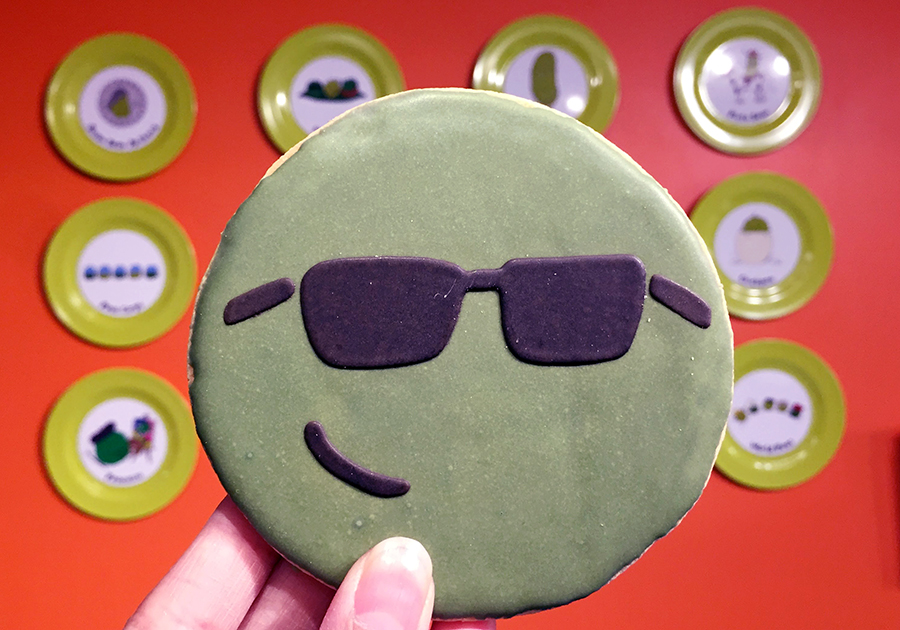 As if you needed another reason to visit one of the best children's museums in the area, Bean Sprouts just opened at the DuPage Children's Museum. Bean Sprouts is a café that is in the process of making healthy food fun. And they are found within places like museums, science centers and zoos, where families need smart, healthy food choices. My family tried out the café and its offerings and immediately fell in love. Here are reasons why you will, too!
Bright and fun
When you first walk in you'll notice a warm, inviting and fun atmosphere. The brightly colored chairs and orange and pea-green walls are totally in line with the museum's overall aesthetic and design.
Kids can order their own food
Counters are placed at kiddie level so that little customers are able to choose menu items by picture. I don't know why we don't see this more often because it makes perfect sense. My kids were so excited to a part of the process.
Healthy options
The menu includes kid-friendly favorites like grilled cheese and pizza, but each option is typically accompanied by veggies. Parents can also rest assured that the food does not have artificial flavors, artificial colors, artificial preservatives or antibiotics. 
The food is good!
If and when the kids cannot finish their food, you will not mind finishing their leftovers. We were impressed with just about everything that we tried. Named the nation's "best Kids' Meal," I just about gobbled up their version of a PB&J sandwich, Do-Re-For-Me, with sunflower butter and organic jam. This may have been one of my favorite menu items next to the chicken pesto sandwich. If you have pizza lovers, they will totally dig the pizza with its unique naan crust. The kids and I were also a huge fan of their grilled cheese sandwich!
Food for grown-ups
Adults have a choice of a warm or cold sandwich.  My husband and I devoured the chicken pesto sandwich with nut-free pesto and ooey gooey mozzarella. It was so good and we'd order it again without hesitation. 
Friendly to allergy and dietary needsMenu choices include vegetarian and vegan, dairy-free, casein-free, nut-free, egg-free and soy-free. Gluten-free? No worries, they can make anything gluten free, if it isn't already. They have a handy dandy nutrition binder of all their menu items so you can determine if your child can eat it.  
The food is too cute to eat. (Almost.)
With kids, you know presentation is everything. My kids were too excited to choose their own food, and since it was healthy, they had free reign over what they wanted. We ended up with an adorable butterfly turkey and cheddar sandwich, a cheesy grilled cheese sandwich shaped like a monster with eyes made of veggies, and a crocodile made out of their avocado hummus. 
Read more about our delicious experience at Bean Sprouts.
---
If you go:
Bean Sprouts
DuPage Children's Museum
301 N Washington St., Naperville