We all know Chicago has inspired great movies like Ferris Bueller's Day Off and The Blues Brothers, but the Windy City has served as the backdrop for many children's books, too. Try these for some bedtime reading to introduce your little Chicagoans to their hometown.
"Goodnight Moon" has nothing on this bedtime book, which takes little ones through a full day in and around Chicago. Chicago's world-class museums get greetings, as do the sports teams, shopping spots and favorite recreations. Even the Picasso gets a shout out on our personal favorite page. The littlest readers will be sure to return to it again and again and spot the special sites on a trip downtown.
Kids will count from one to 10 with some of Chicago's most beloved symbols. You'll have to swap Willis Tower in for Sears Tower, as this book is pre-2009, but this board book is a winner with bold illustrations and a complete location list at the end to help families plan their own day in the city.
What's not to love about our city? Larry the pup agrees as he travels to Navy Pier, the L, Field Museum, the "Bean" and more! This board book shares all the best things about Chicago—including our hot dogs!
Get a baby's perspective of the Windy City as you get a snapshot of the city when flipping through this board book.
Littlest Chicago Sports Fans books
Take a stroll around Wrigleyville and you'll see the blue-and-white "W" flags hanging from porches and car antennas. The Chicago Cubs ABC book tacks on A for at-bat, F for "Friendly Confines," I for the famous ivy of Wrigley and more. Don't worry White Sox fans, there's an alphabet book for you, too. And a book for Da Bears!
Teach baby their ABCs, Chicago-style. This fun board book is a great introduction to all of the things that make Chicago great and it has beautiful illustrations!
Pup Larry and his owner, Pete, take a vacation to Chicago, but somewhere in between the Magnificent Mile and a stop at a hot dog stand, Larry loses his way. Join this troublesome pup on a romp as he searches for Pete and passes through Chicago's most famous landmarks.
"A is for Art Institute or Adler Planetarium." So begins "W is for Windy City," an alphabetical tour of Chicago's landmarks written by a St. Charles couple. And they're not all places—Barack Obama, the Daleys, MJ and Oprah all get their due. Make sure to check out the "X" for a clever take on the Sears Tower vs. Willis feud.
Teach your children a piece of Chicago history with a story about Jane Addams. They'll learn all about the first American woman to receive the Nobel Peace Prize and how she opened up her house to help her community.
In this Chicago-themed activity book, help out the mayor by finding items hidden thought the city's most popular attractions like Adler Planetarium, Navy Pier, Shedd Aquarium and O'Hare International Airport.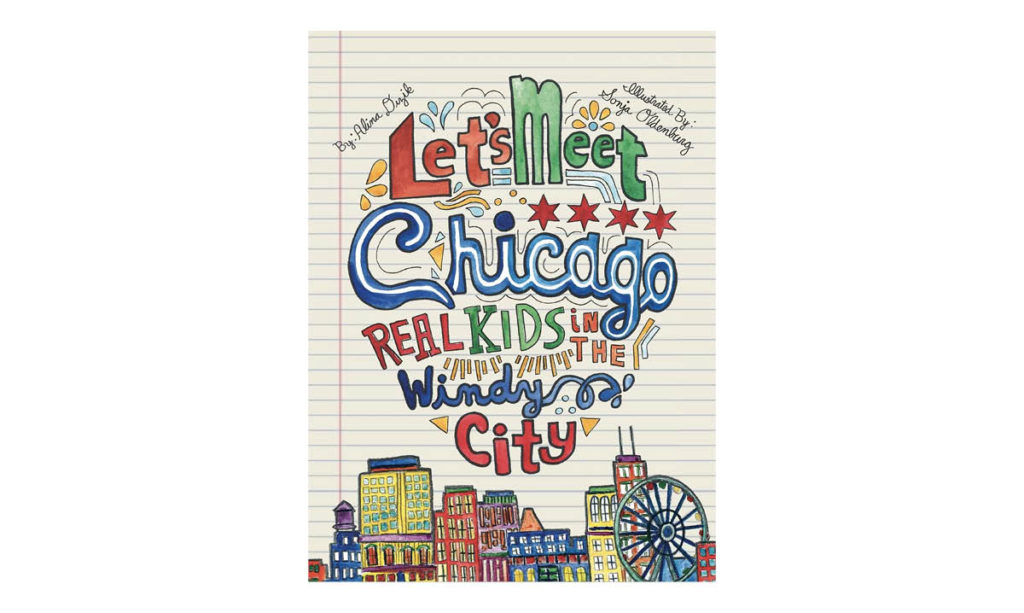 Learn more about Chicago from city kids! Journalist Alina Dizik interviews school-aged children from different neighborhoods in the city about their hobbies, family life and more. Included in the book are tips on how to explore neighborhoods in the city and how kids can interview themselves.
Next stop, Chicago! That's the shout from conductor Martha Day Zschock, who has taken children and their delighted parents on journeys around Boston, New York, San Francisco, Washington, D.C., Philadelphia, Maine, Nantucket and Cape Cod since starting this bestselling series in 1999.
The Great Chicago Fire is one of the most historic and tragic moments in our city. Told in the point of a view of a child named Oscar, he arrives to Chicago to find himself in the middle of the fire. This best-selling series gives a fascinating perspective of history that your kids won't even realize that they're learning.
Best for ages: 10 and older
For young fans and aficionados of Chicago's architecture, this new book is a peek into what's NOT on the typical architecture tour of the city. Peer into 60 sites on the South Side, even those lesser known by widely known architects.
Best for ages: 12 and older
Even if they lived in and around Chicago all their life, there's so much they need to see! This book is divided into categories like food, entertainment, culture and more. Put together a bucket list and go out on an urban adventure with the entire family.
Best for ages: 12 and older
Get a glimpse of Chicago in the past and present. Your kids will be surprised to see how much has changed with some historic landmarks still in place. They'll recognize everything from Wrigley Field and Art Institute of Chicago to The Chicago Theatre.
Best for ages: 12 and older
Sports fans will love to dive into the Curse of the Billy Goat supposedly placed on the Chicago Cubs. Even if the curse is dead, this novel is filled with rich history about the baseball team over the decades.
Best for ages: 12 and older
It's important for our children to learn all aspects of Chicago and Natalie Moore's non-fiction book explains the communities and lives of the South Side. Best for your teenagers, learn about Chicago's historic segregation and how race and class impact the city today.
Colorful Chicago is helping us "travel" through the city while at home with this coloring book. Explore the black and white illustrations of iconic local attractions such as the DuSable Museum of African American History or the Lakefront Trail.
Here is an adult coloring book that captures the beauty of Chicago with more than 50 illustrations. Your tweens and teens will love to color familiar places of the city and it makes great wall art for a bedroom, too.
---
Follow Chicago Parent on Instagram.