Modern life means lots of time on sofas with screens, but there are plenty of negatives that come with kids growing up missing outdoor adventures — and the lessons that come from taking risks. "Kids grow up in bubble wrap," says Megan McDevitt, Assistant Brand Manager with Avid4 Adventure, an outdoor adventure organization bringing day camps for K-7th grade kids to Lake Forest this summer. "There's no way to place blame because the world can be  kind of a scary place, but we do see parents leaning away from risk, wanting to take the safer route."
When kids aren't exposed to risks, they're missing out on opportunities to build confidence, McDevitt says, and there's no better way to start taking risks than through outdoor adventures supported by a highly-skilled instructor. "We have a unique approach to risk, which encourages kids to explore their comfort zones and make logical decisions in a multitude of scenarios and environments. Ultimately, we believe calculated risk translates to personal responsibility, increased self-confidence, improved judgment and a sense of personal accomplishment. Failure is OK and we learn from that. It's all based around safe risk taking," she says.
Avid4 Adventure was founded on a desire to counteract some very alarming stats from research by Harvard School of Public Health. "This research shows that in the last decade, the average American spends 95% of their life indoors and kids get four to seven minutes of daily unstructured outside play, compared to seven hours of screen time," McDevitt says. "We want to make a difference because we know without programming, these numbers will continue to trend in the wrong direction. We are uncomfortable with the amount of screen time kids have. This is the way we can contribute to the next generation and raise strong, empathetic kids."
Kid-sized outdoor adventures
At Avid4 Adventure day camps in Lake Forest, kids start the day at a central location, then head to nearby forest preserves and waterways to enjoy outdoor adventures.
Five and 6 year olds attend Avid4 Adventure Explorer Camp where they hike, paddle and bike — following their own curiosities every step of the way. Kids in second through seventh grade attend the Adventure Camp, where they have fun mountain biking, trail hiking, paddling a canoe, kayak, or even SUP (stand up paddle board) in age-specific groups. Second through seventh graders who love SUP can elect the Stand Up Paddleboarding camp, where they learn basic strokes, water safety, even rescue techniques, with plenty of individual support.
Campers visit some of the most beautiful and historic natural locations in suburban Chicago, including Lake Carina, located along the Des Plaines River Trail and Greenway, or Captain Daniel Wright Woods, Fort Sheridan Forest Preserve, Middlefork Savanna Forest Preserve, Independence Grove Forest Preserve and Ryerson Woods Conservation Area.
"With younger kids, we focus on getting into the outdoors and exploring their curiosities," McDevitt explains. "They'll discover all the flora and fauna and identify all the bugs. In the little ones, we see them get psyched in ways that we don't always see with the older kids. They really light up with joy in a new environment and we guide that day of experience with them."
Highly qualified staff
Quality outdoor experiences are even more beneficial when led by camp counselors who know their stuff.
Avid4 Adventure's staff are at least 18, but most are 26 or older, with a bachelor's degree and adventure-rich resumes, says McDevitt. "All of them have certifications, at a minimum, in CPR and first aid, and some hold advanced Wilderness First Responder or EMT training. Before camp starts they also go through our extensive training to hone their leadership skills, risk-management techniques and youth development strategies," she says.
In addition to sharing an authentic passion for outdoor adventures, instructors with Avid4 Adventure are skilled at encouraging kids to dig in and have fun. "You can always put risk-averse kids into a situation and they could come away with a terrible experience if there's no empathy. Our staff members know how to establish open communication and say it's OK if you don't feel comfortable trying something, but they will support you at whatever level you do feel comfortable with," McDevitt explains. "Their certifications set parents' minds at ease, but our instructors also live and breathe the stuff they are teaching."
Cultivating more than outdoor adventures
Besides some wonderful outdoor skills and love and respect for nature, Avid4 Adventure campers often take away some unexpected benefits from their experiences, too. By taking risks in safe environments, kids learn that they are resilient.
"It's not so much about learning that it's OK to scrape your knee, but in the process you learn that you pushed yourself to the point where you may have failed, but you came out stronger. That's the key piece," McDevitt says. "You fall and get back up, and then you are less likely to fall again. That process builds grit in kids. They learn they can prevail through the hard things and are more willing to try again and try something new the next time."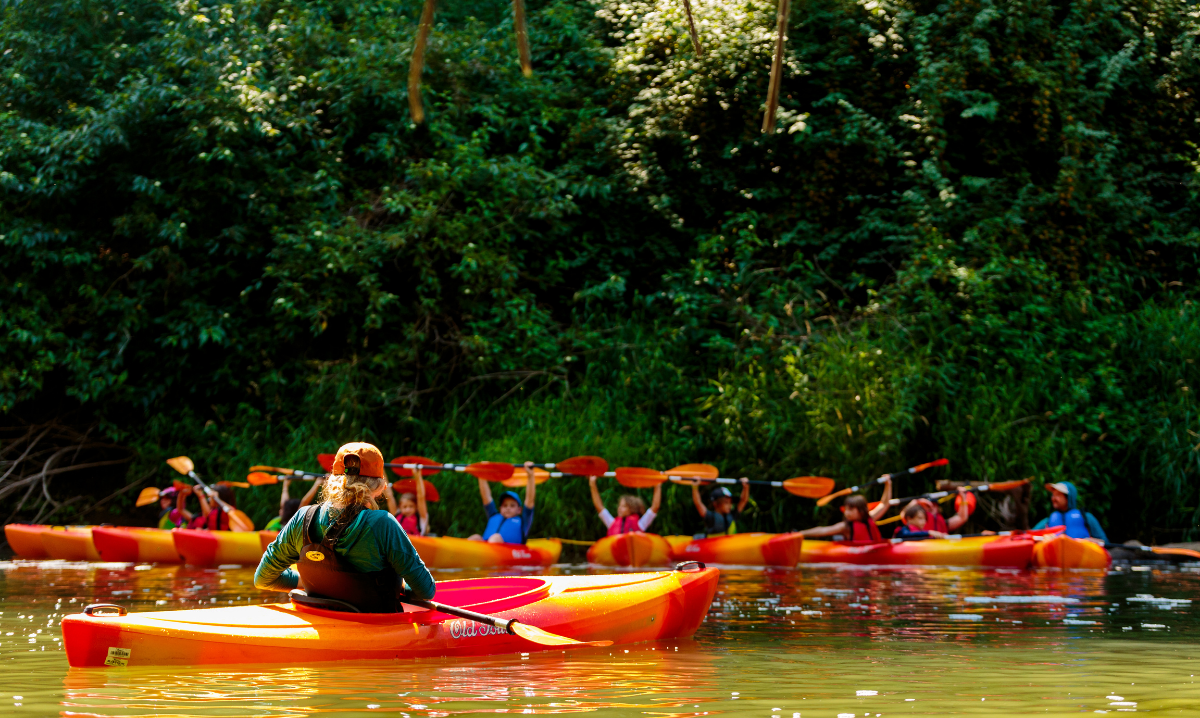 Camp counselors assume the role of mentors to kids, too, blazing the trail for kids to achieve things they never even knew were possible. "It's great when young kids see people doing things that they didn't realize were opportunities for them. They learn you can make a career out of playing outside and being an educator in the outdoor space, that there are careers that are not nine-to-five in an office, but that can still make an important contribution," she says.
Just as important, kids learn the value of giving and receiving support in a non-competitive way. "In sports, traditionally there is a focus on competition and winning. In the outdoor adventure space, you do the best you can, and we translate that into the group setting," McDevitt says. "In the groups, we see friends wanting each other to succeed. Kids form these very empowering connections with each other founded in wanting their friends to do the very best they can."
Learn more about Avid4 Adventure summer day camps in Lake Forest at avid4.com/illinois-summer-camps.