Girls today have so many more career options than even their own mothers had and certainly much more than their grandmothers. Still, the field of STEM remains an underrepresented area for young women and especially young women of color.
But the Chicago Architecture Center, working with 15 other STEM organizations in Chicago, hopes to play a role in changing that. Its annual Girls Build! Day festival is sure to excite girls ages 11-16 with all of the opportunities open to them in STEM fields. The festival will also inspire girls' confidence as they chart their paths in school and whatever careers they ultimately pursue
This year's one-day festival is all about women, past and present, who helped build Chicago, not only its amazing skyscrapers but its grassroots communities. Throughout the day, girls will meet representatives from museums, youth programs, design firms and pro-girl agencies to celebrate the women who have come before them and see what women are currently doing to move Chicago forward. Plus, they get to participate in hands-on STEM activities throughout the two floors of the Center.
"Focusing on girls does not mean girls good, boys bad or anti-boy. What data does tell us is that girls who build confidence in all-girl programs can then enter careers with different types of genders and have the confidence" (to keep their hand raised in classrooms, advocate for their ideas and be brave when they go out into the real world,) says Angela Marie Esposito, Director of Education and Experience at the Chicago Architecture Center.
There are spots left to participate, but Esposito urged interested girls to sign up right away to avoid disappointment.
Why Girls Build! Day is important
Girls Build! Day actually grew out of necessity.
When Esposito graduated from college and went into the design, architecture and construction field, she experienced very few women on job sites and zero women of color. After she joined the Chicago Architecture Center, she says she knew she wanted to reach girls at the critical middle school age to help share options for careers.
The six-week Girls Build! program, held at the Center every spring and fall for the past six years, became so successful that there were at times hundreds of girls on the waiting list. Esposito knew they had to do something to offer opportunities to more Chicagoland girls.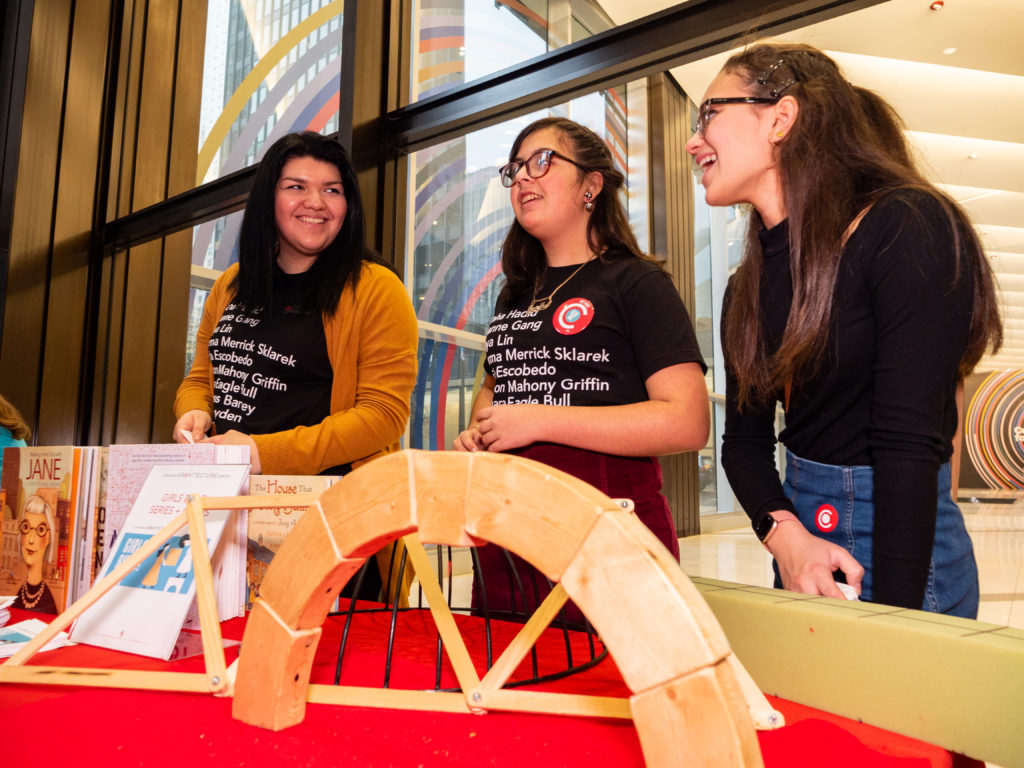 The first Girls Build! Day was held on a snowy day in 2020, just before they knew what the pandemic was about to do to the city. It went virtual in 2021 due to the pandemic, but 200 girls gathered to learn about sustainable design and climate change. She's thrilled it's back in person in January.
At the Girls Build! Day, girls will meet other girls interested in sciences and the arts and get to know professionals already making an impact in their fields.
Esposito says she's not interested in making sure the girls grow up to be the next great architect. She tells them, "What I do care about is that you understand that there is a career pathway for you that maybe you didn't know about when you walked in here."
She shares the story of a girl who told her she wanted to be a fashion designer since she was 5. By the end of the day, the girl still wanted to be a fashion designer, but she also decided she wanted to own her own agency so that she could control her image and what she chooses to support. "That's the a-ha moment that you're looking for. Yes it's about architecture, but I call it putting a new crease in your brain of finding a pathway you didn't even know was an option to you when you came in," she says.
A well-kept secret
Beyond the Girls Build! Offerings, the Chicago Architecture Center's family and student programs are a well-kept secret, she says. "We really have something that fits everybody." Among the great options for families is the family tours of the city, led by volunteer educators.
The cold winter months are a great time to visit the Center, with same-day tickets available at the box office. Families will especially like to revisit the Chicago City Model Experience, which is expanded from its previous location, with a film and light show that Esposito says she never tires of seeing.
This spring also will bring a new exhibit exploring the topic of climate change and architecture.
Also new in 2022, the six-week Girls Build! program is moving to the IIT campus to not only make it more accessible (two train lines serve the campus) but to expose the girls to a college campus, opening more facilities they can use and more encounters with STEM experts on campus. Summer will see a return of in-person summer camps once again, she says
Those looking for more things to do at home will find a robust YouTube channel filled with storytime videos for kids and at-home STEM activities.
Find out more about Girls Build! Day and register at architecture.org.