It's summer camp signup time and sometimes it can feel pretty overwhelming with the amount of choices available to kids today. Here are five great summer camps that can make their summer.
1101 Genesee St., Delafield, Wis.
(800) 752-2338
St. John's Northwestern Summer Academy offers Adventure Camp in three one-week sessions for rising 6th-10th graders. It is designed to stimulate, motivate and challenge kids to discover strengths and build confidence. Campers experience team player and leadership roles through a combination of fun and challenging indoor and outdoor activities. It also offers the five-week Academic Opportunities for Personal Success camp for rising 7th-12th graders that includes fun excursions and entertaining activities. Enjoy small classes, earn recovery credit or get ahead for the upcoming school year.
This summer, UIC Engineering is pulling out all the stops to expose kids to bioengineering, chemical engineering, computer science, electrical and computer engineering and mechanical and industrial engineering. Kids will spend their days with hands-on challenges based on concepts developed by the UIC engineering faculty and students.
No day will be the same, ranging from writing computer code to robotics or biomechanics, while campers build teamworking skills, creative critical thinking and problem-solving skills. The older students even get to experience college life and explore careers. Last year's projects included building a mousetrap car and a can robot, Python coding and minimally invasive gummy bear surgery.
Three one-week tracks for three age groups, 9-11, 12-14 and 15-17, are available. Scholarships also are available for families with financial need. Contact the 2020 Camp Director Dr. Zhinan Wang with questions at engineeringcamp@uic.edu.
McGaw YMCA Camp Echo and Summer Day Camp
3782 S. Triangle Trail, Fremont, Mich.
(847) 475-7400
At Camp Echo, youth discover independence in a safe, inclusive environment that emphasizes personal growth alongside the strength of community. At this overnight camp, campers work with others while developing new skills. Activities include horseback riding, paddle boarding, sailing, archery, swimming and more with evenings spent by the campfire. There's plenty of time for making friends and self-growth. Space is still available for June and early July dates. 
Evanston
(847) 475-8580
For campers entering first through sixth grades, Summer Day Camp offers an engaging, exciting and safe community where children develop new skills, explore the outdoors and build relationships while participating in archery, fishing, arts & crafts, sports, games, drama, science, swim lessons, field trips and more. Enroll for the full nine weeks of summer or choose individual weeks. Extended hours from 7:30 a.m.-6 p.m. are included in camp fees. 
W5639 Anokijig Lane, Plymouth, Wis.
(920) 893-0782
Nestled in the gently rolling hills of the Kettle Moraine Forest, along the shores of Little Elkhart Lake, lies Camp Anokijig. For 94 years, boys and girls, ages 7 to 16, children have gathered together to make new friends and experience personal growth while having great adventures away from home. Every session of camp is packed with opportunities for campers to choose their own adventure. Campers get traditional camp activities (swimming, archery, boating), and non-traditional camp activities (digital photography, ukulele, woodworking, yoga). Counselors actively facilitate friendships, group decision-making, conflict resolution and other life skills, in addition to providing an environment in which kids challenge themselves to try something new.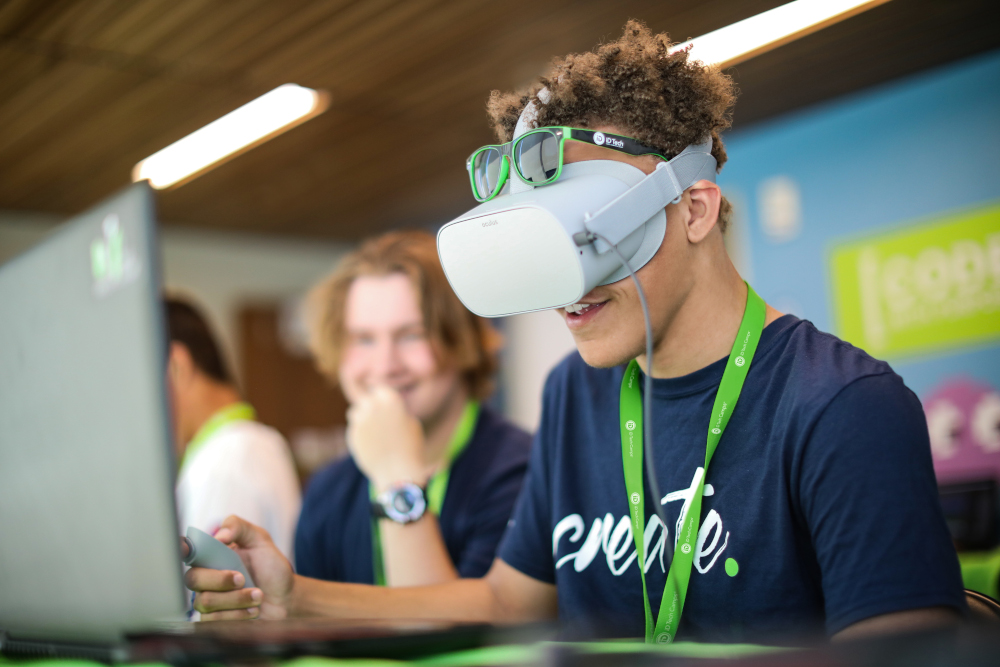 iD Tech is the world leader in summer STEM education, with more than 450,000 alumni and more than 20 years of experience. Kids and teens learn to code, design video games, create with Roblox, engineer robots, print 3D characters, work with AI and machine learning, build laptops, learn about cybersecurity, and more! Programs for ages 7-19 are held at 150 prestigious campuses in the USA, Europe and Asia, including Loyola University, Northwestern, Lake Forest, NYU, Caltech, and Imperial College London. In addition to their flagship iD Tech Camps for ages 7-17, iD Tech also offers all-girls camps, teen-only Academies, an advanced capstone program, and year-round Online Private Lessons. 
Multiple locations
(800) 968 4332
Imaginations will soar in the all-new Camp Invention program, Elevate! Led by local certified educators, the programs offer equal access to STEM education while positioning inventors as role models, helping to reduce disparities in STEM fields and build a more innovative future. The summer camp offers fun, hands-on challenges to encourage innovative, creative problem solving.
821 N. Michigan Ave., Chicago
(773) 477-9257, ext. 193
Get curious with Lookingglass this summer! The theatre camps invite children to create a world beyond imagination, working collaboratively to invent and transform stories. Jump into the world of theater with professional artists dedicated to inspiring curiosity and collaboration in an ensemble setting. Students of all skill levels create and adapt stories while developing the actor's tools (body, mind, and voice), leaving them changed, charged and empowered. Wondergglass offers camp for K-3, while Summergglass offers camp for grades 4-8.
Camp GEMS
350 E. South Water St., Chicago
(312) 809-8910
GEMS offers fun and educational seasonal camps during school breaks! Join Camp GEMS for daily fun in science, language, Field Studies and sports.