At first glance, Northside Learning Center High School looks like any other Chicago Public School, with sports teams and dozens of clubs — and, of course, students in the hallways rushing to get to class on time. Take a closer look and you'll see a best-practice educational model for students with disabilities preparing for their future.
"We are the best-kept secret in Chicago Public Schools," says Elizabeth Mourtokokis, assistant principal at Northside Learning Center, a school for students 14 to 22 with significant intellectual disabilities and impaired adaptive functioning on Chicago's north side. The school's students typically attended a general education elementary and middle school, and are placed at Northside Learning Center through their IEP.
Throughout the seven-year program at Northside Learning Center, students gain authentic real-world experience through occupational and life skills preparation and, eventually, through community classroom experience in partner restaurants, recycling centers, community service organizations, theaters and more.
It's the philosophy of Northside Learning Center to start their community-based instruction program Freshman year. This way, each year students continue to grow in their vocational, independent functioning and daily living skills while being able to apply these skills to real-life experiences in the community. Students who attend Northside Learning Center from day one of their freshman year benefit from the progressive nature of the program.
Practical experience builds life skills
"Freshman year, we run like your average high school. Students change classes, they have 50-minute classes and 2 minutes in between to get there," says Michelle Kopke, a case manager at Northside Learning Center. Students take part in functional academics with reading and math that are geared toward individual ability. Eventually, they incorporate vocational instruction in the school's car wash, cafeteria, greenhouse and recycling program, where they develop work skills, attitudes and behaviors for successful entry-level employment. They even manage a student-run cafe, where they prepare and sell espresso beverages, baked goods and yogurt parfaits. Many of these activities are considered prerequisite experiences for their community-based classroom work.
"Then we move into the least-restrictive environment, right out in the community. As freshmen, the students go out little by little when they are ready. The freshmen students learn how to navigate their community. We assess them on their ability to recognize safety signs and symbols, if they can locate a crosswalk and if they can look both ways and cross a street independently, to name a few. By the second year, they are out in the community, not on field trips, but in community-based classrooms in restaurants, a university and Jewel. It's part of our curriculum," Kopke says.
"Our students don't understand the abstract, so we can't just talk in class about how to stock a shelf or bag groceries and expect them to apply that skill to a task," Mourtokokis explains. "They need modeling, hand-over-hand assistance. We take them to Jewel or one of our other 65 partner organizations every week for a year. That's how they learn the practical, concrete application of the skill." Some students become competitively employed in partner companies.
So that students can prepare for life as a young adult, they attend an apartment class where they gain daily living skills in an authentic apartment kitchen, bedroom and bathroom. Underclassmen attend laundry class. "Each year students build on their skills and apply them in different settings," Kopke says.
Richly resourced with professionals … and peers
All faculty and staff at Northside Learning Center are skilled in working with students with disabilities. "We have 31 special-ed teachers in the building at all times," Mourtokokis explains." There is nobody here who doesn't know about your kid, about how to de-escalate a situation, about how to make sure sensory needs are taken care of."
Seventy paraprofessionals assist students one-on-one or in the classroom. Unlike typical high schools, where speech-language pathologists, psychologists, social workers, counselors and case managers are spread thin, all of these clinicians are onsite at Northside Learning Center daily and know the students and their individual benchmarks.
Kids enjoy ample social opportunities, too. Where the gap between student groups becomes wide in the typical high school, Northside Learning Center enjoys a strong sense of community, where students participate in camaraderie they may not find in a mainstream school, says Mourtokokis. "Kids develop real friendships where they can be the star of the play and the captain of the baseball team or head cheerleader. They make friends with people just like them who have the same interests," she says.
Learn more by taking a tour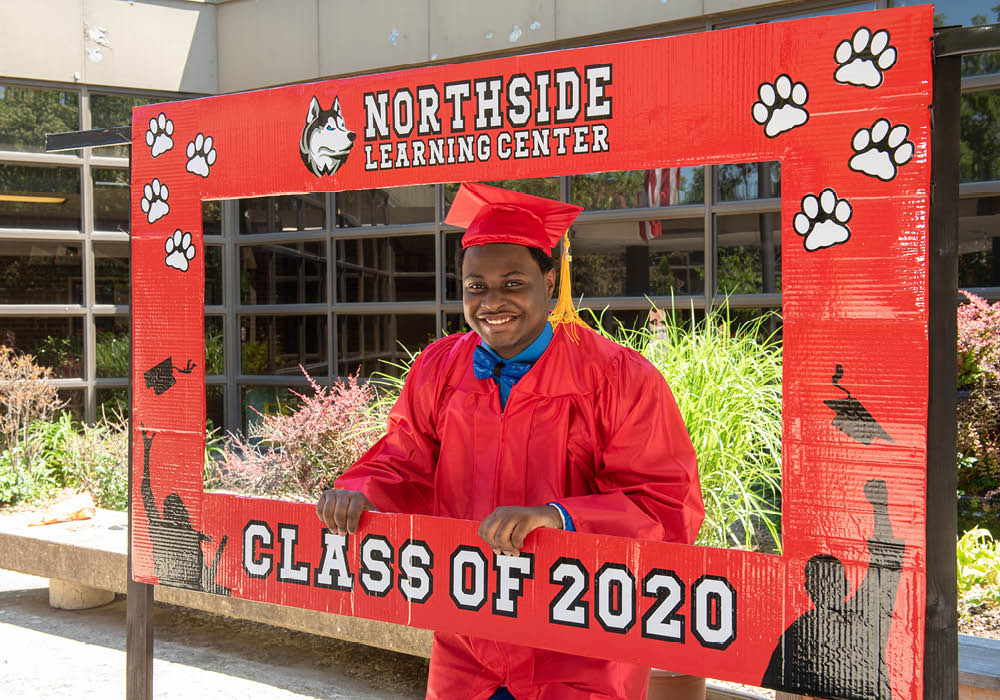 With the goal of empowering parents to know about their choices, Mourtokokis encourages families to tour the schools that are available to them to find the best fit. "Look at us as well as a more restrictive alternative day school and other specialty schools and cluster programs in the district. We believe parents really should choose based on where they think their kid will be most successful in light of their disability," she says. "We encourage families with kids with mild to moderate intellectual disabilities to take a tour."
Teachers, too, are welcome to reach out to Northside Learning Center to learn more about what the school can eventually offer their sixth-, seventh- and eighth-grade students. "It's great when cluster teachers know about our schools so they can better inform families of their students as they grow up," Mourtokokis says.
Learn more about Northside Learning Center High School and schedule a tour at northsidelearningcenter.org.