Kristin Kimble remembers looking at her beautiful newborn's eyes and her shock of thick black hair and thinking, Oh, she has Down syndrome.
Her euphoria with her new baby turned to tears for just about 24 hours. Kimble, who had spent six years working in special education at the high school level, wasn't upset that Ivy has Down syndrome. The tears came because she had seen too much of how hard life could be with special needs.
"I didn't want the world to treat Ivy the way I had seen kids with special needs be treated and I was very scared about that. I didn't want anyone to put limits on her or make her feel like she couldn't do something, couldn't be something," Kimble says.
When she dried those tears, she and her husband made a decision. "I am going to make sure that this is not the world that she lives in," she says.
Kathy Zebracki, chief of psychology at Shriners Hospitals for Children in Chicago, says she sees society becoming more accepting and open and the opportunities increasing for people with special needs. "I think we still have a way to go, unfortunately," she says.
In her role, she encourages families to help their children follow their dreams, balancing their big dreams with their skills, just like they'd do with their other children.
Barriers, she says, can be devastating for a child. "We need to focus on what they can do, not what they can't do."
Ivy's got the look
Five-year-old Ivy Kimble is a spitfire, funny and adorable, the kind of kid that makes people instantly fall in love, her mom says.
"She's changed our lives for the better absolutely, the different joy that she brings," Kimble says. The New Lenox family, which also includes three other girls ranging in age from 9 to 1, decided from the start that Ivy wouldn't be treated differently than her siblings — or any other child for that matter.
For Ivy, that means working hard, spending hours in therapy to do simple tasks that come as second nature for her sisters. But Ivy never says 'I can't,' her mom says.
Right now, Ivy has her sights set on being a model. She loves having her photo taken, her hair done and makeup applied. She loves being in the spotlight.
So when a casting call for the American Girl catalog appeared, Kimble thought Ivy might enjoy it. So far, she has.
Though she isn't the first child with special needs to model for American Girl, Kimble feels getting picked for the most recent catalog is a victory, not just for Ivy, but all kids with special needs.
"It's showing you how far we've come that people are ready to see that these kids don't have limits," Kimble says. "You can't put limits on what they can do. … Ivy's worked so hard her whole life to do everything."
And should others underestimate her? "She'll prove you wrong every time. It's kind of my favorite thing about her," Kimble says.
Ivy will keep modeling as long as she enjoys it, Kimble says. Then she'll move on to other dreams.
"I think for her, she is just going to dream big like my other children do. For me, I'm just going to keep helping her get these opportunities and see where it takes her."
Kimble's other goal is just as big: To convince the world that people with special needs should get the same opportunities as everyone else.
Patrick's big heart
Patrick King says he knew he was different from the other kids, he just didn't know how. But other kids picked up on his differences, bullying him, making fun of him. He says he tried so hard to conform to their "norm," only to realize he couldn't.
A severe concussion from a kick in the head during taekwondo forced him to miss 100 days of school his freshman and sophomore years, critical years to create bonds with other kids, his mom, Terrie, says. When he returned his junior year, he faced crippling anxiety and depression. After finding kids he could finally relate to in group therapy and getting an evaluation, the 17-year-old finally got a name for his difference: autism.
It was the closure he says he felt he needed to understand what he was feeling.
"Now that I know that I can't function like other people, I'll work my way around it that's most successful for me," he says.
Though his mom wishes they knew sooner, the diagnosis has been positive for Patrick and their family. "He is such a strong person, he has overcome so much and he continues to wow us," she says.
Now a high school senior who loves driving his 1987 Camaro, Patrick carries a 3.8 GPA and has been accepted at three colleges to seek a business entrepreneurship major. He already has his first company in mind: a website and social media platform for teens with mental health issues that provides them constant support from people their own age who have gone through or are going through the same issues.
His big dream is to pursue his love of cars while helping people all over the world.
"No matter what obstacles that ever get in your way, there is nothing that can ever stop you," he says. "I always like thinking, there's two things you can do with your past — you can leave it behind and try to start anew or you can use your past in a way that will make you successful, harness the difficulties that you had and realize what you have it in yourself … Apply that strength and confidence towards your future. I feel like that would make life so much better for anyone and everyone if they knew how strong they were inside."
Emmett's pure joy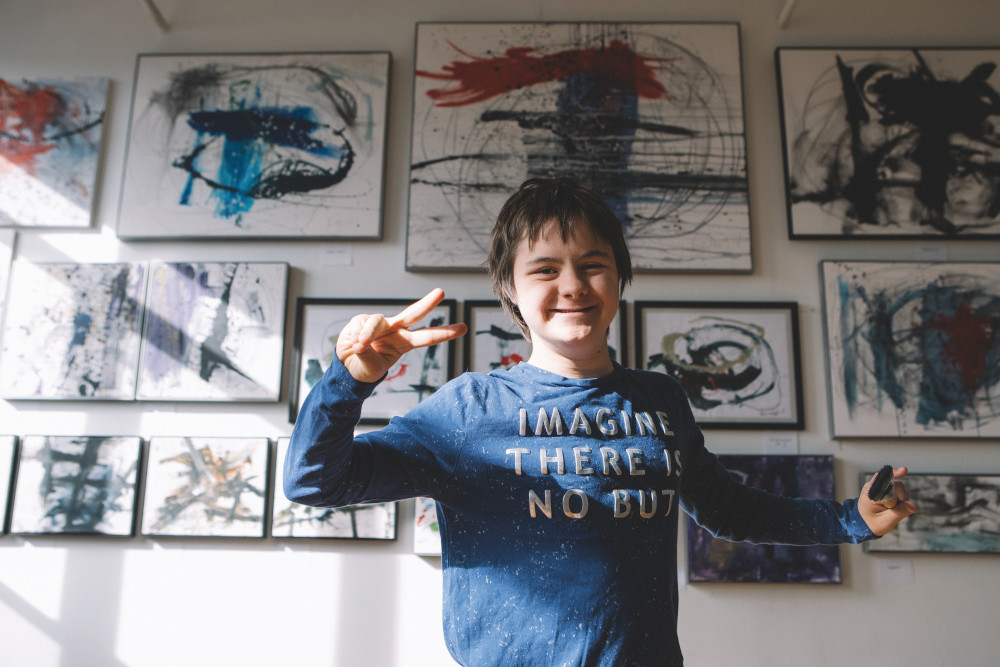 Determined to help her little boy overcome his struggles with holding a pencil, Kathy Menighan pulled out paint brushes and paints, cranked the mu-sic and together they had a dance painting party.
That day fueled a passion the now 14-year-old Emmett Kyoshi Wilson has turned into a way to share his joy with others.
Not only does one of his paintings hang in the U.S. Embassy in Croatia among famous artists, he uses his art to raise money to help others. He's currently working on a series of limited-edition paintings of the flags of all 50 states; already three have raised $17,000 for first responders and veterans.
"When he paints, he expresses himself so confidently versus when he's trying to write something. It just freed him up to express himself," his dad, Paul Wilson, says. "… It's been a really cool journey."
That journey, though, started as a surprise to the Glenview couple and the hospital staff; he had none of the typical physical traits of Down syndrome. When the diagnosis was made, the couple rejected the staff's "sorrys"; they knew Emmett was destined for something special.
"His view of the world is infectious," Menighan says. "That's what's been the most impactful thing."
And he's so proud to know his art is making a difference, they say.
They envision taking Emmett's work on the road as a mobile gallery to show people around the country the joy on the canvases. If it happens, going with them will be a message of ability and inclusion in school and out.
"What he brings to the table to the other kids and what they are learning from him, that to me is the most amazing part," his mom says. "… He's showing the other children that everybody has differences and modifications in the school system is absolutely necessary for all kids. When he is in these environments, it's not only helping him, but helping other children that don't fall into that square box."
His dad says he hopes Emmett will keep painting.
But truth be told, Wilson says with a laugh, Emmett's big dream probably isn't to be an artist. It would be to become the next Justin Timberlake or like ventriloquist Terry Fator with his own show in Vegas.
Either way, Wilson says, he knows his son will continue to bring his pure love and joy to everyone he encounters. See his art and apparel at emmettkyoshiart.com.
Tips for families
Kathy Zebracki, chief of psychology at Shriners Hospitals for Children in Chicago, offers these four tips for families with children with special needs.
Assign your child chores.
She encounters parents who are nervous about giving their children responsibilities around the house, but she always tells them chores are so important. Chores help them be an active participant in the family and instills accountability, responsibility and a sense of belonging, she says.
In fact, research shows children who do chores are more likely to have a job in the future, she says.
Focus on the big picture.
"Sometimes we get so caught up in the day to day, but it's really important to step back and look at the big picture." Look at what happens when they are 15, 20, 30 and 40 years old and what kind of life you want them to live and focus on that quality of life.
Enjoy your child.
We all know kids grow up too quickly, she says, so it's important to focus on playtime and being together. "Amongst all the chaos of raising kids, it's really important to just spend that quality time with them, doing what they want to do, what makes them happy and fulfilled, just having that positive relationship. That's going to carry through their life and your life with them."
Get sleep.
Sleep is one of the first things to be cut in an over-stretched family but it is crucial for parents and kids. Without sleep, people get cranky, stressed out and can't reach their goals, she says.
---
Follow Chicago Parent on Instagram. 
---
This article originally published in Chicago Parent's March 2020 magazine.