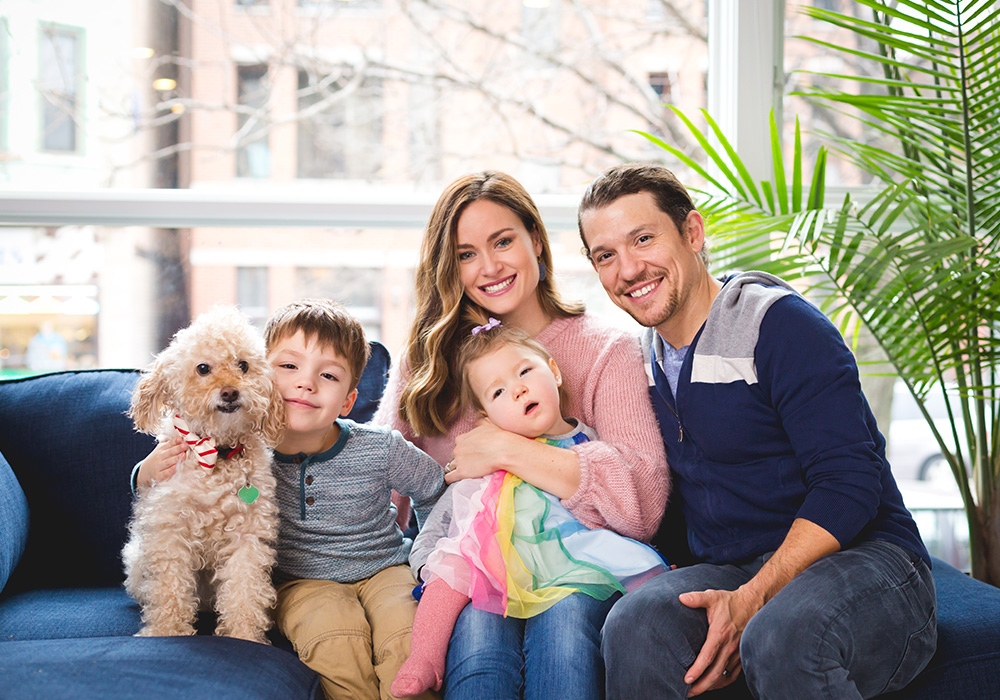 Miguel Cervantes felt numb.
He had just finished his third, and most critical, audition in New York City for "Hamilton: An American Musical," the most popular Broadway show of our time. He left it all on that audition stage. Everyone within earshot stopped what they were doing to watch or listen. It was that powerful.
Cervantes understood it was his once-in-a-lifetime shot to portray the hit musical's lead character, Alexander Hamilton, in the upcoming Chicago show. It could take him from relative obscurity to realized dream. Still, he had one unshakable thought on his mind.
It wasn't the daunting amount of musical lyrics he had to memorize, written by Lin-Manuel Miranda, the show's brilliant creator who was on hand for the audition. Nor was it the rhythm-and-rap choreography or the instructions to portray Hamilton as an "earnest, ambitious hothead, a man possessed, Eminem meets Sweeney Todd."
Instead, his thoughts focused on his baby daughter who had just been hospitalized with an unknown ailment. And an unknown future.
Cervantes exited the stage, sat down and cried.
"I went into that audition as though it was the most important thing in my life, but clearly it wasn't," Cervantes recalls. "My heart was with Adelaide. I had to go be with her."
When the baby was born, her mom, Kelly Cervantes, remembers the nurses mentioning "that Adelaide was a little floppy."
By 3 months old, it was "abundantly clear" that Adelaide was not developing on schedule. Unlike her brother, Jackson, now 5, she kept missing typical milestones. Doctors ordered a barrage of neurological tests.
"Every test came back normal," Kelly says.
At 7 months old, Adelaide suffered her first seizure.
"Her face went limp on one side," Miguel recalls.
At 9 months old, Adelaide was diagnosed with epilepsy, confirmed later as a severe, incurable form known as Infantile Spasms. It's a rare epilepsy syndrome that can have profoundly negative long-term consequences including severe developmental and cognitive delays.
"We had never heard of it," says Kelly, who was living in New Jersey and commuting into New York City.
When Miguel was chosen to be Hamilton, the young family relocated to Chicago. As Miguel prepared to portray the reemerging Founding Father, he struggled as a fledgling father to a baby with very special needs.
The couple underwent a crash course in epilepsy, a condition still underestimated, underfunded and, for most Americans, entirely misunderstood. Infantile Spasms, or I.S., was even more mysterious and frightening.
"All we were given were a lot of maybes and could be's," Kelly says. "Doctors could only tell us, 'Hmmm… that's interesting,'" Miguel adds.
They learned that one in 26 Americans will develop epilepsy in their lifetime, with 150,000 new cases every year. And the most catastrophic cases occur in children, with long-term consequences regarding the complex neurological jungle of the brain.
"Miguel and Kelly are facing many unknowns, which can be disappointing," says Laura Lubbers, chief scientific officer for Citizens United for Research in Epilepsy, or CURE. "Infantile Spasms is rare, but clearly very catastrophic."
The couple were reminded of this fact during their first week living in Chicago's Bucktown neighborhood. Adelaide stopped breathing and had to be rushed to the ER. Another night, her heart stopped. Immediate panic led to a new normalcy. Milestones became "inch-stones," as Kelly calls them.
"Do we have months or years with Adelaide, or do we have a lifetime with her?" she wonders.
Last summer, Adelaide made milestone-like strides. She laughed. She smiled. She gave her parents tangible hope for the first time. By the fall, it all went away. No more smiles. No more laughs. No interaction of any kind.
At 2, she now weighs 30 pounds without the ability to move any part of her body or even swallow.
"She's a sack of potatoes," Kelly says as Adelaide wakes from a nap. "Our goal is to get her to want to move or talk or react."
Miguel places his daughter into her carry cradle and props up her drooping head. His facial expressions, which serve him well with his acting career, often say more than his words regarding his daughter. When discussing her future, he shrugs in frustration.
"There's likely no treatment for her," he says flatly, kissing her forehead. "It's unclear. Everything is unclear."
As Miguel prepares to leave home for that night's performance at CIBC Theatre, a 3.5-mile, 30-minute commute, Kelly prepares for her complex daily routine with Adelaide. Filling six syringes of medication each morning, preparing a special diet through a feeding tube, rechecking her water feed, and attaching a G-tube at night.
Plus, several hours of physical therapy each week, driving from Lake Forest to Frankfort, one to two doctor appointments each week, and biweekly blood draws, to name a few routines.  
"It can be tough," Kelly says. "But Adelaide is the strongest human I've ever met. Our family's own superhero. Epilepsy sucks, but Adelaide is an inspiration. She is worth every tear, every sleepless night, every long day."
"She may be unresponsive most days, but somehow she still manages to make such a strong impact on so many that she meets," Kelly adds. "We will never stop fighting so that she has the best opportunity at the most fulfilling life available to her."
That is why the couple is using Miguel's high-profile stage persona for "Hamilton" to raise awareness for their daughter's plight and for others afflicted with epilepsy and I.S.
"This is us taking our shot as parents of our baby girl," says Miguel, referring to his character's signature song, "My Shot," the third song in Act One. Alexander Hamilton's character sings with ferocity on stage, "I am not throwing away my shot!"
Miguel, the loyal father, says, "This 'Hamilton' experience is very cool, but I have something else to share with people. Something that will still be around after 'Hamilton' ends. Otherwise, I'm not using my platform for its best purpose."
Kelly adds, "Raised awareness alone won't find a cure or new treatments. But it can draw more funding, which can bring new research that's so badly needed."
The couple has partnered with the Epilepsy Foundation and CURE to host the #MyShotAtEpilepsy Challenge to promote awareness and raise funds. It encourages supporters to strike a Hamilton-like pose, take a photo, share it on social media and make a donation to the cause.
"We don't know how much our efforts will help our daughter, or the world, but we have to try," Miguel says, wrapping his arms around a listless Adelaide. "We're holding on to a heavy rock but carrying a hopeful parachute."
"This campaign gives us a peace of mind that we are doing everything we can to help other families with this disorder," Kelly adds.
The couple's last hope, possibly, will get explored this year with yet more tests for their daughter through the Undiagnosed Diseases Program. The organization was established to provide diagnosis and treatment for patients with unknown disorders.
"It's important for them to keep hope and support new research," says Lubbers, whose sister was born with tuberous sclerosis complex, a leading cause of genetic epilepsy. "She started having spasms when she was three months old, and she is now 53."
Like any parents of a child with special needs, Miguel and Kelly have hope that Adelaide will someday walk, talk and feed herself. But these days, they're hoping for a crucial first "inch-stone."
"I hope she looks at me and smiles," Kelly says. "I hope she someday knows who I am," Miguel says. "I don't feel like I've ever really met my baby girl."
Take Your Shot
The Epilepsy Foundation and CURE have joined to host the #MyShotAtEpilepsy Challenge to promote awareness and raise funds for epilepsy research. All proceeds from the campaign will be split between both organizations and used to advance breakthroughs in epilepsy treatments and research.
You can pose in your neighborhood, in one of your favorite places, or anywhere around the world. Take a shot that is meaningful and special to you. Challenge friends to top your submission in creativity.
Watch the public service announcement, #MyShotAtEpilepsy Campaign, at myshotatepilepsy.org.
Epilepsy: The daunting data
One in 26 Americans will develop epilepsy in their lifetime.
There are 150,000 new cases every year 3.4 million American live with active epilepsy.
Epilepsy is twice as common in children as in adults.
The most catastrophic cases occur in children, with long-term consequences.
Epilepsy receives 10 times less funding than other neurological disorders
Source: Epilepsy Foundation
"Til the Calm Comes"
Watch the music video "Til the Calm Comes," written and performed by Miguel Cervantes, with some of the Chicago cast of "Hamilton."
Q&A with Laura Lubbers, chief scientific officer for Citizens United for Research in Epilepsy 
What are the possible causes of Infantile Spasms?
"Possible causes include genetic mutations, and there are specific genes that have been identified to date that are associated with I.S. But many are yet to be identified. Malformations in the brain that can sometimes be detected by an MRI can also cause I.S. It also may be related to tumors, infections in the brain or perinatal hypoxia. Because it is rare, it's also hard to study. And it can evolve."
What are the incident rates for I.S.?
"The reported incidence ranges from 2-3.5 per 10,000 live births, and current calculations put the number of children diagnosed per year at 1,200. About half of them respond to treatments that stop the spasms. There are also cases where the I.S. seem to just resolve on its own."
What treatment options are most common or useful?
"The approved treatment options are adrenocorticosteroid (ACTH) and a drug called vigabatrin. There are some clinical trials focused on I.S.: One is testing cannabidiol oil and other is looking at a compound that targets a specific type of receptor in the brain called an NMDA receptor."
What is the average life expectancy for kids with this condition?
"Kids with I.S. have a higher risk for death, and estimates range from 5 to 30 percent mortality. In many cases, we don't know the presumed genetic cause of the I.S. but it is presumed that some causes lead to more severe cases and may explain the range."