All dressed up and nowhere to go. That pretty much summed up 2020. Although things are still unpredictable, I will not let that deflate my puff sleeves. We still have control over our fashion choices. We just have to adapt them to our new lifestyle and our daily routine.
My pullovers and sweaters have been on repeat. It's a garment that I call the powerhouse. It's season-less. With different fabric weights, styles and silhouettes, these soft sweaters takes us through winter, spring, summer and fall. Here are four items to consider including into your sweater game.
Everyone needs a chunky sweater
Photo courtesy of Banana Republic
It's one of those pieces you can't have enough of. You can dress it up or down. Layer it or wear it alone. It's tailored without being skin tight and perfect for any body type. Wear statement earrings to bring this relaxed chunky sweater to life for your next business zoom meeting or chill in your leggings or track pant.
A mix of modern and edgy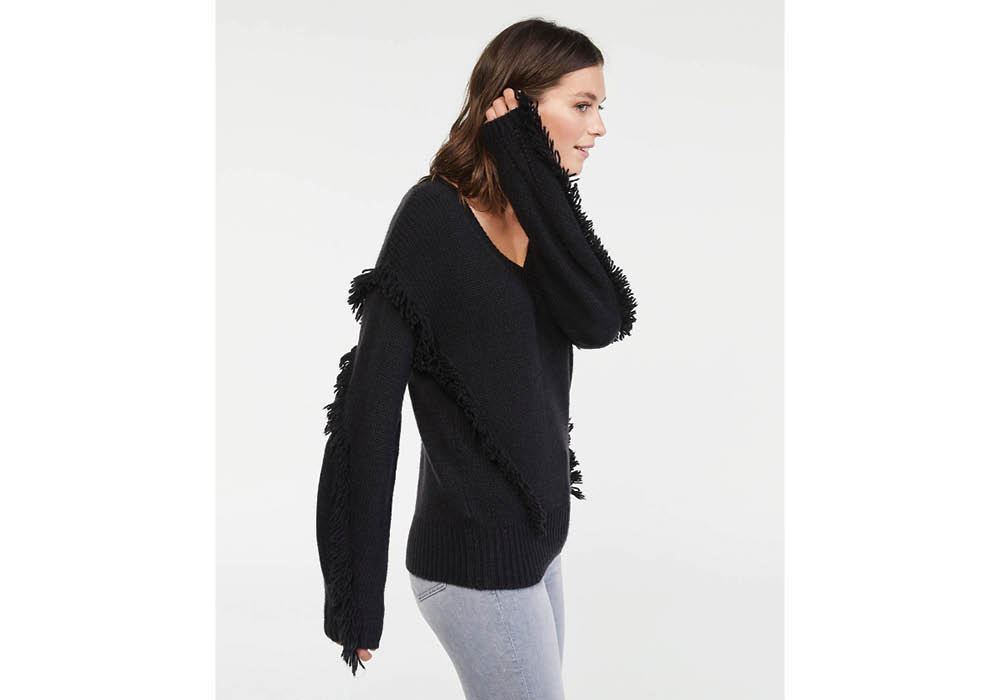 This Fringe V-Neck Sweater is tame with its short length and placement of fringe. Even though the V-neck sweater is the best friend of broad shoulders, this style is good for most body types. It has a relaxed fit without being too over-sized. It reads on the lighter side so you can carry it into the beginning of spring and not look too bulky for the season. Give the sweater a half-tuck to show your waist, or slip it on over your yoga pants or leggings.
$95, anntaylor.com (similar style available)  
Calling all petite friends!
Don't stress about finding the petite section. Just look for crop sweaters or ones that hit you at the top of your hip. Save yourself time and just buy this darling braided number. The cable-knit finish is just enough bulk without weighing you down. Puff sleeves bring a punch of attitude to this sweater while being sweet. It really is the right amount of puff without overwhelming the petite frame. And a small detail to point out, the start of the puff is right at the shoulder as opposed to a drop sleeve. Place your GrubHub order and you have yourself your next date night outfit — in your dining room.
$59, mango.com (similar style)
Ready for spring
With spring in the distance, the long cardigan is your transitional staple. It's really a piece I cycle throughout all four seasons. Layer it with a white tee or a silk cami and done. Pant of choice: skinny jeans or boyfriend jeans. I find myself putting it on in the morning over my sleepwear, essentially wearing it like a robe.
$19.99, hm.com
---
Follow Chicago Parent on Instagram. 
---
This article also appeared in Chicago Parent's January/February 2021 issue.