Kids and parents in Illinois are required to wear face masks under Gov. JB Pritzker's executive order that began May 1. That doesn't mean the masks have to be boring. Kids can show the love of their city, their favorite sports team or find a plain color they love thanks to Chicago-area designers. Demand is heavy for masks, so there may be a delay in shipping.
Cost: $10
If you like Mayor Lori Lightfoot's #StayHome mask, you can have one of your own. Pride is giving a limited number of masks each day to first responders in Chicago, and the styles vary. All masks come with adjustable elastic straps, allowing you to adjust the knot to your face size.
Photo courtesy of Dearborn Denim Mask
Cost: $10
The best part of these washable masks is not the inclusion of a pocket for a filter, but the strap can be tied around your child's head (which will avoid complaints about elastic hurting). Small is best for kids and the solid color provides a blank canvas to add an iron-on sticker or emblem.
Photo courtesy of Chicago Costume Company
Cost: $20
These Chicago Flag masks are made to order and take about 3-5 days. They come in kids' sizes (best for ages 2-6) as well as small and large for adults. The kids' masks include two layers of cotton or flannel.
Photo courtesy of Stock MFG
Cost: $15
Handmade in Chicago by Stock MFG (which is known for making uniforms for bars and hotels), the kids-sized masks have elastic that goes all the way around your child's head.
Photo courtesy of Lilla Barn Clothing
Cost: $10-$12
For parents looking for fun patterns, Lilla Barn Clothing are making kids' face masks for ages 2-10. They also carry grown-up masks so your whole family can match.
Photo courtesy of The Green Room
Cost: $10
The Greene Room is reusing cotton t-shirts to make masks for all sizes (small is best for kids). All masks include a pocket for a filter and are washable. Allow a week to 10 days for delivery.
Photo courtesy of Binky
Cost: $15
Binky provides face masks for ages 3-12 with adjustable straps to help fit your child's face. Each face mask also includes three interchangeable PM2.5 filters.
Cost: $22
Your older kiddos will love to sport a mask in a floral pattern or polka dots. Sophia Reyes has plenty of options for kids ages 7-10. For every five face masks sold, they donate one surgical cap to a healthcare provider.
Cost: $12-$13
This local artisan online shop features jewelry, home decor, clothing, etc. from Chicago artists and makers. They sell adult face masks as well as kids masks by Neosho Art, Ash & Rose, and Hounds and Honeys in a variety of fun designs and colors.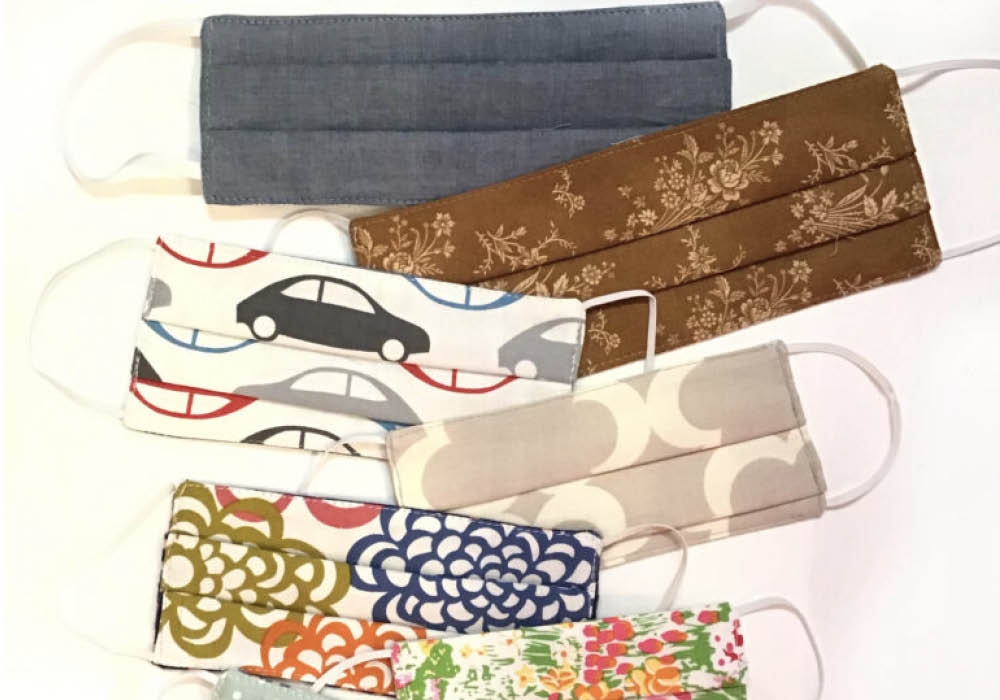 Cost: $10-$12.99
Located in Lakeview, this boutique produces reversible, washable and reusable masks for children ages 2-13. With designated boy, girl and gender-neutral masks, they are safe and stylish.
Cost: $15
This Ukrainian Village boutique sells kid's masks with Peppa Pig, Spiderman, Snoopy and The Avengers on them. These masks are not only ridiculously cute, but they have filters!
Cost: $15-$18
With bunny and floral designs, this boutique is as aesthetically pleasing as they are adorable. The masks are for children 4 years and older.
---
Follow Chicago Parent on Instagram. 
---
This story originally published on May 6, 2020. It has been updated with the most recent information.