Having a picky eater doesn't always mean your child only eats chicken nuggets. It can also mean having to figure out ways to keep their attention on their meal, or needing to make mealtime feel like playtime.
From gadgets that make dinner time into a fun game to goofy utensils or dishes with your child's favorite characters, your kid will learn to love mealtime when you incorporate these ideas into your next dish.
This built-in game has compartments for little sections of food with a treat box at the end. They have to complete each section before being awarded with their surprise. Themes include enchanted forest, dino world outer space, supper hero, and pirate.
Whatever the spinner lands on, your child must finish all of what's in that section. The kicker is that they have to spin for every category in order to get to the best part — dessert!
These utensils come in construction or garden themes depending on your child's preference. The idea is that they are the shovel or truck that's plowing through all the food. It makes for a lot of improvisation and conversation.
Parents are constantly telling their kids not to play with their food and to make sure they stay as clean as possible. But what if they're not the ones getting dirty? These food face plates allow your kids to make some fun choices like what would make better hair, spaghetti or beans?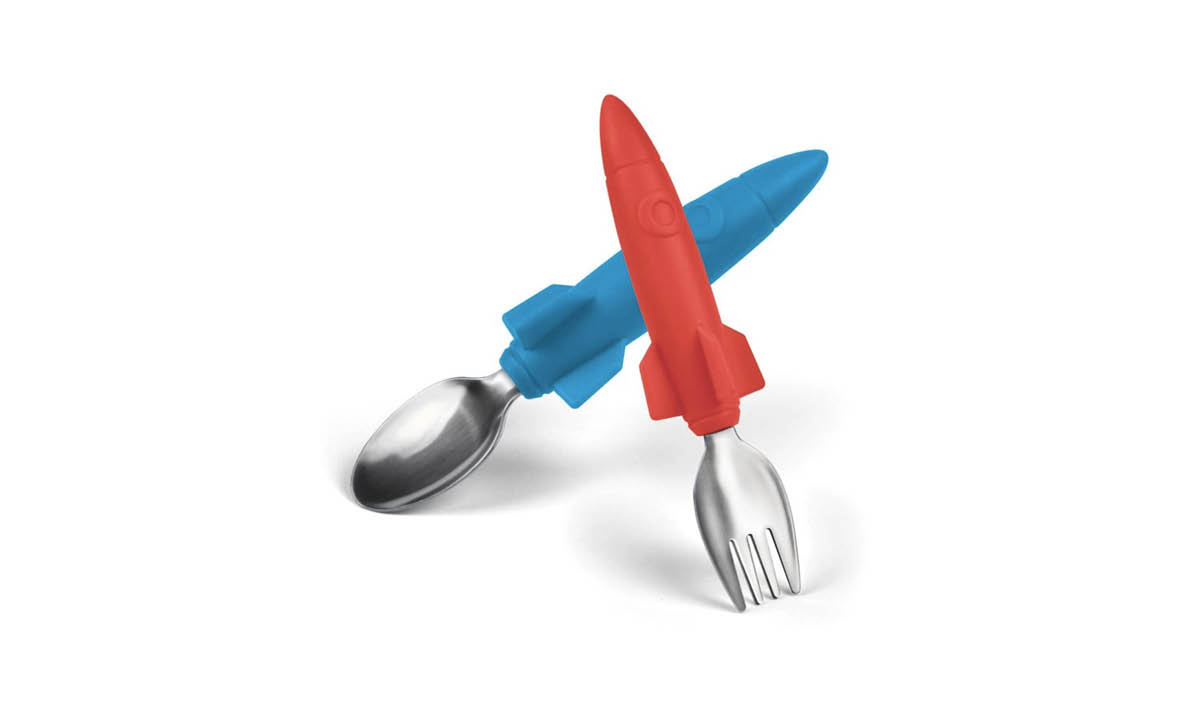 3… 2… 1… lunch! These rocket utensils give a whole new meaning to "here comes the airplane."
Many have indulged in playing music during dinner, but few have made it themselves. This Dinner DJ Plate allows your child to feel the music and finish their food.
It's all about presentation. These FunBites Food Cutters will allow you to transform sandwiches, fruit and more into quirky rearrangeable shapes.
Taco night is already a blast so why not bring it back to the past? These adorable taco holders allow for a bit of play, but mostly act as a great way to keep your hands clean.
With food cutters and a bit of imagination, your kids will have a great time trying to make outfits out of their dinner. Every meal is different with new colors and shapes to add into the mix. Your mind will be blown with how many innovative combinations they can come up with.
All aboard! This adorable train-themed dining set has everything your child needs to eat a full meal while playing train conductor. The best part? Each of the components come apart, making mealtime a breeze for picky eaters who don't refuse to touch their plate when items on their plate are touching.
Need to sneak some fruits and veggies into your kid's diet? These adorable sea creature molds are a fun way to make smoothie popsicles that are filled with vitamins, nutrients and under the sea adventure!
---
Follow Chicago Parent on Instagram.