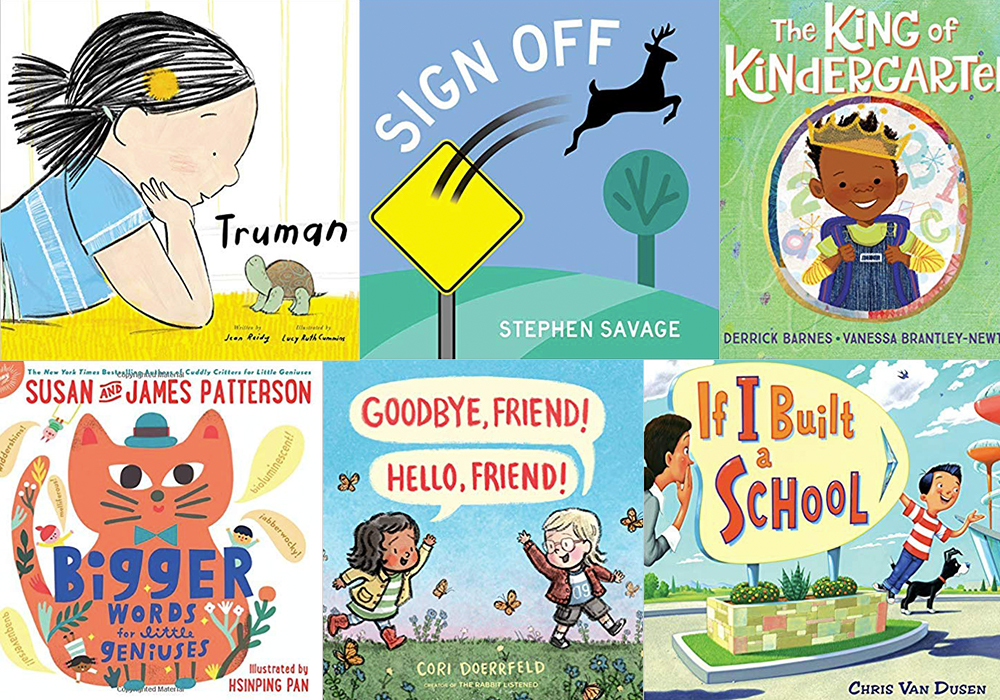 Younger students starting a new school, or kiddos headed to their first year of preschool or kindergarten would love a reminder of its normalcy. There are friends to be made, adventures to be had and lessons to learn. Start with one of these new books from publishers in 2019. 
Sign Off, by Stephen Savage
Best for ages: 0-8
A picture book through and through, children are allowed to imagine what happens when signs (and their figures) come to life. What if the two walkers in the school crossing sign were beaus? Or if the construction worker on the orange diamond sign started building his own art? The possibilities are endless. 
Best for ages: 0-3
Youngest readers will love the fantastic pictures and the story of two friends who meet on the first day of school. The pair share hellos and goodbyes together until one moves away. This book is great for younger children starting a new school or saying goodbye to a summer friend. 
Best for ages: 3-5
Dylan and Daisy join their friends at the Whizzy Wheels Academy and learn the keys to their own jobs. The lessons kids see as Dylan and Daisy join the crew include jobs they'll need in the classroom: listening to and following directions, and learning that everyone has different jobs. 
Best for ages: 3-6
The King of Kindergarten starts his first day of school eager to assess his kingdom. He learns about new friends, nap time, kindness and recess. For littles starting their first year of school, this book will remind them to honor the wearing of the crown.
Best for ages: 3-5
Part picture book, part friend how-to book, the inclusion message comes across clear. Reminding kids about making new friends is the perfect introduction to school. 
Best for ages: 4-8
For adults who don't think kids love words, try saying one around them they're NOT supposed to hear. In the case of "Bigger Words," kids are encouraged to learn words that sound fun – like Funfundfunfzig (a German word that means 55) – or are very long to spell – like HIppopotomonstrosesquipedaliophobia (the fear of big words). Funny, fun and fabulous for kiddos who giggle at onomatopoeia.
Truman, by Jean Reidy
Best for ages: 4-8
Truman the tortoise has a best friend and her name is Sarah. They play together and she makes him feel like the best tortoise in the world. Then, Sarah goes to school and Truman worries about her whereabouts. For kids who wonder what their pets do while they're in a classroom, Truman's adventures help find a few answers. 
Best for ages: 4-8
Roger and Adelia are best friends. Adelia loves to climb trees and Roger has his reservations. Knowing her family will be moving, Adelia wants to leave Roger with her spirit. Great for kids starting a new school or coping with friends leaving. 
Best for ages: 4-8
Not all birds are meant to fly, but Ernest the bear is dutiful in his desire for his friend, Eddie, an ostrich, to take to the air. When everything possible (and even impossible) is tried, they are ready to head home. Like birds, kids have their own limitations to their learning and their teaching, but they'll take one more try before they know they have it cracked. 
Best for ages: 4-8
Alice Paul Tapper wrote this book after the 11-year-old created a "Raise Your Hand" Girl Scout patch to encourage more girls to participate in class. This book tells the story of why she wanted to create the badge and hopes more girls will raise their hands when school begins. 
Best for ages: 4-8
Hugo starts a new school and as a fan of "Mighty Reader," he knows just what to do when a literature emergency arises. For kids who hope to learn the intricacies of how school will work and how to fit in a classroom, this book lays out the roadmap. 
Best for ages: 5-8
Fans of "If I Built a Car" will know Chris Van Dusen's lively rhymes and unending imagination. Jack, our narrator, has built the school of his dreams with desks that hover, books that "pop" and a playground for ultimate recess. 
---
Follow Chicago Parent on Instagram.